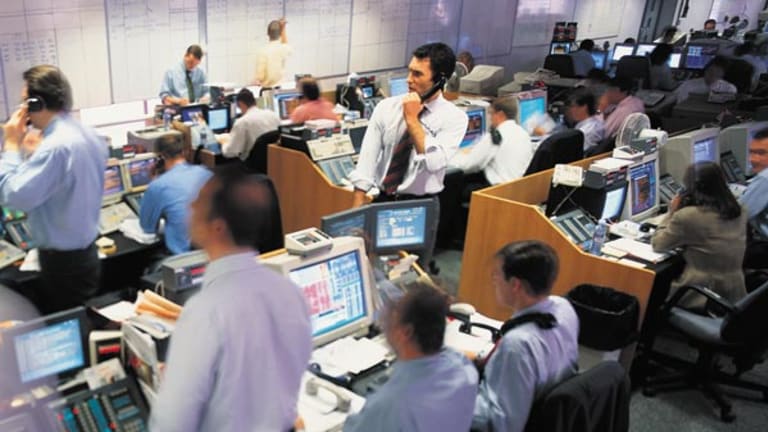 The Blackstone Effect
Patience will be in order, as the IPO will disrupt early trading.
This column was originally published on RealMoney on June 22 at 9:44 a.m. EDT. It's being republished as a bonus for TheStreet.com readers. For more information about subscribing to RealMoney, please click here.
Wednesday's article talked about the themes of a potential 1940 magnet level on the Nasdaq 100 (NDX), expectations for a gap fill at 1925 and a return to 1940 by the end of the week. The Wednesday and Thursday sessions proved the 1925 gap fill and the return to 1940, but I am still hesitant to call 1940 a magnet level.
Although price moved lower and reversed back to 1940, I haven't seen a move much higher that also returns to this level. I'll need to see that type of price behavior to make 1940 a magnet level vs. the previous magnet level of 1900.
The big talk today is obviously around Blackstone's IPO, and my assumption is that such a focus will take away from the first half-hour of trading in the
Nasdaq
markets. If this assumption is correct, relative volume in the Nasdaq should be lower than that of previous days this week and make trading less predictive on the basis of five- and 30-minute setups.
Therefore, I'll be backing off any early setups in the NDX based on those two ranges. Instead, I would like to see how the index behaves between 10 a.m. and 11:30 a.m. EDT. Once Blackstone opens, that hoopla will subside, and traders should return their focus to their respective normal trading arenas.
What I would like to see this morning is for the Nasdaq 100 to remain around 1940 until the excitement around Blackstone wanes, then to see how the early range breaks. Ideally, the index forms a range between 1935 and 1945. Given the resistance that has formed this week under 1950, I'll be looking to fade any strength above 1945 for a move back to 1935. If the index moves above 1950, this bias fails.
If the index can move below 1935, I'll be looking for a quick break of that level that holds above 1930 and can offer long exposure for a move back to 1940. These are both quick trades for quick profits. I don't expect much of a trend move today in either direction. If the index moves under 1930, this bias fails.
At the time of publication, Schumacher had no positions in the stocks mentioned, although holdings can change at any time.
Chris Schumacher is a financial trader, speaker, writer and co-author of
Techniques of Tape Reading
. While Schumacher cannot offer specific investment or trading advice, he appreciates your feedback;
to send him an email.