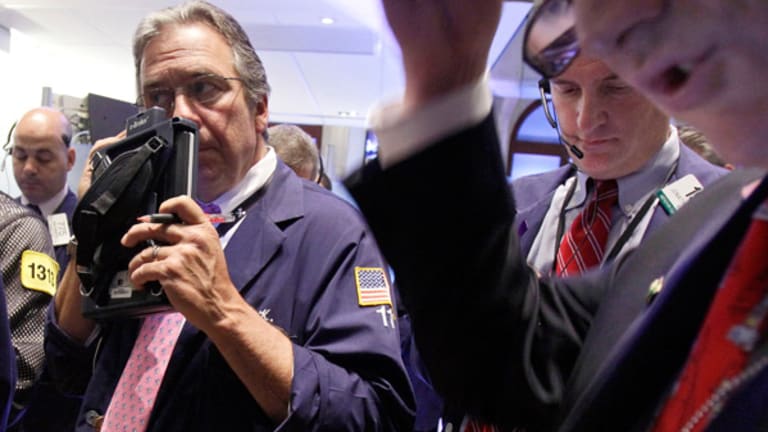 The BlackBerry Clone War Begins
The ambitious plans of Nokia, Motorola and Research In Motion do not leave room for three winners.
This column was originally published on RealMoney on June 27 at 11:48 a.m. EDT. It's being republished as a bonus for TheStreet.com readers.
With the side-by-side launches of the latest email-enabled mobile phones in some countries, this summer marks the start of an all-out scramble for supremacy in this market.
Nobody knows what its potential size is, but considering its current limited scope -- perhaps just 8 million users globally -- the battle that is brewing seems destined to produce some spectacular trouble. The ambitious plans of
Research In Motion
(RIMM)
,
Motorola
(MOT)
and
Nokia
(NOK) - Get Nokia Corporation Sponsored American Depositary Shares Report
do not leave room for three winners -- perhaps not even two.
Research In Motion, the company that defined the email phone, launched the BlackBerry in South Korea this spring and is about to expand to Japan, opening up a new front in Asia as Motorola attacks BlackBerry in North America and Nokia does the same in Europe.
The template device here is a wide-phone/PDA combo with a QWERTY keypad. It's been a niche product for a half-decade, but huge expectations are now being loaded on expanding it into a phone upgrade and driver of mobile-data-revenue.
Reflecting the rather minuscule current size of the email phone market -- roughly 2 million BlackBerry-like devices were sold in 2005 -- Research In Motion is probably going to add fewer than 3 million BlackBerry subscribers this year. However, Motorola is aiming to sell 12 million Q phones in its first year on the market, and Nokia probably has a one-year target above 10 million for its E61 as well.
Gung Ho
That is very ambitious. Sometimes, a consumer-electronics niche blows up overnight, but going from annual volume of roughly 2 million to 20 million in two years would be historic. The math is particularly daunting considering that we aren't dealing with a pure consumer-market product -- the mobile
push email market has been dominated by corporate buying.
For Research In Motion, Motorola and Nokia to reach their combined targets, the email phone must take off in the consumer space in a big way while the enterprise market mushrooms. If not, some vendors are going to be very disappointed.
Is a happy scenario where everyone is a winner plausible? The Q and the E61 are priced under $200 and 200 euros, respectively, so they might garner mass market volumes fairly rapidly. But there is a big challenge hidden in the contract pricing.
The lowest voice/data plan for the Motorola Q offered by
Verizon
(VZ) - Get Verizon Communications Inc. Report
is $80 a month, yet Verizon's average revenue per mobile customer is below $50 a month. To get average subscribers to buy a Motorola Q, Verizon must lure them into paying more for their monthly service -- much more. Is this feasible beyond hard-core corporate email freaks? I'm tempted to forecast that one or more of these three companies will fall woefully short of their goals.
We're starting to see the first side-by-side comparisons of these products in European and Asian markets. Vodafone Ireland is launching the BlackBerry 8707v at 299 euros, and is also gearing up to launch the Nokia E61 in July -- at 199 euros. This seems to be a typical price differential BlackBerry must overcome, despite the fact that the 8707v lacks WiFi support. The BlackBerry's software edge must be overpowering to offset the price/feature disadvantage.
Timing Issues
July is an important month for the Nokia E61: Operators from 3 UK to Optus Australia are rolling it out. In the meantime, sales of the Motorola Q soon will expand from Verizon to Canada's Telus. BlackBerry scored major points by launching in South Korea this spring and striking a deal with NTT DoCoMO to sell its devices in Japan starting in the fall.
I can see the push email handset market growing to 10 million to 12 million units over the next 12 months, which would be a triumph were the expectations not running so high.
Serious trouble is brewing for Research In Motion, which is being squeezed by two price-cut experts and is now pinning its hopes on notoriously tough Asian markets. Tokyo's Akihabara is a graveyard for Western electronics companies -- from video games to mobile phones, Japan has resisted Western brands fiercely for decades. South Korea isn't much easier, and Motorola's recent resurgence there makes BlackBerry's challenge even more formidable.
For Nokia and Motorola, the big question is how much time Nokia's E-61 has to dominate the European and Asian markets before the GSM/W-CDMA variant of the Motorola Q arrives. If Motorola gets it out on both continents by late October, it could stage a serious challenge to the E-61. If the global Q launch drags beyond November, the rapidly ramping E-61 will crush it with cheap pricing, and a second-generation variant will widen the feature gap even further.
It will be fascinating to watch the comments from mobile-service providers about these developments. From Verizon to Optus, they are clearly hoping to push subscribers into upgrading to expensive monthly plans on the back of the push email phenomenon. I can't believe this will be a cakewalk, considering how hypersensitive telecom consumers have grown to pricing.
I'm betting we'll see major mobile-data price wars breaking out later in 2006, demolishing the operator plans of finally moving out of price competition to feature-driven sales. Of course, data price wars would be heaven-sent for hardware vendors.
The BlackBerry clone war has been delayed by six to nine months, but begun it finally has.
P.S. from TheStreet.com Editor-in-Chief, Dave Morrow:
It's always been my opinion that it pays to have more -- not fewer -- expert market views and analyses when you're making investing or trading decisions. That's why I recommend you take advantage of our
to TheStreet.com's
RealMoney
premium Web site, where you'll get in-depth commentary
and
money-making strategies from over 50 Wall Street pros, including Jim Cramer. Take my advice --
Tero Kuittinen is a senior product specialist for Nordic Partners, Inc., a pan-Nordic brokerage firm. Although Kuittinen is an employee of Nordic Partners, Inc., the statements above are being made in Kuittinen's personal capacity and are in no way are the statements of Nordic Partners, Inc., nor attributable to the company. Under no circumstances does the information in this column represent a recommendation to buy or sell stocks. Kuittinen appreciates your feedback;
to send an email.