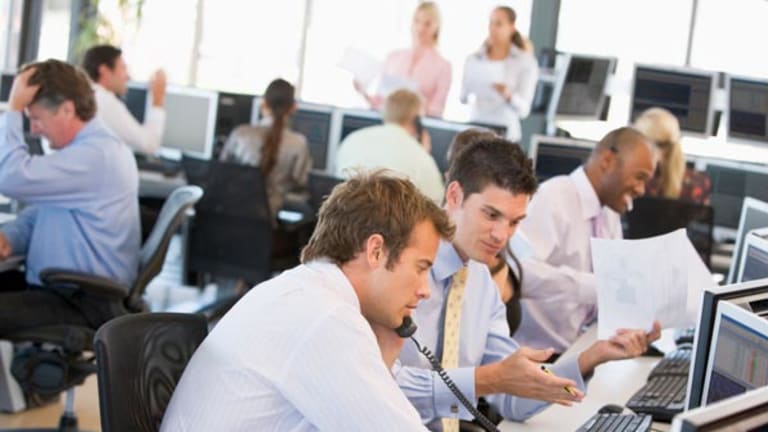 The Biggest Rally in 15 Years
The Dow adds more than 6% and the Nasdaq about 5% as fear finally takes a holiday.
The Dow adds more than 6% and the Nasdaq about 5% as fear finally takes a holiday.
Updated from 5:11 p.m. EDT
Buyers re-emerged in droves Wednesday and the
Dow Jones Industrial Average
had its best day since late 1987, as the arrest of an allegedly corrupt chief executive and soothing words from one of the nation's biggest banks finally calmed the rampant paranoia that had ruled Wall Street all month.
The Dow finished with a gain of 488.95 points, or 6.4%, to 8191.29, while the
Nasdaq
jumped 61.18 points, or 5%, to 1290.23. For both averages it was the largest percentage gain in 15 years and the Dow's second-biggest single-day point gain ever. The
S&P 500
rose 46 points, or 5.7%, to 843.
"This is an oversold rally," said Rob Cohen, co-head of listed trading at Credit Suisse First Boston. "The market reached an inflection point."
After surrendering 100 points in the first minutes, the market caught a bid when the former head of
Adelphia
(ADELQ)
, John Rigas, and other principals at the bankrupt cable company were shown on television being arrested on securities charges.
The SEC alleges that Adelphia excluded billions of dollars in liabilities from its financial statements, artificially inflated earnings and made use of off balance sheet vehicles to hide the true state of its finances.
At about the same time,
J.P. Morgan Chase
(JPM) - Get Report
held a conference call to address the recent fall in its stock price, telling investors the bank did nothing wrong in its dealings with
Enron
and refuting rumors about its derivative exposure. The stock, which sunk early, ended up 16% on the session at $23.30.
The Dow Shall Rise Again
The index's biggest one-day rise since 1987
"The J.P. Morgan statement assuaded a lot of fears," said Cohen.
Both J.P. Morgan and
Citigroup
(C) - Get Report
have seen large amounts of market capitalization hacked off in the last two sessions because of concerns the banks had a less-than-savory role in the
Enron
debacle.
On the conference call, J.P. Morgan said it has a high degree of confidence in its accounting integrity and that top executives will have no problem signing off on financial statements by Aug. 14. Citigroup gained almost 10% to $29.59.
Wednesday's turnaround came at a zenith of market volatility and as some market gauges reached their lowest valuations in about five years.
"The VIX, a gauge of fear in the marketplace, got to a level that was just below the September high," said David Memmott, head of listed block trading at Morgan Stanley. "At that time, we were fearing for our lives and well being."
Memmott observed a heavy amount of short-covering, as is typical in fierce rallies following intense selloffs. "This is probably a bear-market rally," said Memmott. "But maybe, we discounted the worst-case scenario."
Investors still had plenty of earnings news to digest. Online bookseller
Amazon.com
(AMZN) - Get Report
said after the close Tuesday that its second-quarter loss narrowed, and the company raised its sales forecast for 2002.
The company also said it will expense its stock options by the beginning of 2003 in order to provide further transparency in its financial statements. Despite all of that, the shares fell 3% to $14.10.
Dow component
DuPont
(DD) - Get Report
, the nation's largest chemicals company, reported better-than-expected second-quarter earnings thanks to increased consumer spending on home improvement products.
The company earned $543 million, or 54 cents a share, compared with a loss of $213 million, or 21 cents a share, a year earlier. Excluding special items, DuPont said it earned 71 cents a share, beating analysts' estimates by a nickel. Shares of DuPont were up 9% to $40.28.
Another Dow stock,
McDonald's
(MCD) - Get Report
, the world's largest fast-food chain, reported a rise in second-quarter earnings, as strong overseas sales offset weak domestic results. The company earned $497.5 million, or 39 cents a share, compared with $440.9 million, or 34 cents a share, last year. The results topped estimates by a penny. McDonald's traded down 0.3% to $23.77.
In the drug sector,
Merck
(MRK) - Get Report
announced Tuesday that its board approved a $10 billion stock buyback plan. The company said it will repurchase the shares periodically on the open market and in privately negotiated transactions. Merck also approved a fourth-quarter dividend of 36 cents payable to stockholders of record at the close of business on Sept. 6. The stock added 9% to $42.60.
Elsewhere, oilfield services company
Halliburton
(HAL) - Get Report
reported a huge second-quarter loss after taking a $391 million charge to cover future asbestos claims. The company lost $498 million, or $1.15 a share, compared with net income of $382 million, or 89 cents a share, in the year-ago quarter.
Halliburton warned investors in recent months that it would take a substantial charge to cover future claims, whereas in the past the company only accounted for claims that have already been filed. The stock climbed 23% to $11.20.
Supplemental insurance provider
Aflac
(AFL) - Get Report
said quarterly profits rose as a successful advertising campaign bolstered sales. The company posted a second-quarter net profit of $212 million, or 40 cents a share, compared with $153 million, or 28 cents a share, in the year-ago period. The results topped analysts' expectations by 3 cents.
"I wouldn't want to say this is a bottom," said Bob Basel, director of listed trading at Salomon Smith Barney. "We don't know what the next few weeks will hold."
"We will have to wait to see if the people who were going to mutual funds and asking for redemptions will change their minds," said Basel.
U.S. Treasury issues were weaker after the rally in stocks. Around 4 p.m. EDT, the 10-year note was down 12/32 at 103 6/32, yielding 4.459%. The long bond was down a point to 100 13/32 to yield 5.345%.
Overseas markets were mostly lower, but above their worst levels. London's FTSE 100 lost 2.1% to 3777, and Germany's Xetra DAX gained 3.3% at 3633. Japan's Nikkei 225 fell 2.6% to 9948, while Hong Kong's Hang Seng closed down 3.3% to 9972.