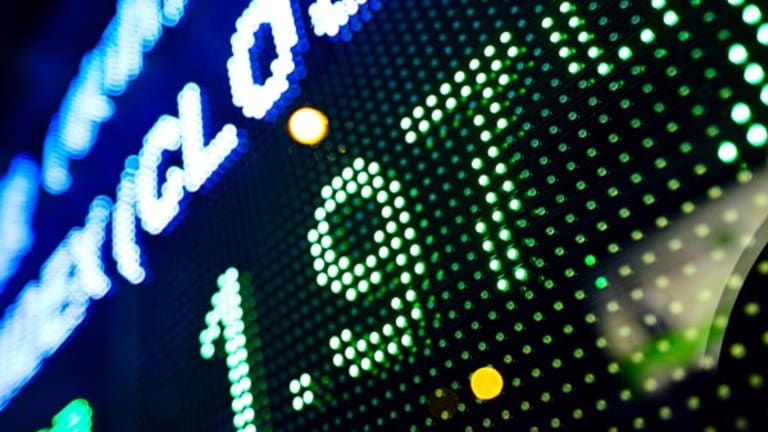 The Beating Continues on Wall Street
The stock market in New York plunged at the open, pushing the Dow below 8000 briefly, before going positive. However, selling pressure quickly returned.
Updated from 12:35 p.m. EDT
Stocks on Wall Street recovered from the worst of a massive early selloff Friday, but the major indices remained deep in the red as credit crisis-induced fears continued to weigh on investor sentiment.
Trading was exceedingly choppy. The
Dow Jones Industrial Average
plummeted nearly 696 points early and briefly broke below the 8000 level, only to recover just as sharply and briefly touch positive territory. Lately, however, the index was trading down 479 points at 8100. The
was lately down 55 points at 855. The Nasdaq was 82 points lower at 1563.
Amid the increasing concern about banks, the U.S. government was considering guaranteeing bank debt and insuring all domestic bank deposits, according to a report in
The Wall Street Journal
.
The report precedes a meeting of the Group of Seven industrial nations. The economic powers plan to discuss a coordinated response to the global credit crisis. Japan's finance minister, Shoichi Nakagawa, said that his country would propose an international fund to secure emergency loans for nations suffering under the credit squeeze.
"Because this is a global banking crisis, you've got to come up with a global plan to backstop everyone," said Paul Mendelsohn, chief investment strategist at Windham Financial. "This is a real financial panic. The run on the money markets is the equivalent of a run on the bank."
He said the Treasury should begin guaranteeing money market funds and is right to take equity positions in financial firms as opposed to buying bad debt.
Mendelsohn said the situation isn't hopeless, and the G7 meeting is an opportunity to fix the system. "They've got to come up with a plan on Monday," he said. "Everybody's got to know what the rules are, how the system's going to work moving forward. You have to throw as much money as it takes."
Traders were closely eying an auction of
credit default swaps
related to bankrupt brokerage
Lehman Brothers
. The auction is expected to bring heavy losses to sellers of the swaps, which function as insurance against a default on company debts. The market for these derivatives has been tied up as credit markets showed at best a mixed reaction to internationally coordinated rate cuts initiated earlier in the week.
The initial result of the auction was that sellers of Lehman credit-default swaps would have to pay 90.25 cents on the dollar, although the final price of the derivatives will be determined at 2 p.m.
"The Lehman auction could turn things around," said Paul Nolte, director of investments at Hinsdale Associates. "What has to enter the market, I think, is some level of trust. And right now, there isn't." He said that seeing the Lehman credit-default swaps clear will help get the financial system moving again.
Three-month dollar Libor, a measure of the rates banks charge one another for large loans, climbed to a new high of 4.82%, although rates on the nine- and 12-month maturities were declining. The cost of overnight borrowing, which has been highly volatile in recent weeks, declined by more than half, to 2.47% from 5.09%.
Speaking in Washington, President Bush said the administration has taken significant steps to provide liquidity to the markets and that Americans should be confident about the U.S. economy's future. Bush also said that over time, steps already taken by the government would gain traction.
Financial stocks were at the forefront of investor skepticism thanks to nearly dry credit markets.
Battered firms
Morgan Stanley
(MS) - Get Free Report
and
Goldman Sachs
(GS) - Get Free Report
were again in focus. Ratings agency Moody's said it may cut Morgan Stanley's credit rating, and lowered its credit outlook for Goldman to negative. Both stocks were posting sizeable double-digit losses.
Following a heated battle with
Citigroup
(C) - Get Free Report
,
Wells Fargo
(WFC) - Get Free Report
appeared set to buy
Wachovia
(WB) - Get Free Report
unencumbered.
Citigroup said it will continue to pursue $60 billion in damages for breach of contract but would not try to overturn a merger between Wells Fargo and Wachovia. Citi had announced a Wachovia acquisition on Sept. 29, only to trumped days later by a new bid from Wells.
The
Journal
also reported that insurance firm
(AIG) - Get Free Report
took out an additional $9 billion in government loans, bringing its total borrowing from the U.S. in the past three weeks to $70.3 billion. The company continues to attempt to sell its assets in a struggle to stay afloat.
The paper also said the U.S. exchanges are considering a temporary plan that would halt short-selling in any stock that had a drop of 20% in a single session. If that occurs, in many cases shorting would be banned in the stock for three days, the paper reported, citing people with knowledge of the matter.
Bank of America
(BAC) - Get Free Report
shares were edging higher following reports that it may sell a portion of its 11% stake in
China Construction Bank
. The banking titan also appeared set to carry out its acquisition of
Merrill Lynch
, despite declines in both firms' stock prices, according to a report in the
Financial Times
.
Earnings season continued amid the financial turmoil, as industrial bellwether
(GE) - Get Free Report
reported third-quarter earnings that declined 12% year over year but were in line with revised estimates.
As for analyst actions, Wells Fargo, along with insurance and credit services firms such as
State Auto
(STFC) - Get Free Report
,
Erie Indemnity
(ERIE) - Get Free Report
,
Donegal Group
(DGICA) - Get Free Report
and
Advanta
( ADVNB) all caught upgrades from Stifel Nicolaus.
Looking at economic data, the Census Bureau's report on the trade balance for August showed a deficit of $59.1 billion, whereas the economy registered a $62.2 billion deficit in July. Economists had anticipated an August deficit of $59 billion. The Bureau of Labor Statistics also reported that export prices excluding agricultural goods declined 1% in September. Import prices excluding oil dropped 0.9%.
In commodities, crude oil was down $7 to $79.59 a barrel. Gold was climbing $17.70 to $868.80 an ounce.
Longer-dated U.S. Treasury securities were falling. The 10-year was down 18/32 to yield 3.85%, and the 30-year was declining 24/32, yielding 4.14%. The dollar was climbing vs. the euro and pound, but falling against the yen.
Overseas, European markets were taking it on the chin. The FTSE in London and the DAX in Frankfurt were each down more than 7%. In Asia, Japan's Nikkei and Hong Kong's Hang Seng also closed with broad losses.