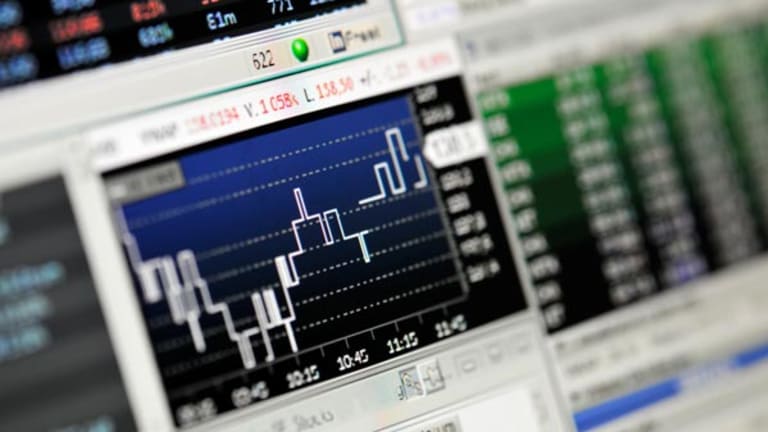 The Battle Over Crocs
Next week's earnings will be a catalyst for long vs. short.
This column was originally published on RealMoney on Feb. 15 at 1:58 p.m. EST. It's being republished as a bonus for TheStreet.com readers. For more information about subscribing to RealMoney, please click here.
With its fourth-quarter earnings announcement less than a week away,
Crocs
(CROX) - Get Crocs, Inc. Report
remains one of the most interesting "battleground" stocks in the market right now.
Shares have pulled back sharply (about 8%) since setting a new 52-week high, $58.57 intraday, last week. While short-term traders try to predict the stock's next move, long-term investors have to wonder whether Crocs' lofty valuation leaves room for further gains or whether the substantial amount of short-sellers will be right in the end.
When I
originally wrote about the shoemaker in early November, its shares were trading just under $40. I noted that the short-seller bandwagon was getting awfully crowded, increasing the potential upside for longs through momentum from massive short-covering. Shares have not traded below $41 since then.
At the time, the overall short position in the stock had increased to 38.6% of the float from just under 20% three months earlier. With shares now 34% higher, shorting CROX remains popular; 36.3% of the float was short as of Jan. 9.
The strategy makes sense -- any earnings misstep or indication that the company's shoes are nothing more than a fad could send shares plummeting -- but as I mentioned months ago, having such a large number of shorts already in the stock makes a big selloff that much more unlikely. In addition, the company's new product lines and growth plans could enable Crocs to beat earnings expectations for a number of years.
Both Crocs management and the investment community are keenly aware of the fate of companies built on the shaky foundation of a "fad" product. The retail space has a history of products whose popularity skyrocketed only to plummet in devastating fashion as consumer tastes shifted. Examples include everything from Razor scooters to karaoke machines. Apparel stores are also notoriously vulnerable to such shifts, as consumers' notion of what is trendy is based on the premise of changing demand.
It is exactly these precedents that short-sellers are trying to profit from. Well, that and the fact that shares of Crocs trade at a significant premium to the company's peers. But management's long-term plans and the potential sustained earnings growth rate show how Crocs might escape "fad" status and provide a justification for a higher P/E multiple than its peers.
Although Crocs established its brand with its flagship brightly colored footwear, a note in the
Wall Street Journal's
"Heard on the Street" column on Tuesday mentioned Crocs' new line, due in the fall, which will depart from the company's signature rubber-clog look. If Crocs can maintain its reputation for comfort while offering attractive styles, long-term investors could expect 20%-25% earnings growth in future years.
Recent analysts reports indicate that Crocs' new products have been well-received by consumers, particularly its Alice line for women and girls, as well as Mammoth, which marks the company's entry into the mule category. Its most noticeable departure from its classic look is its new sneaker, the Cruiser, due in the fall.
In addition, the company's licensing agreements with Disney, Nickelodeon and Warner Bros. provide high-profile characters to help market Crocs' children's products, adding further long-term-growth potential. While less attractive, its agreements with the National Football League and National Hockey League show that the company is looking across a variety of markets for additional revenue growth and diversification.
Looking at valuation, CROX trades at about 26 times its forecast 2007 earnings on the basis of consensus estimates. The table below shows how shares stack up vs. peers in the footwear space, on the basis of expectations for earnings growth in 2007.
As you can see, Crocs' stock trades well ahead of peers such as
Steve Madden
(SHOO) - Get Steven Madden, Ltd. Report
,
Skechers
(SKX) - Get Skechers U.S.A., Inc. Class A Report
and
Deckers
(DECK) - Get Deckers Outdoor Corporation Report
, best known for its UGG and Teva brands.
However, Crocs is also expected to grow faster than its peers in 2007, and it has a recent history of beating analyst estimates, making it possible that these consensus estimates are conservative. For comparison's sake, I included a PEG ratio, using the projected one-year growth in 2007 in the denominator. On this basis, Crocs actually looks cheap, but I would note that typically, analysts would suggest using a sustainable five-year growth rate. Using my earlier suggestion that Crocs may grow earnings at a 25% clip, the resulting PEG would be 1.04 -- still much cheaper than most peers. At 20% growth, the PEG would be 1.30.
For the immediate future, investors will be focusing on the company's fourth-quarter earnings announcement on Feb. 20. Guidance is for revenue of $92 million to $95 million, with earnings per share in a range of 40 cents to 43 cents. Consensus estimates are for earnings per share of 43 cents and sales of $96.47 million.
Based on recent history, there is reason to believe that anything less than a third-straight upside surprise would disappoint investors. On Nov. 2, the company beat estimates by 12 cents, posting earnings of 53 cents a share vs. expectations for 41 cents. Revenue was also well ahead of estimates: $111.3 million vs. $92.2 million. Revenue and earnings for the company's second quarter came in 32% and 56% ahead of consensus estimates, respectively.
Anyone currently invested in or considering going long Crocs should know that this is an extremely risky play because of the valuation and the fact that so many short-sellers are looking for any sign of a slip in the company's progress (and will immediately make sure everyone is aware of it). Then again, shorts have represented about a third of all positions for almost six months, only to fail in convincing others to sell the stock.
Although the upside opportunity has decreased since I first highlighted the stock, I would advise against taking the short side along with so many others, especially on a simplistic "the multiples are too high" thesis. I would rather remain long and wait for a short squeeze on positive comments about the company's new product lines before taking profits.
With sentiment seemingly at an all-time high, I would not be shocked by a short-term selloff to $50 next week, even if earnings come in well ahead of expectations. In this case, the stock would be attractive for an entry or additional purchase. The only real certainty, however, is that CROX will remain a battleground stock suitable only for aggressive investors willing to pay close attention to the company's growth prospects.
In keeping with TSC's editorial policy, Larsen Kusick doesn't own or short individual stocks. He also doesn't invest in hedge funds or other private investment partnerships. Kusick is a research associate at TheStreet.com, where he works closely with Jim Cramer and works on TheStreet.com Stocks Under $10. Prior to joining TheStreet.com, he worked in options trading and management consulting. He appreciates your feedback;
to send him an email.
Interested in more writings from Larsen Kusick? Check out
.