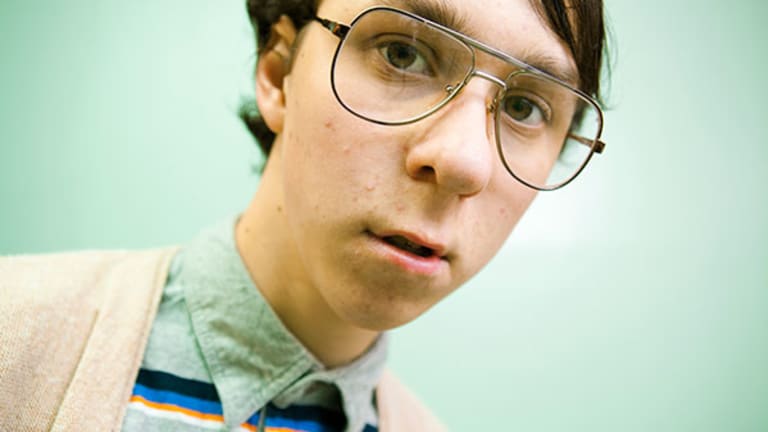 NEW YORK (TheStreet) -- Have you ever been called a nerd? Chances are if you were the kid in class that loved to read, got good grades in math and science, and was well liked by all of your teachers, then you've probably been called a nerd.
In the past, being classified socially as a "nerd" meant you'd never have a date, you wore clothing that was less than fashionable, and you were lacking in a significant amount of that "it factor." Basically it meant you were the "Screech" of your high school.

Now, as the importance of individuals with strong, math, science, and analytical skills is greater than ever, being classified as nerdy isn't such a bad thing.
In fact, thanks to TV shows like The Big Bang Theory, Chuck, Numb3rs, MythBusters, and Scorpion, being called a "nerdy" comes with a little more prestige, as the shows depict these nerdy men and women in action, making us laugh, testing the limits of science and nature, helping people and saving the world.
Bill Gates once said, "Be nice to nerds. Chances are you'll end up working for one."
Well, if you didn't end up working for a "nerd," odds are your life has somehow been impacted by the products created by a team of "nerds."
"In fact, careers in STEM -- science, technology, engineering and mathematics -- are shaping the landscape of 21st century America," writes CareerCast in its list of the top careers in the IT and engineering fields.
The following list, based on information gathered from CareerCast, is of the top 10 most in demand, but "historically nerdy" careers in IT and engineering.
10. Software Engineer
Average Annual Salary: $93,350
Projected Growth by 2022: 22%
These people are responsible for developing information systems by designing, developing and installing software solutions.
Individuals with strong knowledge in Cloud-based technology will have a "leg up" in the job market over the course of the next several years, CareerCast says.


9. Computer Systems Analyst
Average Annual Salary: $79,680
Projected Growth by 2022: 25%
"The ability to pinpoint the most effective strategies for utilizing technology is one of the key characteristics defining successful businesses in the future. As a result, computer systems analysts are in high demand," says CareerCast.

8. Biomedical Engineer
Average Annual Salary: $86,960
Projected Growth by 2022: 27%
Biomedical engineers use their extensive knowledge of biology, mechanics and medicine to develop technologies and solutions to help patients with a variety of medical concerns from laser eye surgery to the use of a pacemaker.
CareerCast describes biomedical engineers as playing an "invaluable role in bridging the gap between technology and health in the 21st century."
7. Computer Systems Administrator
Average Annual Salary: $72,560
Projected Growth: 12%
These workers offer stability to computer networks in an increasing "digital only" information age.
6. Petroleum Engineer
Average Annual Salary: $130,280
Projected Growth by 2022: 26%
As oil and shale exploration grows, demand for Petroleum Engineers does too.
The engineer is involved with each aspect of oil and gas field exploration, development, and production. The workers' goal is to "maximize hydrocarbon recovery at minimum cost, while maintaining a strong emphasis on reducing environmental impact," according to the description on the Prospects.ac.uk career board.
5. Civil Engineer
Average Annual Salary: $79,340
Projected Growth by 2022: 20%
"Continued investment in infrastructure at both state and local levels should fuel hiring of civil engineers in the years to come," CareerCast says.
The Bureau of Labor Statistics says the role of the civil engineer is to construct, supervise, and operate large construction projects, including roads, buildings, airports, tunnels, bridges, and more.
4. Web Developer
Average Annual Salary: $62,500
Projected Growth by 2022: 20%
If you're looking for a high paying, low stress career and you're creative and good with computers, than a job as a web developer might just be the thing for you.
Responsible for creating the look, feel, layout, and features of a website, jobs as a web developer are said to be the "most promising IT careers in the current job market," according to CareerCast.
3. Technical Writer
Average Annual Salary: $65,500
Projected Growth by 2022: 15%
The technical writer plays an important role in translating the jargon of engineers and scientists into a language consumers purchasing their products can understand.
2. Environmental Engineer
Average Annual Salary: $80,890
Projected Growth by 2022: 15%
If you're environmentally conscience and want to help improve the world around you, consider a career as an environmental engineer.
The individuals working in this growing field help companies figure out how to decrease their impact on their local environment.
1. Mechanical Engineer
Average Annual Salary: $104,270
Projected Growth by 2022: 15%
One of the highest paying jobs in the field of engineering, the responsibilities and duties of a mechanical engineer are vast.
A mechanical engineer helps develop projects from small components to large plants, machinery, and vehicles, according to the description on Prospects.ac.uk.
The worker can be a part of one, if not all stages of a project's development, and it's one of the most highly coveted engineering jobs.
The rate of unemployed Mechanical Engineers is nearly half that of the national average, CareerCast writes.
Must Read: