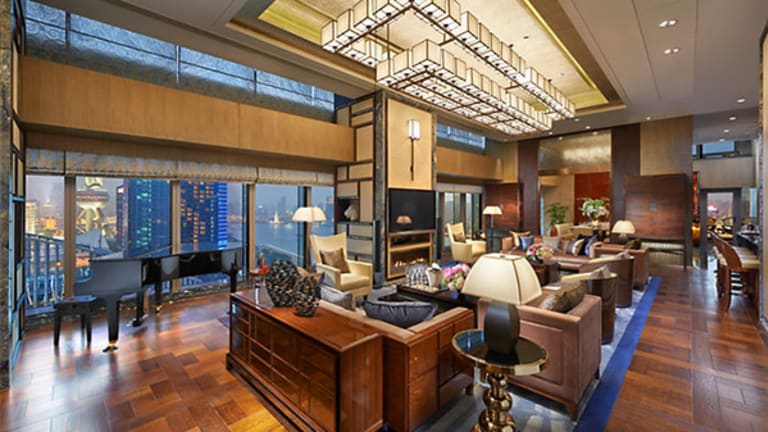 The 10 Most Expensive Hotel Suites in the World
The following is a list of the 10 most expensive hotel suites in the world.
NEW YORK (TheStreet) -- For many of us, planning a vacation involves scrimping and saving in order to manage just a few days laying on a beach or traveling in a foreign country. We work all year long to afford those fleeting moments of pure bliss while soaking up the sun, or enjoying the new and delicious cuisines offered by other cultures.
Sooner or later our bubble bursts and we realize that we have to return to reality and begin the process of longing for our next trip all over again.
Some people however don't live in a world where saving for a five-star trip is a necessity. We usually read about these people on gossip sites, or on lists of the world's most wealthy individuals.
It can often be fun to read about the lives of the rich and famous, wondering what it would be like to drop everything for a spontaneous trip to a private island resort, and asking yourself what does a hotel room offer that would make it worth $67,000 per night?
A snippet from the American classic Little Women by Louisa May Alcott reads: "'What shall you do on your vacation?' asked Amy. 'I shall lie abed and do nothing, replied Meg'."
Well, if you are looking for a vacation spot where laying around and doing nothing in your hotel room would be perfectly acceptable, take a look at the following list of most expensive hotel suites in the world.
10. The Apartment at the Connaught Hotel in London, England.
The average price per night is $23,500. The penthouse was designed by the late David Collins and features a living room which houses a collection of specially made furniture, limited edition books, and a selection of unique antiques, says Billionaire.com
9. The Presidential Suite at the Hotel Cala di Volpe in Porto Cervo, Italy
The average price for a night in this suite is $26,000. The presidential suite has three bedrooms, a solarium, a gym, and a large private swimming pool.
Guests can also step out onto the terrace for a spectacular view of the coastline.

Must Read: The 10 Drunkest States in America ...and... The 10 Dumbest States in America

8. Shangri-La Suite at the Shangri-La Bosphorus in Istanbul, Turkey
Just one night at the Shangri-La Suite will cost you $26,385. The suite overlooks the Bosphorus straight and has three separate terraces.
The marble bathroom offers a heated floor and a 19-inch TV embedded in the mirror, Billionaire.com says.

7. Presidential Suite at the Mandarin Oriental in Pudong, Shanghai, China
At an average price of $26,450, a night the Presidential Suite offers guests their own private wine cellar, a fully equipped kitchen, and a private dining room.
Then head to one of the two private roof gardens for a view of the city after soaking in a bathtub located in a bathroom, Billionaire.com says, that is bigger than most Hong Kong apartments.
6. Royal Suite at the Hotel Plaza Athenee in Paris, France
For an average of $27,000 per night, guests staying in the largest hotel room in Paris can enjoy an 18th century Regence period theme, sleep in one of four bedrooms, rest in their choice of three living rooms, dine in a private kitchen, soak in a Jacuzzi, and make use of their own steam room.

5. Royal Villa at the Grand Resort Lagonissi in Athens, Greece
If you have a hard time relaxing in this Mediterranean villa you're probably doing something wrong. For an average of $35,000 per night you can enjoy one of two master bedrooms, an over-sized bathroom, and a private butler that stays onsite in order to cater to your every whim.
And if that still isn't enough to help you forget all of your cares, take full advantage of the massage table while enjoying sun bathing on your private deck.
Must Read: The 10 Drunkest States in America ...and... The 10 Dumbest States in America
4. Penthouse Suite at the Grand Hyatt Cannes Hotel Martinez in Cannes, France
Here you can spend your evenings soaking in your own Jacuzzi located on the private terrace overlooking the Bay of Cannes. For $37,500 a night guests can stay in this seventh floor penthouse equipped with two master bedrooms, a living room, a dining room, and two marble bathrooms.

3. Hilltop Estate Owner's Accommodation at the Laucala Island Resort on the Laucala Island, Fiji
In order to stay in this $40,000 per night exclusive villa guests must first fill out an application and then wait to be invited by the property's owner, Red Bull billionaire Dietrick Mateschitz, says Billionaire.com.
The Hilltop estate is just one of many villas located on the island. The resort is made up of 25-luxurious villas and island activities include horseback riding on the beach, a welcome massage at the spa, and gourmet dining.

2. Ty Warner Penthouse at the Four Seasons Hotel in NYC
Come to New York and you'll likely hear residents complaining about the cost of rent. But if you are spending your vacation lounging in this $45,000 per night penthouse, rent is likely the least of your worries.
It took seven years and $50 million to complete this project. The room offers guests a night of serine sleep when they lay their heads down on the 18th century Japanese silk pillows.
The room has its own library, which is stacked with over 100 books on art and culture.
This suite is the highest hotel room in the city and offers 360 degree floor to ceiling views.
Must Read: The 10 Drunkest States in America ...and... The 10 Dumbest States in America
1. Royal Penthouse Suit at the Hotel President in Geneva, Switzerland
At a whopping $67,000 average per night price, the Royal Penthouse Suite is the most expensive hotel room in the world.
Guest can choose from one of 12 bedrooms, each accompanied by its own bathroom.
This 1,800 square meter suite includes panoramic views of Lake Geneva and the Swiss Alps, a handpicked art collection, a Bang 7 Olufsen BeoVision 4 103 inch plasma TV, and a Steinway grand piano.
Must Read: The 10 Drunkest States in America ...and... The 10 Dumbest States in America