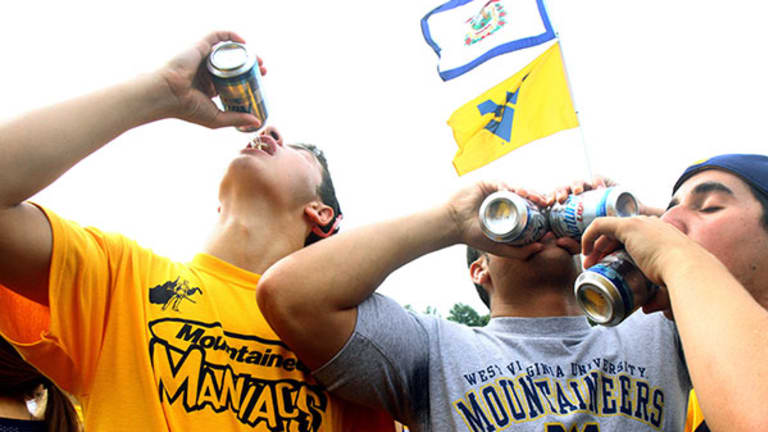 10 Drunkest States in America
Here's a list of the 10 heaviest drinking states in the country.
NEW YORK (TheStreet) -- In 2012, 87.6% of Americans 18 and older reported that they drank at some point in their lifetime, according to the National Institute on Alcohol Abuse and Alcoholism (NIAAA), with 71% of Americans reporting that they had an alcoholic beverage in the past year and 56% saying they had one in the past month.
Although every state in the country has set the drinking age at 21, 51.3% of adults 18 and over are current regular drinkers, or have had at least 12 drinks in the past year, according to a Center for Disease Control and Prevention (CDC) survey. Comparatively, 13% of adults surveyed are current infrequent drinkers, consuming 1 to 11 drinks in the past year.
Bloomberg put together a list of the drunkest states in the country based on adults 26 years and older who reported binge drinking in the 30-days prior to a survey.  The survey:  The National Survey on Drug Use and Health sponsored by the Substance Abuse and Mental Health Services Administration (SAMHSA), an agency of the U.S. Department of Health and Human Services. The survey polled 67,500 individuals across the country from 2011 and 2012 and defined binge drinking as consuming five or more alcoholic drinks in one sitting.
The economic cost of excessive drinking is massive, according to the CDC, which estimates the number to be $223.5 billion or about $1.90 per drink or $746 per citizen annually. The agency ties the cost to the loss of productivity in the workplace (72% of the total costs), healthcare costs (11%) and expenses related to court trials and accident cleanup.
This is a list of the 10 heaviest drinking states in America...
10. Illinois
Binge Drank in the Last Month: 24.9%
Total Economic Cost of Binge Drinking: $9.33 billion

Cost per Capita: $728
9. Louisiana
Binge Drank in the Last Month: 25%
Total Economic Cost of Binge Drinking: $3.40 billion
Cost per Capita: $794

8. Massachusetts

Binge Drank in the Last Month: 25.05%
Total Economic Cost of Binge Drinking: $5.11 billion
Cost per Capita: $794

7. Iowa

Binge Drank in the Last Month: 25.8%
Total Economic Cost of Binge Drinking: $1.85 billion
Cost per Capita: $622

6. Minnesota

Binge Drank in the Last Month: 25.9%
Total Economic Cost of Binge Drinking: $3.54 billion
Cost per Capita: $687

5. Wisconsin

Binge Drank in the Last Month: 26.71%
Total Economic Cost of Binge Drinking: $4.18 billion
Cost per Capita: $752

4. South Dakota

Binge Drank in the Last Month: 27.3%
Total Economic Cost of Binge Drinking: $542 million
Cost per Capita: $693

3. Rhode Island

Binge Drank in the Last Month: 27.9%
Total Economic Cost of Binge Drinking: $827 million
Cost per Capita: $775

2. North Dakota

Binge Drank in the Last Month: 27.9%
Total Economic Cost of Binge Drinking: $419 million
Cost per Capita: $660

1. District of Columbia

Binge Drank in the Last Month: 30.1%
Total Economic Cost of Binge Drinking: $966 million
Cost per Capita: $1,662