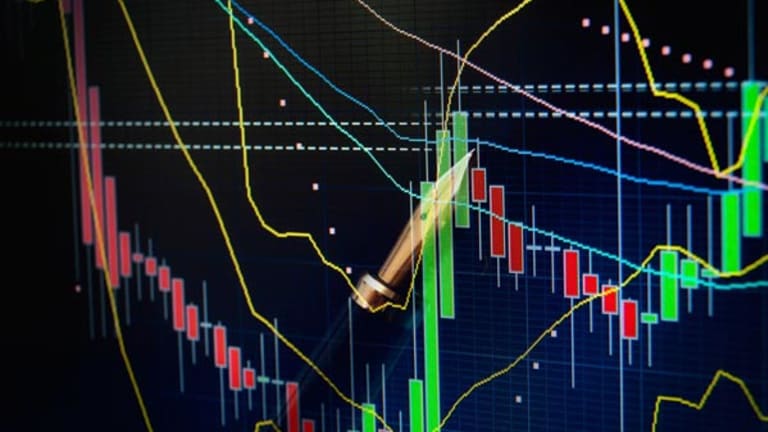 Thanks for Volatility
Turkey week can be wild for stocks. How to play it.
This column was originally published on RealMoney on Nov. 20 at 8:25 a.m. EST. It's being republished as a bonus for TheStreet.com readers. For more information about subscribing to RealMoney, please click here.
"The degree of a person's intelligence is directly reflected by the number of conflicting attitudes she can bring to bear on the same topic."
-- Lisa Alther
As we kick off a holiday-shortened week of trading, market players have an intriguing mix of considerations. What's particularly significant about this week is that there is very strong positive seasonality associated with the trading around Thanksgiving. In fact, the days before and after Thanksgiving have historically been positive more than 75% of the time -- a statistic that is dangerous to ignore. Throw in the fact that we have extremely strong upside momentum in place and a very high level of bullish sentiment and there seems to be little doubt that this market has no place to go but up.
But if you have been in the market for any length of time, you know this fact: when there seems to be no other possibility than a move in a certain direction, the market's tendency is to do the opposite of what is expected.
The very things that support continued market strength -- and the fact that they are so well known and anticipated -- is what makes them less likely to occur. One of the great certainties of the stock market is that the more widely anticipated something is, the more likely that it is priced in immediately. So if everyone is expecting the market to go up tomorrow they will buy today and that means there are less folks left to actually cause the move that was anticipated. The greater the level of expectations the more likely it will be priced in today and the less likely it will occur tomorrow.
This tendency creates an interesting problem for us this week.
Everyone knows about the positive seasonality associated with Thanksgiving. It is no mystery. It has occurred for many years and is widely anticipated, but it occurs nonetheless. To some degree it is probably a self-fulfilling prophecy -- people don't buy in anticipation as much as they try to trade on the couple days that it does occur. So it is not priced in to the same degree that other news might be.
However, the conditions this week are a bit different in that we have had such a strong uptrend and so many are frustrated about the lack of a pullback that they are now thinking that they shouldn't even bother thinking about weakness until sometime next week. After all, everyone knows Thanksgiving is strong so why look for weakness when this market has shown absolutely no sign of taking a rest? If anything, we should expect it to just keep on going.
Those who were looking for automatic strength this week are waking up to a bit of a surprise this morning. Although we have three big buyouts on the wires, overseas markets are down sharply on concerns about inflation. In Japan, exporters such as Toyota are being especially hard hit as worries about the U.S. economy take hold. That is a bit surprising given that the U.S. markets held up just fine on Friday.
The interesting thing about two of the big buyouts this morning is that they are in copper and steel. Strength in these basic industrial sectors is likely to raise concerns about the issue of inflation and that seems to be what is causing the problems this morning.
However, if you have been paying attention recently you know that this market has had a tendency to bounce back from weakness. Many folks who have refused to chase strength have been shut out and they are inclined to use weakness to put capital to work. The bears can't get a foothold and it is going to be very tough for them to do so during Thanksgiving week.
The merger in the copper sector has put some stocks, such as
Kinross Gold
(KGC) - Get Kinross Gold Corporation Report
, higher on my radar this morning. In addition, the acquisition of
Oregon Steel
( OS) has me watching
Steel Dynamics
(STLD) - Get Steel Dynamics, Inc. Report
and
United States Steel Corp.
(X) - Get United States Steel Corporation Report
for sympathy action. U.S. Steel in particular may be in play and a comment from Bank of America this morning that its valuation on a sum of parts basis is 95 may add some momentum.
The exchanges are apparently the new Internet stocks and I'm keeping my eye on a number of them in that group for some wild Thanksgiving action.
InterContinental Exchange
(ICE) - Get Intercontinental Exchange, Inc. Report
ICE,
CBOT Holdings
( BOT) and
International Assets Holding
( IAAC) and several others are likely to offer up some volatility for the aggressive trader.
It sure is going to be an interesting week so get yourself an extra cup of coffee and get ready for some action.
At the time of publication, De Porre was long KGC, STLD, X and IAAC, although holdings can change at any time.
James "Rev Shark" DePorre is the founder and CEO of Shark Asset Management, an SEC-registered investment advisory firm. He also operates
sharkinvesting.com, an interactive online community that serves and educates active investors. DePorre holds business and law degrees from the University of Michigan, is a member of the Michigan Bar Association and a former tax attorney and CPA. He lives in Anna Maria Island, Fla., with his wife and two children.Under no circumstances does the information in this column represent a recommendation to buy or sell stocks. Rev Shark appreciates your feedback;
to send him an email.