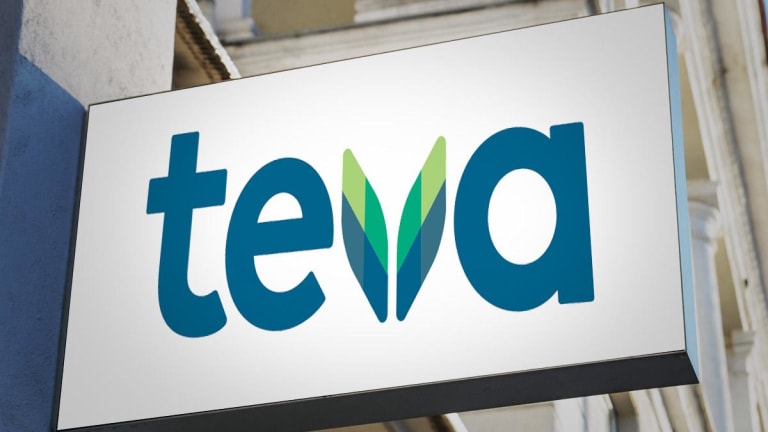 Teva Shares Higher After Drugmaker Proposes $23B Global Opioid Settlement
The settlement, over and above an earlier agreement to settle with two Ohio counties, aims to resolve all outstanding opioid-related claims.
Teva Pharmaceutical  (TEVA) - Get Free Report  shares closed higher Monday after the Israeli drug giant proposed a global settlement to resolve allegations for its role in the global opioid crisis.
The stock finished the day up 8.7% to $8.15. The stock surged as much as 19% on Monday, to $8.95, before settling back.
Under the proposal, Teva says it would donate opioid-addiction-treatment drugs valued at about $23 billion and provide a cash payment of $250 million over 10 years.
The company said it has agreed in principle with a group of attorneys general from North Carolina, Pennsylvania, Tennessee, Texas and other defendants, for a global settlement framework, "designed to provide a mechanism by which the company attempts to seek resolution of remaining potential and pending opioid claims by both the states and political subdivisions."
Teva earlier announced a settlement to provide two Ohio counties — Cuyahoga and Summit — opioid addiction treatment, including buprenorphine naloxone tablets valued at $25 million and a cash payment of $20 million to be paid over over three years.
The company said neither settlement includes an admission of liability.
In a statement, Teva said it's "pleased to positively contribute to solving the nationwide opioid epidemic," adding that it "has consistently committed to complying with all laws and regulations regarding its manufacture and sale of opioids."
Shortly after the announcement Monday, CNBC reported that attorneys for the plaintiff municipalities said they were not on board with Teva's settlement framework and the proposal appears to be "the same proposal that 17 municipalities rejected on Friday."
Shares of four major drug companies bounced around Monday as investors digested the news of a pending settlement with two hard-hit Ohio counties behind a multibillion-dollar opioid abuse lawsuit.
Earlier on Monday, The Wall Street Journal reported that Teva, AmerisourceBergen (ABC) - Get Free Report , Cardinal Health (CAH) - Get Free Report  and McKesson  (MCK) - Get Free Report   reached a settlement with Ohio's Cuyahoga and Summit counties over allegations the companies played a major role in fueling the opioid crisis.