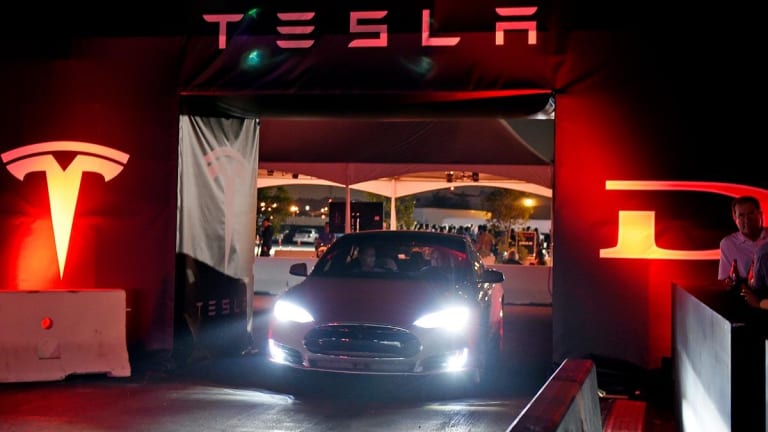 Tesla Surges in Pre-Market After Musk's Olive Branch to Wall Street
Tesla looks set to overtake General Motors as America's most valuable carmaker after the Elon Musk-led group burned through less cash over the past three months, and said it plans to double the pace of production for its key Model 3 sedan despite a wider second quarter loss.
Humble brag ...
Tesla (TSLA) - Get Report  shares surged in pre-market trading Thursday after the clean-energy carmaker said it burned through less cash over the past three months, and plans to double the pace of production for its key Model 3 sedan, even as it posted a wider-than-expected second quarter loss amid questions of the health of its overall finances.
Tesla's net loss for the three months ending in June came in at $718 million, or $3.06 per share, the company said, wider than the $2.90 per share loss that analysts had projected, although excluding some one-off items, that figure narrowed to $2.45 per share. The group burned through $740 million in cash over the three month period, but that figure was well below the $900 million expected by analysts and suggests, given the ramp-up the company has executed in order to meet Model 3 production, a more cost-focused carmaker. 
That view may have been bolstered by a more disciplined performance from founder and CEO Elon Musk on the company's conference call with analysts and investors that followed the after-the-bell earnings release, during which he apologised for remarks he made earlier in the year about "boring" and "bone head" questions and suggested he's more focused on debt and cost reductions than issuing ever-increasing production targets that stretch the company's ability to perform.
More on Tesla's Future From TheStreet
"At a production rate of 7,000 cars a week, we believe we can be sustainably profitable from Q3 onwards," Musk told investors. "We're going to try to raise that rate of the Model 3 production steadily in the coming quarters and try to get to the 10,000 cars a week number as soon as we can."
"From an operating plant standpoint, from Q3 onwards, I really want to emphasize our goal is to be profitable and cash-flow positive for every quarter, going forward," he added. "Now obviously, if there's a big recession or there's a severe force majeure event that interrupts the supply chain, that's not always possible, but we're confident that in, provided the economy is roughly where it is today or reasonably good and there's not a big force majeure event that ... I feel comfortable achieving a GAAP income positive and cash flow positive quarter every quarter from here on out. "
Tesla shares were marked 8.47% higher in pre-market trading, indicating an opening bell price of $326.31 each, a move that would take the stock to its highest level since July 2 and value the Palo Alto, Calf.-based group at $55.4 billion, overtaking General Motors (GM) - Get Report as America's biggest car company. 
Tesla said it plans to produce 55,000 Model 3s, which sell at around $49,000 each, during the current quarter, a figure that suggests a weekly average production rate of 4,230, a figure it hopes to boost to around 6,000 by the end of August with a gross profit margin of 15% in the third quarter and 20% in the final three months of the year.  
Musk also said the company will use its renewed cost-cutting focus and cash-flow generation to pay off debt.
"I don't mean refi-ing them, I mean paying them off. For example, there's a convert that's coming due soon, a couple hundred million, $900 million, something like that," he told investors. "We expect to pay that off with internally generated cash flow."
"Are we running low on money? The answer is no," Musk insisted. Tesla's reported cash pile of $2.2 billion, however, is the lowest in two years.
Asked how Tesla will fund massive projects like a China Gigafactory, he said that it would turn to Chinese banks. "I think our default plan would be to essentially use a loan from the local banks in China and fund the Gigafactory in Shanghai with local debt... we certainly could raise money but I think we do not need to."
Musk also denied that a notice from the SEC is preventing Tesla from raising money, per the rumor that a Wells notice is what's keeping the company from fundraising.