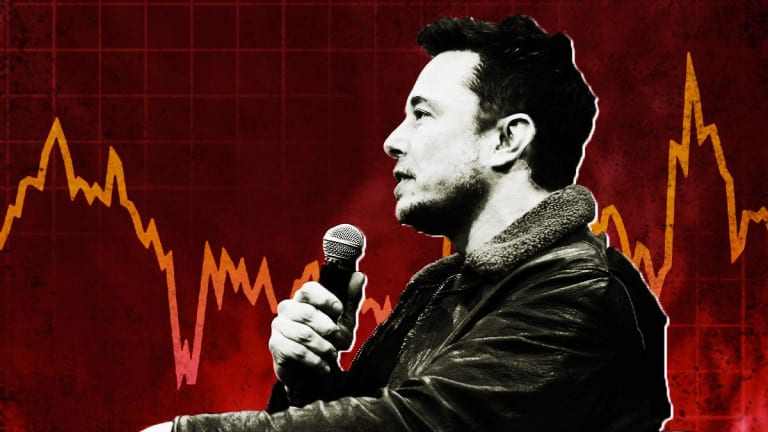 Tesla Stock Loses Power Amid Flagging Demand And Short Sales
Tesla's stock price ran out of juice Monday as analysts grew concerned over flagging demand for the electric-car maker's latest models.
Shares of Telsa, Inc. (TSLA) - Get Tesla Inc. Report lost significant voltage Monday, trading at their lowest levels in more than four months, amid a declaration of war on its stock by a prominent short seller and possible signs of flagging demand for its pricey electric cars and .
Tesla's stock price fell 3.48% in mid-afternoon trading to $284.53. It last closed lower than that on Oct. 22, when it ended at $260.95. 
Analysts have grown increasingly concerned over a frenetic series of announcements by the company and its billionaire CEO Elon Musk, including a sudden decision to unveil its latest model even as it cuts prices on earlier models.
While a March 15 date for Tesla's Model Y unveiling had been out there for a while, it was not considered a hard date by most, with no recent updates on it by Tesla. But on Sunday, CEO Elon Musk finally confirmed the roll out for March 14, a day early and just 11 days in advance, a very tight and highly unusual time frame, said Anton Wahlman, a columnist for TheStreet.
Wahlman said the Model Y roll out "seems to have been decided in a huff."
"Usually, Tesla doesn't confirm a major unveil date this close in time," said Wahlman, who is shorting Telsa's stock. "There is suddenly some urgency. No positive reason seems to be within reach. The obvious general direction is that sales are simply doing poorly, and Tesla felt it needed to throw any spaghetti on the wall."
The coming out party for the new Model Y comes just days after Tesla pulled the wraps off its long-awaited $35,000 Model 3. Telsa also knocked down prices on its Model S and X vehicles and on an autopilot automated driver assistance system. The company said at the time of the lower-priced Model 3 unveiling that it would shift most purchases of its vehicles online to save money. The electric-car maker on Friday also announced it had paid off $920 million in debt, only to see its stock price fall 8% on the day.
Prominent short seller Whitney Tilson posted a scathing take down of Tesla online shortly before 10 a.m. Monday.
Tilson noted he has been an admirer of Musk, and has been impressed by his ability to pull a rabbit out of the hat on more than once occasion. But citing "weak" demand and inventories that are "piling up," Tilson said he has decided to short the stock. By year end, Telsa's stock will be trading below $100, Tilson predicted.
"We will look back on last Friday as the beginning of the end for Tesla's stock," Tilson wrote. "I think Musk has no more rabbits to pull out of his hat and therefore it's all downhill from here."