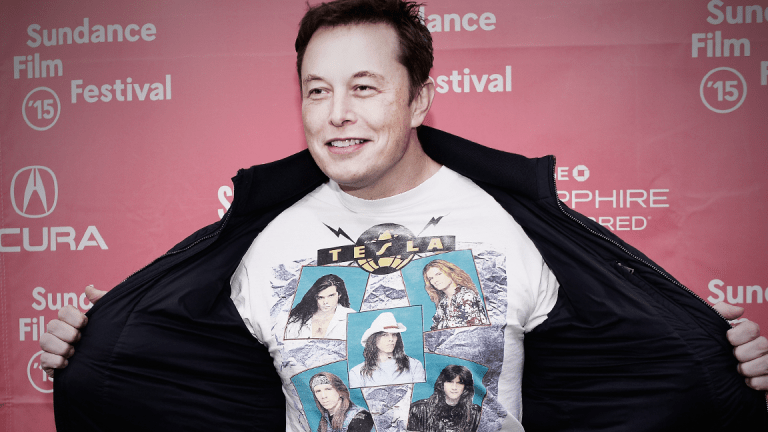 Tesla (TSLA) - Get Tesla Inc Report shares fell sharply Thursday after founder and CEO Elon Musk urged investors to "sell our stock and don't buy it" during an extraordinary conference call after the clean-energy carmaker's record first quarter loss.
Tesla posted an adjusted loss of $3.35 per share late Wednesday, better than the $3.58 figure forecast by analysts. The net loss of $709.6 million was the company's biggest ever slide into the red. Group revenues were also stronger-than-expected, coming in at $3.41 billion and topping the Street forecast of $3.22 billion. Musk's comments on the subsequent conference call, however, during which he insisted he was "not here to convince you to buy our stock" hammered Tesla's after-hours trading and clipped more than $2 billion from its market value.
"Really, the problem is like people get too focused on like what's happening in the space of a few weeks or a few months," Musk said during a tense call with analysts. "This is -- maximum of investing should not be focused on short-term things. You should be focused on long-term things."
"We have no interest in satisfying the desires of day traders, like we couldn't care less," he insisted. "Please sell our stock and don't buy it."
Tesla shares were marked 7% lower in the opening hour of trading on Wall Street and changing hands at $280.00 each, a move which extended their year-to-date decline past 10% and valued the group at just under $49 billion. 
Musk also said that, despite planned shutdowns that will halt production for around 10 days this month, he expected Model 3 production to hit 5,000 per week by the end of the current quarter.
However, market reaction to Musk's performance on the conference call, in which he dismissed questions related to the company's profitability as "boring" and "dry", favoring instead a series of queries from a little-known youtuber, suggest some investors are starting to lose patience with a company that has consistently missed its aggressive production and product targets.
Tesla's Model Y, a much-hyped crossover vehicle, won't begin production for another 24 months, the company indicated, and likely won't happen at the "packed to the gills" facility in Freemont, California. It will, however, reduce the company's near-term capex commitments, which, along with slowing operating expenses and a planned restructuring, should help it achieve both positive GAAP net income and positive cash flow in both Q3 and Q4 of 2018.
"Clearly, there's a price attached to Tesla's newfound interest in quickly becoming profitable and cash-flow positive, and thus avoiding another capital raise (Musk stressed on the call that he doesn't want to do one)," TheStreet's Eric Jhonsa wrote late Wednesday. "In exchange for not seeing a dilutive stock offering or a debt raise that would further stress a balance sheet with over $8 billion in net debt on it at the end of Q1, Tesla seems to be willing to accept slower production ramps for its low-cost sedan and perhaps also its upcoming low-cost crossover."
TheStreet's Executive Editor Brian Sozzi said Musk made three critical errors on the call that should frighten investors.