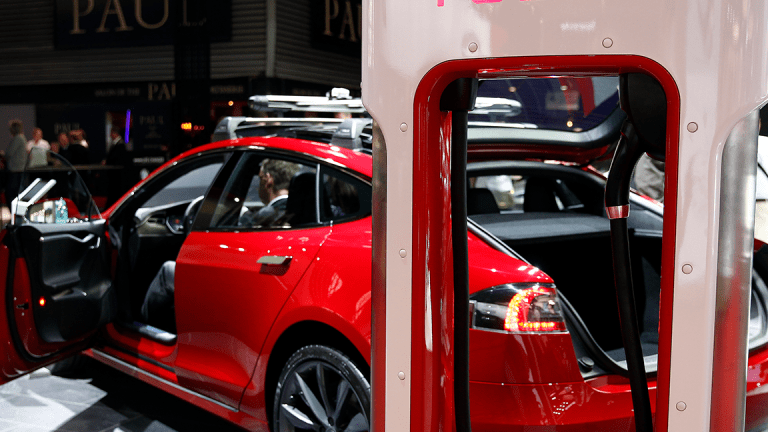 Tesla Slumps After Mary McCormack Tweets Husband's Flaming Model S
Actress Mary McCormack's Tweet of her husband, Hollywood director Michael Morris, escaping a flaming Model-S has shares in Tesla sliding Monday.
Tesla's stock is burning up.
Tesla Inc. (TSLA) - Get Report shares slumped in pre-market trading Monday following a weekend report that one of its electric cars, owned by British film director Michael Morris, burst into flames in Hollywood over the weekend.
Actress Mary McCormack, who is married to the director of the Netflix Inc. (NFLX) - Get Report series 13 Reasons Why, Kingdom and Bloodline. filmed the incident, which she said took place on Santa Monica Blvd in Los Angeles, and posted it on the social networking site Twitter. Tesla said it was investigating the incident. 
"This is what happened to my husband and his car today," McCormack said in a Saturday post that has since been deleted. "No accident, out of the blue, in traffic on Santa Monica Blvd."
Tesla shares were marked 1.9% lower in pre-market trading in New York Monday, indicating and opening bell price of $352.6 each, a move that would trim the stock's year-to-date gain to around 13.5%.
The report is the latest in a series of negative headline and setbacks for the Elon Musk-founded group, which is attempting to convince its investors that it won't seek fresh capital in the months ahead and that it can meet its own aggressive delivery targets despite recent layoffs and ongoing bottlenecks in its production.
Musk himself Tweeted Saturday that a new assembly line had been completed in three weeks at his Fremont, Calif., facility as he continues to push to meet the 5,000-unit-a-week target for production of his mid-priced Model 3 sedan.
Last week, filings revealed that Musk bought about 72,000 Tesla shares between June 12 and 13th for $342.77 to $347 a share and now owns 33.74 million shares worth a staggering roughly $12 billion at current prices.
That follows Musk's previous most recent insider purchase of 33,000 shares between $295.02 and $302.13 on May 7th. That came less than a week after Tesla reported its fiscal first quarter of earnings.