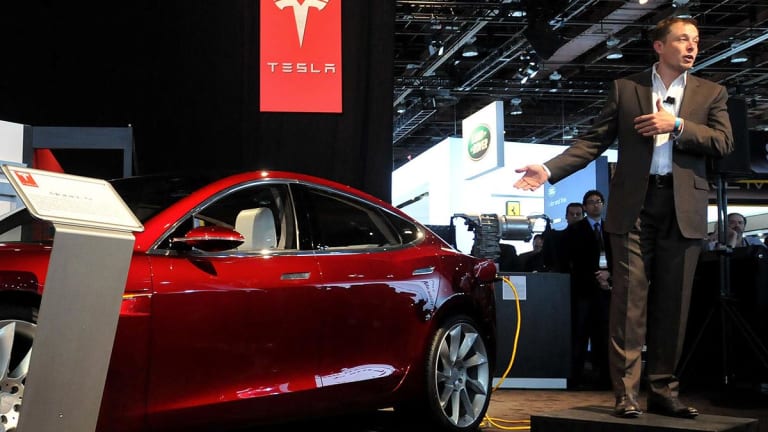 Tesla Slumps After Cutting Prices in China, Saying It Will Make Up Tax Credits
The latest moves could cut into improving results from the electric car maker.
Tesla Inc. (TSLA) - Get Report shares were slipping after the company said it cut prices of some Model 3 cars sold in China and also announced that it would make up missed U.S. tax credits for customers whose orders shipped late because of production delays. 
Tesla stock was trading down 5.7% to $301.61 a share in trading Monday, versus a decline of 0.1% for the Nasdaq.  
On Saturday, Tesla CEO Elon Musk tweeted that customers who received cars later than a deadline for an expiring tax credit would be refunded the difference by the company.
Buyers of electric vehicles in the U.S. had been receiving a $7,500 tax credit, but the credit is being reduced by 50% every six months starting Jan. 1 until it is completely eliminated. Customers had complained about potentially missing the credit because of Model 3 production delays, and poor communication from the company about what, if anything, would be done if they missed deadlines to receive the credit.
On Friday, Tesla also announced price cuts in China up to as much as 7.6%. Starting prices for Model 3 Tesla's in China are now down to 499,000 yuan, or roughly $72,000. 
Auto tariffs on cars going from the U.S. to China had been 40%, but the Chinese government announced recently it would suspend additional tariffs for three months starting in January. Tesla has cut prices on its cars in China twice in the last two months, saying it wants to absorb part of the existing tariff in order to make cars more affordable to Chinese customers. 
Perhaps an important backdrop to Tesla's price cuts is the electric vehicle competition in the country. China has made a big push for electric vehicles. Chinese electric vehicle maker NIO Inc.  (NIO) - Get Report  went public on the American stock market in the summer. 
Tesla is hoping the price cuts and tax rebate help won't hurt its chance at having two consecutive profitable quarters in a row. The American EV maker recorded a profit for its this quarter in October.
Tesla shares are now down 3.4% this year.