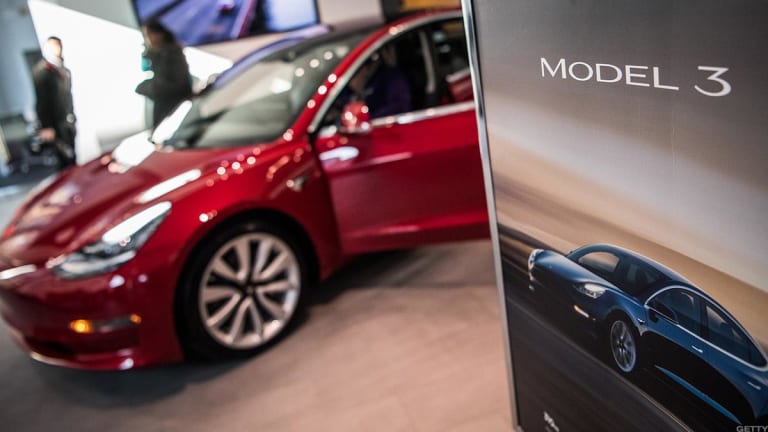 Tesla Shares Bounce Higher as Musk's 'Take Private' Tweet Saga Rolls On
Tesla shares rebounded Friday amid reports the company's board is ready to talk to financial advisers about taking the carmaker private, even as they ask founder and CEO Elon Musk to rescuse himself from the process.
It continues. 
Tesla (TSLA) - Get Report shares rebounded in pre-market trading Friday amid reports that the company's board is ready to pursue talks with investors that would take the carmaker private even as questions remain over the source and nature of the $60 billion that would likely be required to complete the deal.
CNBC reported late Thursday that the board is ready to meet with financial advisers in order to explore the company's options, but will likely ask founder and CEO Elon Musk to recuse himself from the process after his Tweet from earlier in the week raised not only speculation of a $72 billion transaction but also reportedly sparked a potential probe by the Securities and Exchange Commission.
"Elon opened a discussion with the board about taking the company private," the board said in a statement published Wednesday. "This included discussion as to how being private could better serve Tesla's long-term interests, and also addressed the funding for this to occur."
Telsa shares were marked 2.55% higher in pre-market trading Friday, indicating an opening bell price of $361.45 each, a move that would put the stock 5.5% higher than it traded just before Musk's "considering taking Tesla private at $420. Funding secured" Tweet at 12:48 eastern time Tuesday, but still some $10.5 billion from Musk's proposed target.
Musk, who owns around 20% of the company and has an estimated personal wealth of $22 billion, will likely engage his own advisers on the take-private process, according to media reports, with Reuters indicating that board members haven't received any information from him with respect to how any deal would be financed.
Taking Tesla private at Musk's stated value would likely require the biggest leverage buyout in U.S. corporate history, a tactic that could prove incredibly challenging for a company that burned through $740 million in cash each quarter, has a issuer credit rating of B3 at Moody's Investors Service, struggles under a $10.9 billion debt pile and has consistently failed to meet its own production and delivery targets.
That said, with Saudi Arabia's reported $2 billion stake, and its association with SoftBank Corp.'s (SFTBY) tech-focused Vision Fund, Musk could find potential sources of debt capital to fund the billions needed to pull Tesla from listed markets.
China's Tencent Holdings (TCEHY) , as well, could seek to lever its 10% stake in an LBO transaction given Musk's plans to build a gigafactory in Shanghai as part of his plans to sell Tesla sedans into the world's biggest car market.