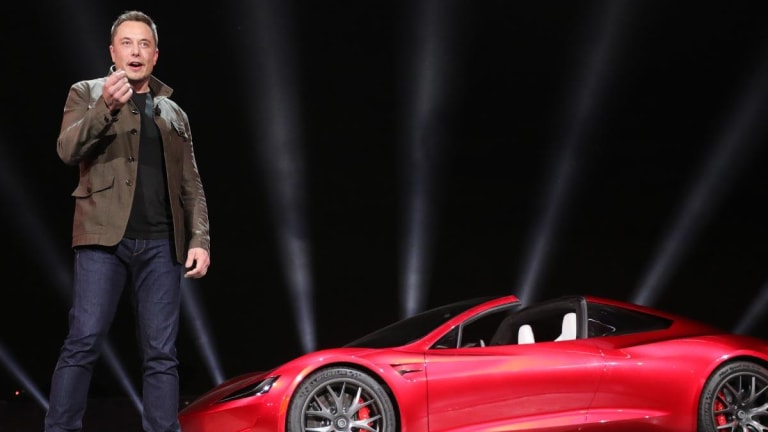 Tesla Shares Soar After Company Turns Surprise Profit
Tesla slightly missed revenue estimates but managed its costs so well that it turned a surprise profit.
Shares of Tesla (TSLA) - Get Tesla Inc Report  rose sharply after the electric vehicle maker reported an unexpected profit for its third quarter.  
The stock was rising more than 18% to $301.11 a share in after hours trading, after having lost 0.35% in regular hours. 
Earnings per share for the third quarter came in at an adjusted $1.86, on net income of $342 million. Wall Street had expected a loss of 42 cents per share. Revenue was $6.303 billion, slightly missing analyst estimates of $6.425 billion. Free cash flow was $371 million, beating estimates of $32 million. 
Tesla's delivered 97,186 units for the quarter, versus estimates of 97,000. Tesla had previously indicated that it had delivered 97,000 vehicles in the quarter. The company delivered 79,703 Model 3's, its lowest-priced vehicle, above Wall Street's initial estimate of 78,500. Tesla also said its Gigafactory in Shanghai was completed and ready to begin producing Model 3's.
The company's closely-watched gross margin was 18.9% on a GAAP basis, beating estimates of 15.8%. 
"Despite reductions in the average selling price (ASP) of Model 3 as global mix stabilizes, our gross margins have strengthened," Tesla said in its press release. "Additionally, operating expenses are at the lowest level since Model 3 production started. As a result, we returned to GAAP profitability in Q3 while generating positive free cash flow. This was possible by removing substantial cost from our business." 
"Last year, our story was about ramping the Model 3. While total volumes are expected to grow by approximately 50% in 2019, this year our focus has been cost control and preparing for our next phase of growth."
Tesla will issue guidance on its earnings call with analysts scheduled to begin at 5:30 p.m. ET.
The stock was down 18% for the year heading into earnings. 
Save 57% during our Halloween Sale. Don't let this market haunt you; join Jim Cramer's Investment Club, Action Alerts PLUS. Click here to sign up!