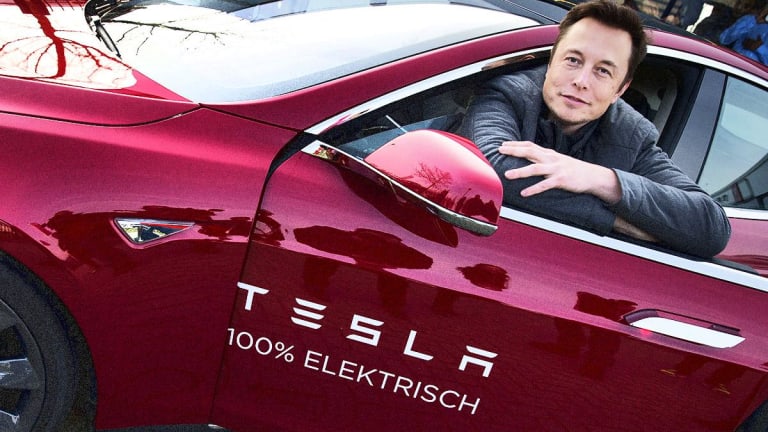 Tesla's Musk Has Serious Dell Envy; Hedge Funds Reveal Portfolio Changes - ICYMI
Here's what you need to know now for Tuesday, Aug. 14.
So, Tesla (TSLA) - Get Tesla Inc. Report  wants to be like Dell, huh? Well, sort of. Let me explain. Tesla CEO Elon Musk is looking to take his company private in a deal that would allow shareholders who choose to stay invested to keep their stakes. At the same time, Musk isn't interested in earning a dime while private and isn't looking to traditional financing sources to get his deal done. All aspects are very reminiscent of Michael Dell's 2013 take-private deal for his eponymous computer maker. And then there's the advisers Musk has enlisted to explore the deal's feasibility, explains The Deal's David Marcus. Silver Lake, though not hired in a traditional investment banking role, is reportedly "offering assistance" to Musk in his quest to take the company private without pay. The technology-focused private equity firm is perhaps best known for leading the $25 billion buyout of Dell.Meanwhile, the law firm of Wachtell, Lipton, Rosen & Katz, which Musk has enlisted, also had a hand in the Dell take-private. The firm advised on the initial 2013 buyout and a subsequent $67 billion deal for EMC Software. To be sure, the path to going private for Tesla remains cloudy at best, but Musk has some of the best in the business looking into it, so as long as he keeps his mouth shut long enough for some negotiating to go on anything seems possible.
We've seen the change activist investors can have on companies' performance, but it's often hard to predict where these folks may strike next. There are two places you can go to try to read the activism tea leaves. One is the Watch List and Crosshairs, a featured package of stories brought to you weekly by TheStreet's sister publication The Deal. The other is the annual 13F filings, which show how some of the world's largest investors are moving funds. Monday and Tuesday gave us a look at the portfolios of Jana Partners, the firm behind campaigns at Pinnacle Food (PNF) - Get PIMCO New York Municipal Income Fund Report  and Whole Foods Market, and Greenlight Capital, David Einhorn's outfit. Barry Rosenstein's Jana added 439,479 Alibaba Inc. (BABA) - Get Alibaba Group Holding Limited American Depositary Shares each representing eight Report  shares, 44,438 Alphabet (GOOG) - Get Alphabet Inc. Report L and 651,493 Facebook (FB) - Get Meta Platforms Inc. Report  shares between April and June, according to its 13F filing. Meanwhile, Greenlight Capital chief David Einhorn revealed his firm had disposed of its PayPal (PYPL) - Get PayPal Holdings Inc. Report  stake, putting the investor in direct contrast to rival Dan Loeb and his Third Point, who recently took a stake in the Internet payments pioneer. GreenLight also liquidated positions in other retailers including, Abercrombie & Fitch (ANF) - Get Abercrombie & Fitch Company Report , Bloomin' Brands (BLMN) - Get Bloomin' Brands Inc. Report  , Five Below (FIVE) - Get Five Below Inc. Report  , Office Depot (ODP) - Get The ODP Corporation Report , Sprouts Farmers Market (SFM) - Get Sprouts Farmers Market Inc. Report , Urban Outfitters (URBN) - Get Urban Outfitters Inc. Report  and PayPal, among others. Wednesday should reveal more portfolio shifts including those of closely watched investors Carl Icahn and Bill Ackman.
Markets Today: Stocks on Wall Street posted solid gains on Tuesday, Aug. 14, amid a stabilization in Turkey's currency crisis. The Dow Jones Industrial Average rose 112 points, or 0.5%, to 25,300, the S&P 500 rose 0.6% and the Nasdaq gained 0.7%.
This is an excerpt from "In Case You Missed It," a daily newsletter brought to you by TheStreet. Sign up here.