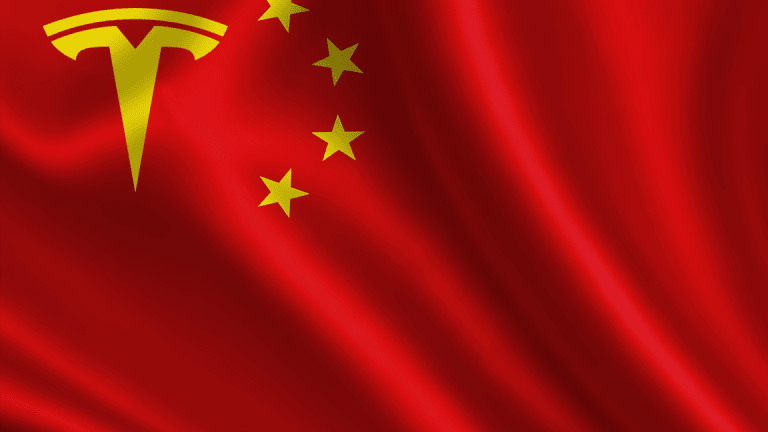 Tesla Shares Jump on New $78,000 Model 3 Plan, China Trade War Truce
Tesla shares jumped higher in pre-market trading Monday as trade tensions between the U.S. and China eased, founder and CEO Elon Musk teased customers with a new Model 3 and a research note stuck an upbeat tone on corporate profitability.
Suffering Tesla traders could catch a short-term break.
Tesla Inc. (TSLA) shares jumped in pre-market trading after the easing of trade tensions between the U.S. and China and Tweets from founder and CEO Elon Musk which suggested the addition of a new $78,000 version of its flagship Model 3.
Founder and CEO Elon Musk also unveiled plans for an upgrade to the Model 3 series, with two new dual-motor versions that would give it a top-range speed of 155 mile per hour and lift its price to around $78,000 each. 
Tesla shares were also supported by an analyst report which suggested the clean-energy carmaker's flagship Model 3 will be more profitable that most investors anticipate. Berenberg lifted its price target on the group to $500 a share, the highest of the major Wall Street firms that cover the stock, and said that a reduced labor content in the Model 3 production line, as well as material and capital efficiencies, would allow Tesla to "comfortably" surpass a profit margin of 25% on the $35,000 roadster.
Everything you need to know about Tesla via TheStreet.
Tesla shares were marked 2.16% higher in pre-market trading in New York Monday, indicating an opening bell price of $282.80 each, a move that would trim the stock's year-to-date decline to around 9.6%.
The reports, as well as the thawing of trade tensions between the U.S. and China over the weekend, may offer support for Tesla shares this week, which have been battered by persistent reports of delays in Model 3 production activity and speculation that founder and CEO Elon Musk will need to raise new capital.
"Between its current operations, anticipated new product spend and incremental capacity additions, we see Tesla potentially requiring over $10 billion in external capital raises and debt refinancing by 2020," Goldman Sachs said last week in a client note.
"We see several options available to the company to refinance maturing debt and raise incremental funds, which should allow Tesla to fund its growth targets," Goldman said. "However, issuing incremental debt (including priming current creditors with secured debt) may weigh on the credit profile of the company while issuing additional equity or convertibles at lower premiums would dilute current shareholders."
However, news of a "hold", in the words of Treasury Secretary Steven Mnuchin, in the trade war rhetoric between the U.S. and China -- Tesla's fastest growing market, and the biggest market for electric vehicles overall, thanks to an aggressive policy of government mandates for electric vehicle adoption -- is likely to offer near-term support.
While Tesla's sales in China still make up a relatively small part of overall revenues, adding up to around 17% of sales in 2017, China's EV mandates and burgeoning population of wealthy consumers has the potential to quickly become Tesla's most important overall market.
Tesla-tracking website Teslarati reported last week that Tesla has already started recruiting workers for its forthcoming Chinese factory, an update that came just days Tesla registered a new wholly-owned subsidiary in Shanghai.
Musk told investors after the company's first-quarter earnings call that he was close to announcing plans for a Chinese Gigafactory, and investors have been watching closely to figure out the 'when-and-where' of Tesla's new manufacturing facility in the People's Republic.
*****************
TheStreet presents on May 22: "How to Stomach Market Volatility." Hosted by Fisher Investments, the exclusive live webinar will give you the tools to successfully navigate market volatility and discuss why having a wealth manager is more critical than ever before. Quickly register for the event here.