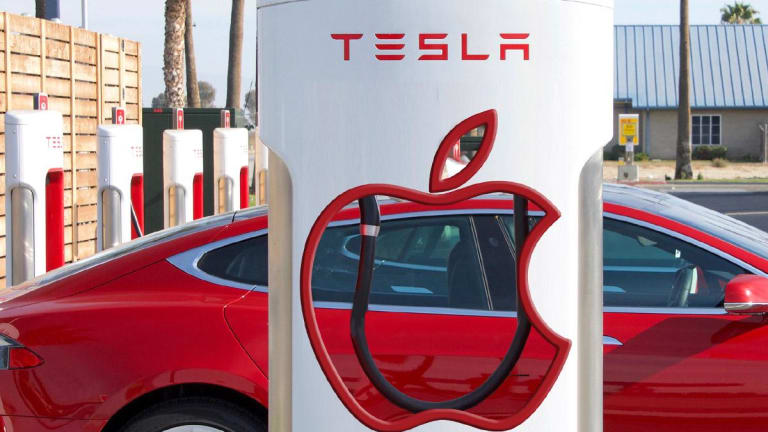 Tesla's Disappointing Quarter -- What Wall Street's Saying
Analysts were unimpressed by the electric carmaker's second quarter results.
Tesla (TSLA) missed second-quarter earnings and revenue estimates by a significant margin on Wednesday after the close, causing several analysts to grow slightly more negative on the stock. 
The stock was plummeting more than 14% to $226.91 a share on Thursday morning. 
Tesla reported an adjusted loss of $1.12 per share versus estimates for a loss of 40 cents. Revenue of $6.35 billion fell short of estimates for $6.41 billion, while Tesla's closely watched automotive gross margin dropped to 18.9% from 20.6% in the year-ago quarter.
On the positive side, Tesla reported that it delivered 95,356 vehicles in the quarter. Tesla had positive free cash flow of $614 million. 
Here's what Wall Street thinks:
WedBush Securities, Neutral, Price Target Dropped to $220 From $230
"Since Tesla reported stronger than expected delivery numbers of 95k earlier this month for 2Q, the bulls have been popping the champagne expecting that this strength would result in stronger gross margins and a profitable trajectory for the next few quarters," wrote analyst Dan Ives in a note Thursday morning.
"Instead last night Musk & Co. delivered some bad news that will weigh on shares this morning as the company significantly missed the Street on the bottom line with disappointing gross margins that fundamentally call into question the company's ability to show sustainable profitability on the heels of lower margin Model 3 units going forward." 
Goldman Sachs, Sell, Price Target Unchanged at $158
"Automotive gross margins were well below expectations (approx. 18.9% vs. GSe 19.8% and consensus of 20.5%) -- and were the key metric investors were focused on into the print given the record amount of deliveries," analyst David Tamberrino wrote in a note. "We believe this will weigh on shares as investors question the company's ability to maintain vehicle profitability while increasing demand -- which is still an area for debate." 
"We still believe that there will be a sequential step-down into 3Q19 post another reduction in the Federal Tax Credit and some likely pull forward demand. We believe this is corroborated by the continued decline in customer deposits on the balance sheet -- even if this runs counter to the company's communication on order trends." 
Barclays, Underweight, Price Target Unchanged at $150
"Results and lukewarm guide validate our move the metal hypothesis," wrote analyst Brian Johnson in a note. "Although the push to move the metal led to record deliveries, neither revenues nor EPS were anywhere near a record -- calling into question the growth story (which should be further undercut by TSLA continuing to cut cap ex)." 
For company guidance, "The language around overall profits shifted from 'expect' to 'aim'," Johnson said. 
Morgan Stanley, Equal Weight, Price Target Unchanged at $230
"JB Straubel gives up CTO role -- in our view, this may be the biggest news of the quarter," " wrote analyst Adam Jonas. "Investors may question what motivated the 15-year Tesla vet to give up direct operational responsibility at this time. Unfortunately, nobody asked this on the call."
Regarding gross margin, "For many years, Tesla management has targeted an auto gross margin of over 25% in a steady-state. We don't recall Tesla management so clearly stating that such margins would be dependent upon the update of optional software upgrades that carry extremely high margins (including upgrades for cars already in the fleet) before this evening." 
Save 76% with our Summer Break Sale. Subscribe to our premium site Real Money and become a smarter investor! Click here today to sign up!