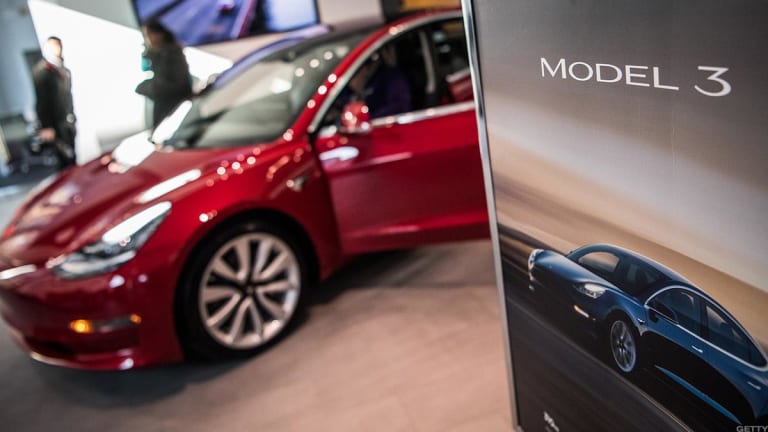 Tesla Dips as Investors Question Musk's $72 Billion Aim to Take Carmaker Private
Tesla edged lower in pre-market trading Wednesday as investors appeared to question founder and CEO Elon Musk's $72 billion vow to take his iconic clean-energy car company private.
Tesla (TSLA) - Get Tesla Inc. Report shares edged lower Wednesday, following the stock's biggest one-day gain in nearly four years, as investors appeared to question founder and CEO Elon Musk's $72 billion vow to take his iconic clean-energy car company private.
Musk unveiled his intentions in a 12:48 pm eastern time Tweet Tuesday that sent shares rocketing more than 8.5%, prompting a ninety minute suspension on the Nasdaq, as investors rushed to snap-up the shares amid his intention to "taking Tesla private at $420" per share, adding that he had "funding secured". The gains were in addition to an earlier advance that had been linked to reports that Saudi Arabia's sovereign wealth fund had built a $2 billion stake in the Palo Alto, Calif.-based carmaker. Tesla shares ultimately gained 11% on the day to close at $379.57 each, 
"As a public company, we are subject to wild swings in our stock price that can be a major distraction for everyone working at Tesla, all of whom are shareholders," Musk said in a letter to shareholders. "Being public also subjects us to the quarterly earnings cycle that puts enormous pressure on Tesla to make decisions that may be right for a given quarter, but not necessarily right for the long-term."
"Finally, as the most shorted stock in the history of the stock market, being public means that there are large numbers of people who have the incentive to attack the company," he added.
Tesla Bondholders Could Be Just as Happy as Shareholders If Musk Sold Out

Elon Musk's Plans to Take Tesla Private Feature Many Unanswered Questions

Tesla Private: A Visual Timeline of Elon Musk's Crazy Day on Twitter
Three Reasons Why Elon Musk in 100% Right in Wanting to Take Tesla Private
Tesla shares were marked 1.34% lower in early Wednesday trading to change hands at $374.48 each, a move that would leave it around $45.5 a share -- or $6.41 billion -- shy of Musk's $420 target, a figure that would value the group at $72 billion.
Taking Tesla private at Musk's stated value would likely require the biggest leverage buyout in U.S. corporate history, a tactic that could prove incredibly challenging for a company that burned through $740 million in cash each quarter, has a issuer credit rating of B3 at Moody's Investors Service, struggles under a $10.9 billion debt pile and has consistently failed to meet its own production and delivery targets.
Tesla's outstanding $1.8 billion junk bond, which matures in 2025, carries a rating of Caa1 from Moody's and is trading at around 92.4 cents on the dollar, despite that fact that subordination clauses would mean investors would get a windfall from the company if it borrowed money that ranked senior to their claims. 
That said, with Saudi Arabia's reported $2 billion stake, and its association with SoftBank Corp.'s (SFTBY)  tech-focused Vision Fund, Musk could find potential sources of debt capital to fund the billions needed to pull Tesla from listed markets. China's Tencent Holdings (TCEHY) , as well, could seek to lever its 10% stake in an LBO transaction given Musk's plans to build a gigafactory in Shanghai as part of his plans to sell Tesla sedans into the world's biggest car market.
"Basically, I'm trying to accomplish an outcome where Tesla can operate at its best, free from as much distraction and short-term thinking as possible, and where there is as little change for all of our investors, including all of our employees, as possible," Musk told investors.