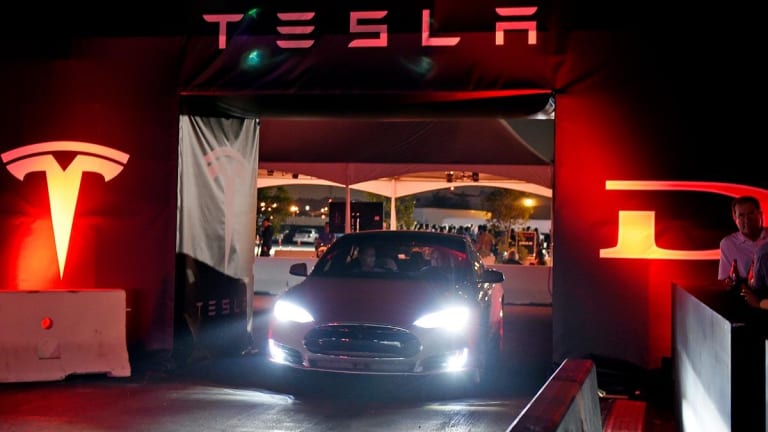 Tesla Customers Are Losing Model 3 Enthusiasm
According to a note from Goldman Sachs, the enthusiasm around Model 3's is beginning to cool.
Has the Tesla bubble popped?
According to a note from Goldman Sachs, Tesla Inc. (TSLA) customers are not as excited about the Model 3 as they used to be. 
Goldman Sachs looked at posts about the Model 3 on Twitter and Reddit. Analysts found that weekly posts about the Model 3 declined. According to the note, there were around 4,400 posts a week in 2016, more than 3,900 posts per week in 2017 and year-to-date around 3,000 posts per week in 2018.
The note also shows that positive skew is fading. Year-to-date "2018 tracking at a 4.5% positive skew." This number is down from 12% positive skew in 2017.
More On Tesla's Future From TheStreet
Another issue that Goldman Sachs points out is the conversion ratio for Model 3 reservation holders. "Investors question how many of the 420,000 reservation holders will convert at [Model 3's] higher price points (given the vehicle was originally offered with a base price of 35,000)," said the note.
Goldman has Tesla at sell and has a price target of $195. Tesla currently trades around $295.
The note comes after Tesla and Elon Musk, CEO, have been in hot water the past couple of weeks. 
TheStreet's Annie Gaus reported on Tesla asking suppliers for refunds. Tesla asked for refunds on purchase agreements made as far back as 2016, as reported by the Wall Street Journal and confirmed in a tweet by Elon Musk and by the company on Monday, July 23. As Tesla struggles to fulfill promises that it will turn a profit by the end of this year, industry analysts are calling the refund requests an unusual move. And that's putting it mildly.
And Elon Musk has reportedly been going after critics. According to the widely circulated account, Musk personally contacted the boss of the [Seeking Alpha] blogger - who wrote in his free time under a pseudonym - and threatened to sue or complain publicly about the posts. Elon Musk's Twitter account has more than 22 million followers, many of whom aggressively leap to his defense when he or the company is criticized.
Tesla is set to announce earnings after the bell on Wednesday, Aug. 1.
In morning trading, the company was down nearly 2%.