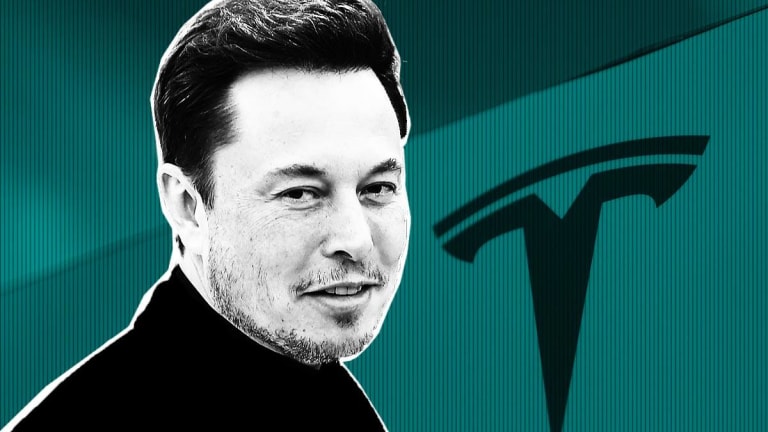 Tesla CEO Elon Musk's Credibility Now Under Attack: Week Ahead
What's on the calendar for next week? Likely a hot debate on why Tesla's CEO Elon Musk has decided to keep the company public.
When you think it's supposed to be a slow summer week in the markets ahead of Labor Day, it's often not. So stay awake, investors. 
Last week saw anemic trading volumes as Wall Street enjoyed its last dose of summer partying in the Hamptons. But in the wake of Fed chairman Jerome Powell's dovish Jackson Hole Speech -- which sent the market ripping higher -- traders will perhaps be more glued to the market action than many believe. 
Dow Jones Industrial Average I:DJI futures rose 74 points as of 3:24 a.m. EST. on Monday, Nasdaq Composite I:IXIC futures gained 29 points, and S&P 500 I:GSPC futures advanced 6 points.
Here are the things you should know going into coming week.
Tesla Will Stay Public, For Now
And there goes Elon Musk's credibility as a CEO.
Tesla (TSLA) - Get Report said in a late-night post on Friday that it will not be going private.
Full statement:
"Over the past several weeks, we put in place a process led by a Special Committee of the Board to evaluate a proposal Elon was considering to take Tesla private. Yesterday, we held a Board meeting, during which Elon reported on the work he and his advisors have been doing in connection with this effort. Elon communicated to the Board that after having done this work and considered all factors, he believes the better path is to no longer pursue a transaction for taking Tesla private. After discussing this, we dissolved the Special Committee. The Board and the entire company remain focused on ensuring Tesla's operational success, and we fully support Elon as he continues to lead the company moving forward."
Joseph Spak of RBC Capital Markets -- who was attacked by Musk on the first quarter earnings call -- served up a good take on the situation via a note on Sunday:
"Bulls will likely be happy because they can participate in potential value creation. However, to us the bears have more ammo on the near-term sentiment move. It has become clear to us that funding was not secured or there was not sufficient interest to take the company private at $420/share. And we think credibility has taken a hit. Recall, Elon initially stated "investor support is confirmed" but now shareholder sentiment is "please don't do this." The letter also indicated that institutional shareholders explained they have limits on private investments and there is no proven path for retail investors to remain in a private Tesla (which Elon wanted) - two ideas many sussed out quickly. This reinforces the idea that this whole episode was not planned or fully thought out and thus could get added to the list of debatable statements from the company over the years. Further, we see potential ramifications from an SEC investigation and shareholder lawsuits. Though these are admittedly unquantifiable, they would be an incremental call on cash for a company with a weak balance sheet."
Final Round of Retail Earnings
Best Buy Co. (BBY) - Get Report will announce on Tuesday, Aug. 28 before the bell. FactSet estimates that the company will report earnings of 83 cents a share.
TheStreet will also be on the lookout for Tiffany & Co.'s (TIF) - Get Report earnings. The luxury jewelry maker is expected to announce earnings of $1.01 a share, according to FactSet. 
Following strong second quarter earnings from Action Alerts PLUS holding Kohl's (KSS) - Get Report , Target (TGT) - Get Report and Walmart (WMT) - Get Report , expectations are elevated for Best Buy and Tiffany. If they don't deliver, shares of both retailers could be smacked around. 
Will Tilray Smoke Earnings Estimates?
It feels like just yesterday that TheStreet's Executive Editor @BrianSozzi was interviewing Tilray Inc.'s (TLRY) - Get Report CEO Brendan Kennedy on the day of its IPO Jul. 19. Since then, Tilray shares have gone up in a straight line spurred by optimism on cannabis stocks following Constellation Brands' (STZ) - Get Report big investment in Canopy Growth (CGC) - Get Report . 
Tilray is expected to announce earnings on Tuesday after the bell. Suffice it to say expectations are high. 
Watch part of that interview below.