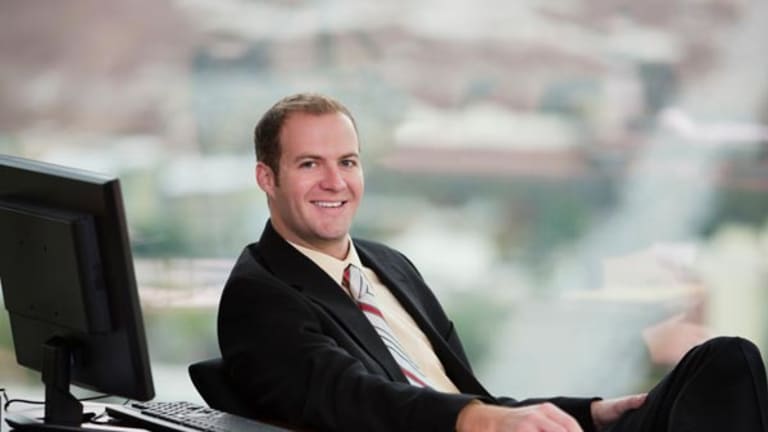 Telecom Sector Telegraphs Trouble
Warning signs have been coming over the past six months.
Warning signs have been coming over the past six months.
This column was originally published on RealMoney on March 6 at 2 p.m. EST. It's being republished as a bonus for TheStreet.com readers. For more information about subscribing to RealMoney, please click here.
The ongoing stock market turmoil has been branded as unexplainable, bizarre or just plain static. But it's worth keeping in mind that, at least in the telecom sector, there have been clear signs of trouble during the past six months.
Mobile-handset sales started booming in the late 1980s and did not have a down-volume year until 2001. That year, however, was disastrous: The 5% volume decline came as a stunning surprise to the industry, which was still basking in the afterglow of the 40% growth of 2000.
One disappointment was the weak growth in certain developing countries, particularly India and Russia. Another was the weak upgrade market in the West; camera phones and color displays were still too expensive for mass markets, and consumers had grown tired of monochrome displays.
After 2001, pretty much everybody ratcheted down their future volume projections drastically. The phone industry was seemingly resigned to single-digit volume growth and a slow descent into the commodity market bog.
Handset Fever
But in a sharp reversal of fortune, the handset market rebounded to a streak of bountiful years, with volume growth topping 20%. This happened mostly because a cluster of big emerging countries that had been disappointing for years, such as India, Russia and Brazil, finally caught the mobile-phone fever.
It still isn't entirely clear why 2001 was such a lousy year and why the rebound was so spectacular. However, the infrastructure market gives us some clues.
It is now obvious that operators overinvested wildly in network expansions and upgrades before 2001 and then pulled back sharply from capex spending. After that, there was an investment rebound that resulted in terrific network-spending growth in 2003-06.
Part of the phone story no doubt mirrored this pattern: The fantastic year-2000 phone-volume growth was not entirely driven by end-user demand. Some of it was due to operators hoarding phones in preparation for a hot 2001. When demand disappointed in 2001, the inventory problems magnified the industry trouble, turning what might have been perhaps 3% volume growth into a 5% volume decline.
Nevertheless, it is intriguing that both the handset and network markets crashed nearly simultaneously. Phone demand is driven by consumers, while network demand is driven by operators' capex plans. Operators tend to pull back from network spending when they are disappointed by consumer behavior.
So are there any parallels to 2000-01 in 2006-07?
The Later Years
Throughout 2006 -- even as the phone market roared to finish another hot volume-growth year -- mobile-network vendors started delivering disappointing margins and revenue numbers.
Lucent
(ALU)
and
Nortel
(NT)
already were in trouble, but the network units of
Nokia
(NOK) - Get Report
and
Motorola
(MOT)
seemed to flounder as
Ericsson
(ERIC) - Get Report
continued to gobble up market share in the high-volume GSM and W-CDMA markets.
Back in 2004, the rising capex tide had lifted all boats. By the end of 2006, only Ericsson seemed to be capable of solid revenue growth and double-digit operating margins.
Investors were encouraged by the
Nasdaq's
strong winter run and flocked to Ericsson, causing it to rally from below $30 to above $40. But was this a mistake?
I see clear signs of a marked network-spending slowdown. European W-CDMA operators are weighing network-sharing deals that will cut into capex spending for years to come. China has continued to delay its 3G auctions and seems intent on fostering its own W-CDMA alternative. Mobile WiMAX is running into a series of obstacles, ranging from a delayed standardization effort to spectrum auction problems in India, Brazil and other major growth centers. The W-CDMA launches in Europe were not strong enough to support a big new wave of 3G spending.
In a sense, this is an echo of the 2001 scenario, when the imminent arrival of W-CDMA technology put the brakes on second-generation GSM and CDMA spending -- before the 3G spending could plug the capex investment gap.
Other Echoes
It's not a perfect match, but there are more parallels on the handset front. Phone-volume growth is still topping 20% globally. Emerging markets seem rock-solid, which they weren't in 2001, but the upgrade market clearly has run into a rough patch.
The iconic upgrade device of 2005-06 -- the Motorola Razr and its clones -- has grown decrepit. Motorola's handset margins dipped below 5% in the fourth quarter, while the brands most intimately involved in the thin-phone phenomenon (
Samsung
and
LG
) also delivered sharp margin and/or volume disappointments.
Motorola, LG, Samsung and Sony Ericsson have been remade into quintessential upgrade brands since their phone units ran into rough weather back in 2001. After that year, all four stepped back from direct competition against Nokia in the low-end market and specialized in the mid-to-high-end market. Three out of four of these companies showed surprising weakness toward the end of 2006, even though global phone volumes surprised to the upside.
This would seem like a sign of a softening upgrade market. Comments from
Texas Instruments
(TXN) - Get Report
and
Vodafone
(VOD) - Get Report
would seem to confirm that the W-CDMA phone market has not yet turned into a strong upgrade machine.
Many consumers are still sticking to second-generation phones or demanding big discounts to make the leap into the third generation. This is the echo to 2001, when the lack of truly compelling upgrade options triggered an industry upheaval.
You don't need a downturn in sales to cause havoc in this industry. All you need are overoptimistic projections that don't match consumer demand.
As it happens, the last global phone and network downturn mirrored the U.S. stock market's tumble with near precision. The feedback mechanism between the various industries in 2001 is far from clear, but it is the only historic template we have for a mobile telecom industry downturn.
At time of publication, Kuittinen had no positions in any of the stocks mentioned, although holdings can change at any time.
Tero Kuittinen is a senior product specialist for Nordic Partners, Inc., a pan-Nordic brokerage firm. Although Kuittinen is an employee of Nordic Partners, Inc., the statements above are being made in Kuittinen's personal capacity and are in no way are the statements of Nordic Partners, Inc., nor attributable to the company. Under no circumstances does the information in this column represent a recommendation to buy or sell stocks. Kuittinen appreciates your feedback;
to send an email.