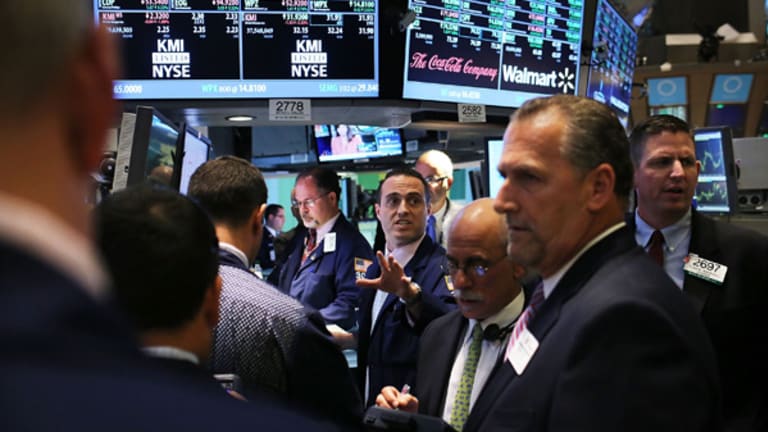 Tech Tops on Mixed Day
The Dow retreats on a 'quadruple witching' options expiration day while the Nasdaq rises 20 points. Alix Steel recaps the action in The Real Story.
The Dow retreats on a 'quadruple witching' options expiration day while the Nasdaq rises 20 points. Alix Steel recaps the action in The Real Story.
(Updated with weekly moves on the major U.S. averages and Dow components' performance, added graph on S&P downgrade of E*Trade Financial and updated closing prices of stocks throughout.)
U.S. stock indices finished a quadruple-witching Friday mixed, with tech stocks outperforming blue-chip names.
After rising more than 60 points earlier in the session, the
Dow Jones Industrial Average
finished lower by 15.87 points, or 0.19%, at 8539.73. The
S&P 500
halved its gains but still rose 2.86 points, or 0.31%, to 921.23. The
Nasdaq Composite
also pared its early winnings but still ended the day up 19.75 points, or 1.09%, to 1827.47.
Financial stocks were among the best performers on the Dow, with
JPMorgan Chase
(JPM) - Get Report
,
Bank of America
(BAC) - Get Report
and
American Express
(AXP) - Get Report
adding more than 2% each.
Meanwhile
Kraft Foods
(KFT)
and
Verizon
(VZ) - Get Report
were among the worst of 16 decliners on the blue chip index.
Friday marked the final options expiration of the second quarter, with investors expecting increased volatility and a bumpy road as quadruple witching loomed. Quadruple witching occurs when contracts for stock index futures, stock index options, stock options and single stock futures all expire. This can lead to dramatic moves in the equity markets due to increased volatility.
The choppy trading was a weak follow-up to the action on the Dow and the S&P 500 from Thursday's session. The volatility has affected the market during the entire week. The Dow swung in a range of more than 100 points the first four trading sessions this week.
The Dow fell 3% over the five sessions, the S&P 500 gave back 2.7%, and the Nasdaq finished 1.5% lower.
Paul Nolte, director of investments with Hinsdale Associates, says that the poor performance this week comes from investors not being content with economic news that hasn't showed a marked improvement.
"We're still waiting for things to get better, and it isn't happening. We're still stuck with 'less worse,'" said Nolte. "That's why we've seen this correction this week. The low volume continues, so maybe this is showing that the summer doldrums started a little early."
Commodities were mixed, with energy losing ground as the session wore on. Oil dropped $1.82 to close at $69.55 a barrel, the first time crude has finished below $70 a barrel since June 8. Gold futures gained $1.60 to end the session at $936.20an ounce, and silver was down 4 cents at $14.20 an ounce.
Bonds rose in the absence of any economic data. The 10-year Treasury note climbed 12/32 in price to lower the yield to 3.78%, while the 30-year bond rose 1-14/32 to yield 4.51%. The dollar was lower against the euro and the yen.
In stock news,
Research In Motion
(RIMM)
shares were in focus after the company reported earnings after Thursday's closing bell. The Toronto-based
BlackBerry maker posted adjusted earnings
, excluding one-time items, of $564.4 million, or 98 cents a share, up from 84 cents in the year-ago period. Analysts were looking for pro forma earnings of 94 cents a share, according to Thomson Reuters.
RIM shares finished down 4.9% to $72.78, though, as the company failed to exceed the targeted subscriber growth number analysts were looking for.
Elsewhere, the Obama administration's plan to reform the financial regulation system will squeeze non-bank companies, including
Target
(TGT) - Get Report
,
Harley-Davidson
(HOG) - Get Report
and
Pitney Bowes
(PBI) - Get Report
because they pitch loans and other financial products, according to
The Wall Street Journal
.
General Motors
(GMGMQ)
executives and advisers are hoping to exit bankruptcy court with the formation of a new company as early as mid-July, a month earlier than originally planned, according to the
Journal
. A bankruptcy judge will hold a hearing June 30 on a proposed sale of the company's assets to a new entity.
E*Trade Financial
(ETFC) - Get Report
said 435 million of its shares were priced at $1.10 a share, and affiliates of hedge fund Citadel Investment Group, E*Trade's largest equity and bond investor, bought 90.9 million shares. Citadel's purchase brings its common-share stake in E*Trade to 17%.
Following the offering,
the company's long-term counterparty credit ratings, as well as certain senior debt ratings further into junk territory to 'CC' from 'CCC-'. Shares dropped 11.2% to $1.27.
In other news,
Texas billionaire R. Allen Stanford
, chairman of Stanford Financial Group, appeared in federal court Friday on fraud charges after surrendering to FBI agents in Virginia the day before.