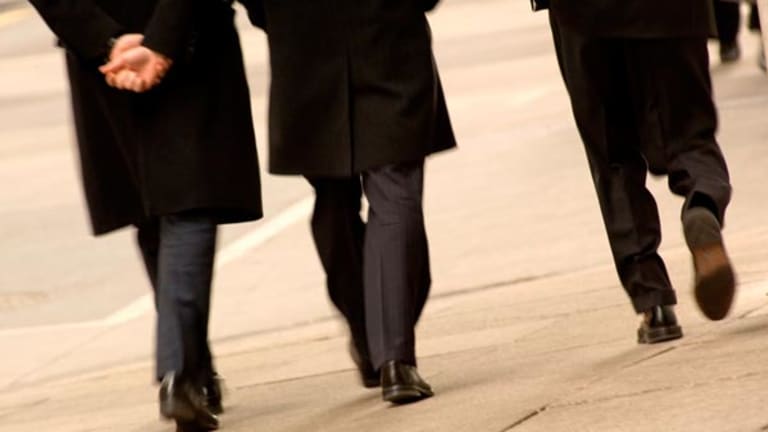 Tech Takes Another Beating
The Nasdaq slides as valuation concerns trump a slew of upgrades.
Updated from 4:13 p.m. EDT
Stocks ended lower Friday with tech issues bearing the brunt of the selling, as valuation concerns continued to trump the best efforts of analysts to talk the sector up.
The
Dow Jones Industrial Average
shed 30.88 points, or 0.3%, to 9313.08, while the
Nasdaq
lost 25.17 points, or 1.4%, to 1792.07. The
S&P 500
fell 6.41 points, or 0.6%, to 996.85.
"Some traders are looking for opportunities on a bounce back in stock prices, but most are just deciding whether or not they should take some profits," said Robert Pavlik, portfolio manager at Oaktree Asset Management. "But as we go along and companies start delivering third-quarter results, many people might find themselves underweighted in stocks and will have to come back in."
The Nasdaq closed the week with a loss of 6%. The Dow erased 3.4%, while the S&P shed 3.8%.
Investors reacted negatively to the University of Michigan's revision of its September consumer sentiment index downward to 87.7 from 88.2. That was a further drop from the August reading of 89.3.
In a separate report, the government released its second and final revision to the second-quarter GDP, which showed economic output grew at a 3.3% annualized rate, above the previously reported 3.1%. The GDP deflator, a measure of inflation, was also slightly ahead of estimates, up 1% from the 0.8% increase reported in the second reading.
Treasuries were higher following the economic data, with the 10-year note up 21/32 at 102, yielding 4%.
"Economic reports have been giving us mixed signals and investors should keep in mind this is like a baseball batter coming out of a slump: stringing some hits together here and there, but we're not going to get out of slump all of a sudden," said Pavlik.
Trading volume reached 1.4 billion shares at the
New York Stock Exchange
, where decliners were ahead of advancers by a 2-to-1 margin. Some 1.8 billion shares changed hands at the Nasdaq, with losers beating winners by a margin of 3-to-1.
A flood of research reports hit the markets, starting with an upgrade of
Motorola
(MOT)
at J.P. Morgan to overweight from neutral on the hope that cost-cutting will strengthen its earnings. However, a
Wall Street Journal
article Friday said the company might miss the chance to sell cell phones with cameras in the U.S. because of delivery delays during the holidays. Shares of Motorola lost 13 cents, or 1%, to $12.40.
J.P. Morgan also upgraded giant chipmaker
Intel
(INTC) - Get Intel Corporation Report
to neutral from underweight on hopes of increased demand for personal computers. Intel fell 9 cents, or 0.3%, to $27.36.
Banc of America Securities raised its rating on
3M
to buy from neutral. 3M gained $1.87, or 1.3%, to $143.48.
Prudential started coverage of
Microsoft
(MSFT) - Get Microsoft Corporation Report
with an overweight rating and a $35 target, saying the software giant is poised to benefit from new product and industry cycles. Shares rose fractionally to $28.26.
Credit Suisse First Boston upgraded
Lam Research
(LRCX) - Get Lam Research Corporation Report
to outperform from neutral based on low valuation compared to its rivals, as well as margin leverage and order trends. The stock advanced 14 cents, or 0.6%, to $22.81.
The firm also downgraded
Novellus
(NVLS)
to neutral from outperform, forecasting weak near-term bookings that could put pressure on the stock. Novellus lost $1.69, or 4.8%, to $33.62.
Among earnings reports, Blackberry maker
Research In Motion
(RIMM)
said Thursday that it swung to a profit. The company also delivered sales and earnings guidance that's above Wall Street's estimates. The shares climbed $1.57, or 4.4%, to $37.29.
In other corporate developments,
Human Genome Sciences
(HGSI)
reported that its anti-inflammatory drug didn't meet its endpoint in clinical trials in adults with skin ulcers. The shares shed 89 cents, or 6.3%, to $13.17.
Mobile-phone maker
Nokia
was also in focus after it announced a management reshuffling and a new organizational structure that includes four business groups, effective at the start of 2004. The shares rose 20 cents, or 1.3%, to $15.27.
At the New York Stock Exchange, lead director Carl McCall stepped down from the exchange's board. Chairman Dick Grasso resigned last week, and McCall's departure clears the path for John Reed, the NYSE's new interim chairman and chief executive, to begin his overhaul of the exchange.
Overseas markets were mixed, with London's FTSE 100 falling 1.1% to 4157 and Germany's Xetra DAX down slightly at 3324. In Asia, Japan's Nikkei closed 0.1% higher at 10,318, while Hong Kong's Hang Seng rose fractionally to 11,290.
Crude oil prices for future delivery fell. The dollar rose against the euro and the yen.
Stocks closed at their lowest levels in almost a month Thursday, with the Dow Jones Industrial Average falling 81.55 points, or 0.9%, to 9343.96, while the Nasdaq lost 26.46 points, or 1.4%, at 1817.24. The S&P 500 shed 6.11 points, or 0.6%, to 1003.27.