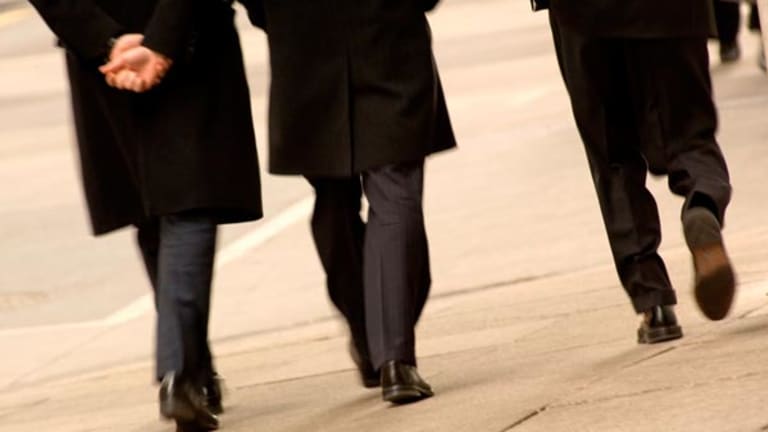 Tech Stocks Turn Negative at Midday
Trading remains light in the pre-Christmas session.
Updated from 10:51 a.m. EST
Tech stocks turned negative while blue-chips hovered modestly higher as mixed news from the retail sector and the latest terrorist scare had limited impact in thin, preholiday trading . Trading on U.S. exchanges was set to end at 1 p.m. EST.
The
Dow Jones Industrial Average was recently gaining about 29 points, or 0.29%, to 10,065. The
Nasdaq was down fractionally at 1945 and the
S&P 500 was up 2 points to 1147.
Overseas, London's FTSE 100 closed up 0.3% to 5177 in an abbreviated session, with trading volume about one-tenth its usual level. Most of the other European exchanges were closed. In Asia, Japan's Nikkei closed down 1% to 10,355, while Hong Kong's Hang Seng gained 0.5% to 11,210.
Retail analysts trying to gauge the season's last weekend were predicting overall Christmas sales that are down 1% to up 1% from a year ago, although Monday afforded many stores an opportunity for a final push. At 32 days, it's the longest holiday retail season since 1990.
Airline stocks were under pressure after an American Airlines jet had to be diverted Saturday when a man was discovered trying to ignite explosives hidden in his shoes. The suspect was in Boston.
AMR
(AMR)
, the parent company of American Airlines, was recently losing 73 cents, or 3.33%, at $21.16.
UAL
(UAL) - Get Report
was off 1.23% to $12.86.
InVision
(INVN)
, a maker of security and defense systems, saw its shares jump $4.39, or 15.4%, to $32.90 on the news.
The Argentine debt crisis continues to unfold as president Adolfo Rodriguez Saa said that the country will suspend payments on its $132 million debt, putting it in default.
Schering-Plough
(SGP)
was gaining after the FDA cleared it to sell Clarinex, a successor to its blockbuster Claritin allergy medication. The company also warned Friday that it sees a decline in profits and that it might have to pay the federal government $500 million in an attempt to settle quality-control problems at its New Jersey and Puerto Rico manufacturing plants. Shares of the drugmaker rose 64 cents, or 1.76%, to $36.99.
Sepracor
(SEPR)
, the company that licenses Clarinex to Schering, traded up $3.29, or 6.14% to $56.84.
The 10-year Treasury note was recently losing 12/32 to 99, yielding 5.13%