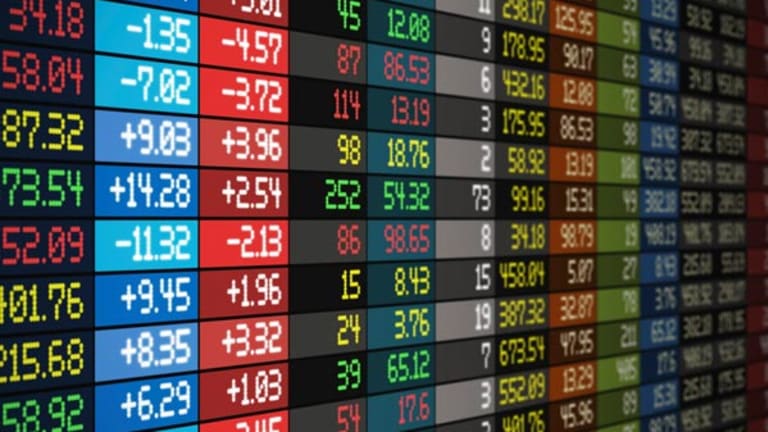 Tech Stocks Tumble
But the Dow erases most of its loss.
Updated from 4:13 p.m. EST
Stocks plunged anew Thursday before mounting a late rally that erased the worst of the blue-chip losses and cut tech shares' declines almost in half.
The
Dow Jones Industrial Average
ended down 33.73 points, or 0.25%, at 13,266.29 -- nearly 200 points above its session low. The
S&P 500
also rebounded from session lows, ending off by 0.85 point, or 0.06%, to 1474.77.
The
Nasdaq Composite
was the hardest hit, plunging by more than 90 points around midday. But by the finish it showed a loss of 52.76 points, or 1.92%, at 2696. Troubling comments from networking giant
Cisco
(CSCO) - Get Cisco Systems Inc. Report
played a large role in the weakness.
"All of this
comeback occurred in the last hour of trading, and the only thing we could point to is some short-term covering," said Robert Pavlik, chief investment officer with Oaktree Asset Management. "There is still a more exaggerated weakness in technology. We recovered a lot as the selloff may have been overdone, but it's hard to really take anything positive away from this. We still need to see some stabilization in equities, the dollar, oil prices and financials."
Once again, the market was steered by continued concerns over economic growth, the weak dollar and the financial crisis.
Cisco dragged on tech stocks after the company said it had a quarterly fiscal first-quarter profit of 37 cents a share, which topped Wall Street's estimates by a penny. Although the company provided in-line guidance, investors grew jittery after the tech behemoth said it is feeling the effects of the credit crunch. Shares of Cisco dropped $3.12, or 9.5%, to $29.63.
Major tech names that have seen big run-ups in recent months were particularly under pressure.
Oracle
(ORCL) - Get Oracle Corporation Report
plummeted 7.9%,
Research In Motion
(RIMM)
spiraled 6.4% lower,
Apple
(AAPL) - Get Apple Inc. Report
lost 5.8%, and
Google
(GOOG) - Get Alphabet Inc. Report
slid 5.3%.
On the
New York Stock Exchange
, 4.74 billion shares changed hands, as falling stocks eked past advancers by a 9-to-8 margin. Volume on the Nasdaq reached 3.40 billion shares, with losers edging winners 8 to 7.
The declines built on a selloff from last time out, when record oil prices, a weaker dollar and disappointing earnings combined to sink the major averages. The Dow plummeted 360.92 points, or 2.6%, to 13,300.02. The S&P plunged 44.65 points, or 2.9%, at 1475.62, and the Nasdaq tumbled 76.42 points, or 2.7%, at 2748.76.
In the spotlight in the new session was
Federal Reserve
Chairman Ben Bernanke, who delivered his economic outlook before the Joint Economic Committee in Washington. Bernanke said that further sharp increases in crude oil prices have put renewed upward pressure on inflation and may impose further restraint on economic activity.
"Recent increases in energy prices will likely lead overall inflation to rise for a time," he said. "The few data releases that have become available have continued to suggest that the overall economy remained resilient in recent months. However, financial market volatility and strains have persisted.
Policymakers, he said, repeating past remarks, will act as needed to "foster price stability and sustainable economic growth."
"Mr. Bernanke gave no ground to the market's desire for further easing in his testimony," said Ian Shepherdson, chief economist with High Frequency Economics. "Mr. Bernanke's language today was perhaps even a bit less market-friendly than the FOMC's. Until the Fed gets real and stops referring to the housing disaster as a mere 'correction,' they will be behind the curve."
Treasury prices were mixed after Bernanke's speech. The 10-year note was up 14/32 in price, cutting the yield to 4.26%. The 30-year bond fell by 3/32 to yield 4.66%.
Among the worst-performing subsector indices, the Amex Airline Index fell 1.6%, the Philadelphia Semiconductor Sector Index fell 1.5%, and the S&P Retail Index was down 0.3%.
"This subprime problem is rolling across everything, with even tech stocks getting hit now," said Paul Mendelsohn, chief investment strategist with Windham Financial. "The assumption and the link has been made that the subprime issues are hitting other parts of the economy. The subprime problem is certainly not over with yet, and we can't calculate what the impact on the economy will be."
Peter Cardillo, chief market economist with Avalon Partners, said that after the market sold off sharply, key technical levels were held and the market had a chance to bounce.
"However, there are some important pieces of economic data tomorrow in the form of import prices and the trade balance which brings more uncertainty, so we should probably stay in a trading range," he said.
While traders were again eying the earnings docket, with
Ford
(F) - Get Ford Motor Company Report
and
Dean Foods
(DF) - Get Dean Foods Company Report
out with results before the opening bell, considerable focus was falling on chain stores, which had their monthly same-store sales.
Wal-Mart
(WMT) - Get Walmart Inc. Report
disappointed after posting a comp-sales increase of only 0.7%, compared with expectations of a 1.1% rise. Shares of the world's largest retailer finished down 31 cents, or 0.7%, to $43.62.
Rival
Target
(TGT) - Get Target Corporation Report
, on the other hand, reported an October comp sales rise of 4.1%, compared with expectations of a 2.5% gain. Still, Target was 0.2% lower at $58.70.
Apparel retailers were the worst of the lot.
Nordstrom
(JWN) - Get Nordstrom Inc. Report
,
Limited
(LTD)
,
Gap
(GPS) - Get Gap Inc. (The) Report
and
Chico's FAS
(CHS) - Get Chico's FAS Inc. Report
all reported monthly losses and missed consensus targets.
Gap, however, offered strong guidance for the third quarter, and shares advanced 6.7% to $19.36.
As for earnings, insurance giant
AIG
(AIG) - Get American International Group Inc. Report
said third-quarter profit fell 27% from a year ago, short of the Thomson First Call target. The stock slid $1.90, or 3.3%, to $56.
Ford posted a narrower-than-expected loss of $380 million. Excluding items, the company lost a penny a share, compared with expectations of a loss of 46 cents a share. Shares of Ford were adding 24 cents, or 2.9%, to $8.48.
Dean Foods, meanwhile, missed the consensus by a penny and issued in-line guidance for the fourth quarter. The stock managed to rise $1.07, or 4.2%, to $26.70.
Away from earnings, shares of
Rio Tinto
(RTP) - Get Reinvent Technology Partners Class A Report
soared 23.1% to $440.20 after the company said
BHP Billiton
(BHP) - Get BHP Group Limited American Depositary Shares (Each representing two) Report
offered to buy it, but that the $109 billion bid was too low.
Morgan Stanley
(MS) - Get Morgan Stanley Report
was also making headlines, becoming the latest financial name to announce writedowns due to the subprime crisis. The firm said its fourth-quarter profit will be reduced by $2.5 billion because of the credit market problems. Shares were up $2.49, or 4.9%, to $53.68.
The dollar was weak again after both the Bank of England and the European Central Bank came out with separate announcements that they would not change key interest rates. The euro was climbing against the dollar on the news.
European bourses were little changed following the policy announcements. London's FTSE 100 was down 0.1%, while Germany's Xetra Dax added 0.3%.
Also on the U.S. economic docket, the Labor Department said that initial jobless claims fell by 13,000 last week to 317,000 claims, a bigger-than-expected decline.
Commodities were mixed in a volatile session. The December crude contract ended down 91 cents to $95.46 a barrel. Gold and silver futures were on the upswing.