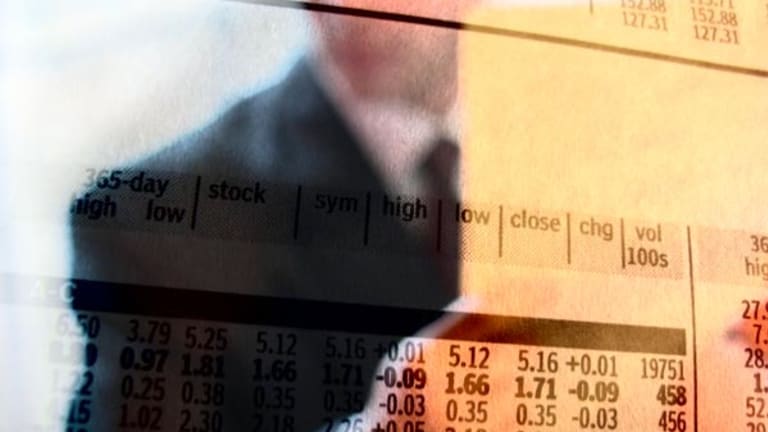 Tech Stocks Take a Dive
The Nasdaq ends down 2.6% amid negative comments on the chip sector, while the Dow sheds 1.2%.
The Nasdaq ends down 2.6% amid negative comments on the chip sector, while the Dow sheds 1.2%.
Updated from 4:06 p.m. EST
Stocks ended lower Friday, as negative comments from analysts on the chip sector eclipsed better-than-expected data on consumer confidence trends.
The
Dow Jones Industrial Average lost 105 points, or 1.2%, to 8433. The
Nasdaq shed 37 points, or 2.6%, to 1362. The
S&P 500 fell 12 points, or 1.3%, to 889.
"Negative sell-side chatter on the semiconductors has triggered broad-based selling in technology," said Keith Keenan, vice president of institutional trading and a partner at Wall Street Access.
Among sectors, semiconductor, storage, networking, airlines, managed health, retail and biotech all fell. Gold, utilities and oil services issues were stronger. Overall, market breadth was negative. Decliners outpaced advancers 5 to 3 on the New Yorke Stock Exchange, where 1.26 billion shares changed hands. On the Nasdaq, losers beat the winners 11 to 5 on volume of 1.37 billion shares.
"The dollar is getting hit hard on concerns of weaker growth, which is driving gold shares higher," Keenan noted. "Political tensions in Venezuela are contributing to a rise in oil prices," he added.
The University of Michigan's preliminary reading on consumer confidence rose to 87.0 from a reading of 84.2 in November. Economists were expecting the number to come in at 85.0. Earlier, the Labor Department reported that its producer price index unexpectedly fell by 0.4% in November, and fell 0.3% excluding food and energy prices. The dip follows a 1.1% increase in October and provides some reassurance that inflation remains in check. A separate report on business inventories came in as expected.
"That Michigan confidence number is a nonevent and really doesn't foreshadow any changes in consumer spending," Keenan said. "I have never put much weight on the number unless it's way outside expectations."
On the research front, J.P. Morgan initiated coverage of
Intel
(INTC) - Get Report
and
Advanced Micro Devices
(AMD) - Get Report
with a neutral rating. The firm said in a research note that the top three markets within the semiconductor sector will remain depressed through the first quarter of 2003. Intel traded down 3.1%, while AMD fell 5.6%. The Philadelphia Semiconductor Index, or SOX, was down 3.7%.
A warning from chipmaker
Cirrus Logic
(CRUS) - Get Report
was also contributing to the market's negative tone. The company said third-quarter revenue will fall short of analysts' estimates and its own projections, citing fewer orders for its audio and video products. The shares fell $1.13, or 26.8%, at $3.08.
Halliburton
(HAL) - Get Report
, the oilfield services giant formerly run by Vice President Dick Cheney, is reportedly negotiating a plan to settle its asbestos liability by putting all or part of its engineering and construction unit into bankruptcy proceedings. The strategy would call for a prepackaged filing that would allow Halliburton to maintain control of the businesses, which would be used to fund a trust to pay victims' claims,
The Wall Street Journal
reported. The shares were finished down 1.3% at $19.75
Coca-Cola
(KO) - Get Report
affirmed guidance for the fourth quarter and 2003, saying a $150 million pension contribution next year will reduce earnings by about a penny a share but not cause it to miss estimates. Coke also said it was adopting a disclosure policy in which it will no longer provide quarterly earnings guidance, saying the practice causes an undesirable focus on short-term performance. Analysts polled by First Call currently expect the soft-drink giant to earn 40 cents a share in the fourth quarter and $1.93 a share next year. Shares of the Dow component slipped 2 cents to $45.85 on the Big Board
Several video-game makers that have enjoyed a big run-up this year fell after Goldman Sachs cut the sector to underperform from in line. The bank also cut earnings estimates on
Electronic Arts
(ERTS)
,
Activision
(ATVI) - Get Report
and
THQ
(THQI)
. Electronic Arts lost 7.6% while Activision lost 8.2%.
Treasuries were lower, with the 10-year note down 11/32 to yield 4.06%. The 30-year bond was down 27/32, yielding 4.95%.