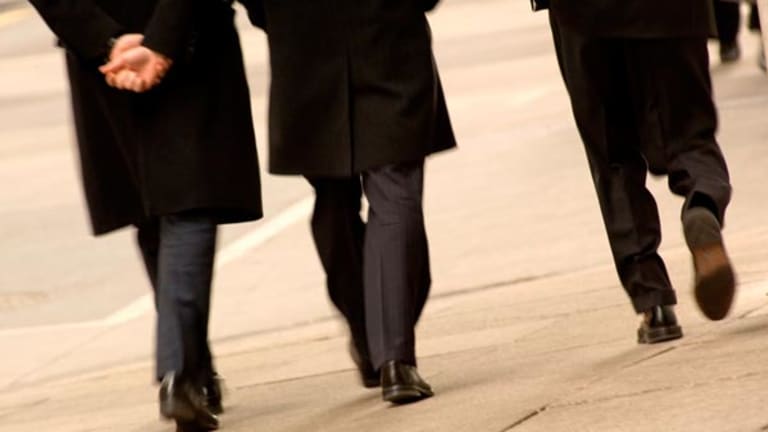 Tech Stocks Snap Their Slump
The Nasdaq leads the market higher as the Dow reclaims 10,000.
Updated from 4:09 p.m. EDT
Tech stocks rebounded from their lows of the year Tuesday in the lead-up to a strong earnings report from
Cisco
(CSCO) - Get Cisco Systems, Inc. Report
. Blue-chips lagged but reclaimed the 10,000 level as traders tried to get their bearings after a string of down sessions.
The
Nasdaq Composite
jumped 35.28 points, or 1.86%, to 1931.35; the
S&P 500
added 8.37 points, or 0.77%, to 1095.49; and the
Dow Jones Industrial Average
rose 29.45 points, 0.29%, to 10,019.47. The 10-year Treasury note was up 9/32 in price to yield 4.75%, while the dollar fell against the yen and euro.
In moderate trading, volume on the
New York Stock Exchange
exceeded 1.5 billion, and advancers outnumbered decliners by about 4 to 1. On the Nasdaq, over 1.6 billion shares changed hands, and advancers dominated by about 7 to 3.
Mark Arbeter, chief technical analyst at Standard & Poor's, noted that on Friday the ratio of decliners to advancers on the
New York Stock Exchange
hit 11.83, its highest level in almost seven years. Monday's reading of 8.78 was another very high level.
"This shows a big increase in fear towards the market and is a bullish sign," said Arbeter. "We need to see some big up days accompanied by heavy volume to confirm that a bottom is in. The potential is real that a double bottom is being traced out, so near-term action is very important."
"I still think we should give the benefit of the doubt to some further recovery," said Phillip Roth, chief technical market analyst with Miller Tabak & Co., "but at some point it's going to have to show some more guts to it. I think we're going to get a fairly lengthy recovery from around these levels, maybe slightly lower, into the summer. Maybe we'll make some new highs, but then we'll go down to a lower low in the fall, but I think the market's in a transition here in 2004 from bull to bear, and next year will be down."
The Amex Network Index and the Philadelphia Semiconductor Index both gained about 2.4%, boosting the tech sector. While 19 out of the 30 stocks making up the Dow posted gains,
Altria
(MO) - Get Altria Group Inc Report
proved a drag on the blue-chip index, dropping 2.7% after lowering its 2004 guidance. Also,
Wal-Mart
(WMT) - Get Walmart Inc. Report
dropped more than 1.2% after jumping 3.1% in the previous session. The retail giant reports first-quarter earnings on Thursday.
Cisco reported strong third-quarter results after the bell Tuesday, beating Wall Street's forecast on an operating basis. The company earned $1.2 billion, or 17 cents a share, compared with $987 million, or 14 cents a share, in the same period last year. Sales jumped nearly 22%, to $5.6 billion in the third quarter from $4.6 billion last year. Its shares were recently down a nickel, or 0.2%, to $22.20 in after-hours trading, after adding 2.9% during the session.
Stocks began the day at their worst levels of the year, with the Dow sitting at 9990 for its first close beneath 10,000 since December and the Nasdaq Composite at 1896. Since the release of April's glowing employment report on Friday, which was widely viewed as confirmation of long-awaited strength in the job market and robust economic strength, the Dow and the S&P had shed 2.4% before Tuesday's opening bell. The Nasdaq was down about 2.1%.
Even with the good economic news coming on the tail end of a blowout earnings season, Larry Peruzzi, senior equity trader at Boston Company Asset Management, listed a series of concerns that had investors cowering, including high oil prices, increased regulation of the Chinese economy, signs of inflation, the prospect of rising interest rates and a scandal unfolding in Iraq related to the abuse of Iraqi prisoners by members of the U.S. military.
"If Friday's inflation data comes out negative, the
Fed
is going to have to take strong action even though they usually try to avoid doing so in an election year," Peruzzi said. "I'll be looking for commodity prices and energy prices in particular. If we can get those under control, I think we'll be alright, and the Fed can get by with one rate hike before November. But, if we get oil shortages, and the Chinese government is unable to keep its economic growth rate under control, I think we could be looking at a narrow trading range through the summer."
Economists expect the government to report Friday that the consumer price index, its main gauge on inflation, rose 0.3% in April, slower than the 0.5% growth-rate reported for March.
On Capitol Hill, Maj. Gen. Antonio Taguba, who first investigated prisoner abuse in an Iraqi prison, told Congress on Tuesday the mistreatment resulted from "failure of leadership from the brigade commander on down, a lack of discipline, no training whatsoever and no supervision," according to the
Associated Press
. He left open the possibility that members of the Central Intelligence Agency as well as armed forces personnel and civilian contractors were responsible for the transgressions.
Meanwhile, gunmen reportedly attacked a U.S.-run civilian convoy in the western desert of Iraq, leaving some personnel missing. The latest attack comes as Iraq's oil minister said the weekend bombing at a southern pipeline had cut oil exports by 30%, taking a toll on the industry that is expected to play a key role in Iraq's economic recovery.
Bond yields continued lower as traders consolidated after roughly six months of price declines, possibly easing the recent slide in stocks. But the fixed-income markets should be volatile in coming days as the U.S. Treasury began a three-day, $54 billion refunding auction before a crucial report on inflation comes Friday.
After auctioning $24 billion of new three-year notes Tuesday, $15 billion in five-year notes will be on the block Wednesday followed by $15 billion in new 10-year notes on Thursday. The added supply could pressure yields to the upside but market watchers will also be focusing on the amount of debt purchased by indirect bidders, mainly foreign central banks, to gauge overseas demand for U.S. assets ahead of possible Federal Reserve tightening.
In what has become a fairly customary response to big market declines, research houses all over Wall Street came out with bullish calls on a number of marquee stocks Tuesday morning. Goldman Sachs recommended that investors buy
Yahoo!
(YHOO)
, citing recent weakness and strength in the Internet company's advertising position.
Disney
(DIS) - Get Walt Disney Company Report
was raised to buy from neutral at UBS, which also cited valuation and the media conglomerate's growth prospects. It raised the price target to $30.
ExxonMobil
(XOM) - Get Exxon Mobil Corporation Report
was raised to buy from hold at AG Edwards on the strength of its new business pipeline and good prospects for production. And
Viacom
(VIAB) - Get Viacom Inc. Class B Report
was raised to buy from neutral at Fulcrum Partners, which said the market's opinion of the stock appears to be turning.
In earnings news,
May Department Stores
(MAY)
reported a rise in first-quarter earnings, but its operating results fell short of Wall Street's expectations. The company earned $76 million, or 24 cents a share, compared to $72 million, or 23 cents a share, in the same quarter last year. Its stock fell 86 cents, or 3%, to $27.92.
Overseas markets closed higher, with London's FTSE 100 up 1.3% to 4455, and Germany's Xetra DAX was up 1.7% to 3850. In Asia, Japan's Nikkei added 0.2% to 10,907, and Hong Kong's Hang Seng gained 0.2% to 11,508.
On Wednesday, first-quarter results are due out before the opening bell from
Aramark
(RMK)
, expected to report earnings of 23 cents a share, up from last year's 19 cents a share; and
Federated
undefined
, expected to report earnings of 48 cents a share, up from last year's 24 cents a share.
At 8:30 a.m. EDT, the Commerce Department is expected to say the international trade gap for the U.S. increased in March to $42.6 billion, up from the $42.1 billion deficit reported for February. At the same time, the Labor Department will release the April results of the import and export price indices.
At 2 p.m. EDT, the government will release the federal budget results for April. The spending deficit is expected to total $46.8 billion, down from the $51.5 billion reported for April of last year.