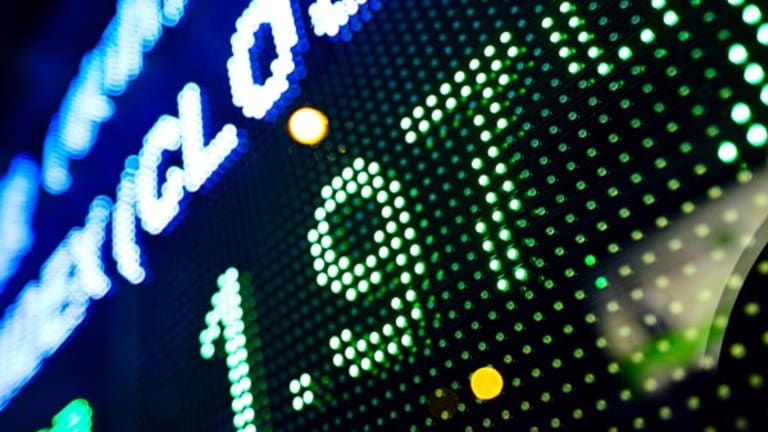 Tech Stocks Slide Toward Year's Low
The Nasdaq falls to within 8 points of its lows for the year.
Updated from 4:07 p.m. EDT
Stocks collapsed in the final hour of trading Friday, leaving the
Nasdaq
just above its lowest close of the year, as another late-session fade took the shine off a relatively positive report on consumer prices and solid earnings news from
IBM
(IBM) - Get International Business Machines Corporation Report
and
Dell
(DELL) - Get Dell Technologies Inc Class C Report
.
After posting opening gains, weakness in technology dragged the Nasdaq below its 1900 mark, down 29.56 points, or 1.55%, to 1883.15. The index has not been under that mark since late May when it reached rock-bottom for 2004 at 1877.
The
Dow
closed down 23.38 points, or 0.23%, to 10,139.78 and the
S&P 500
fell below its 200-day moving average, down 5.42 points, or 0.49%, to 1101.27. The 10-year Treasury note rallied 31/32 in price to yield 4.36%, while the dollar fell to a four-month low against the euro and posted its biggest drop since late June against the Japanese yen. Weighing heavily on the market, crude oil futures added 64 cents, or 1.6%, to $41.60.
In relatively active trading, volume approached 1.5 billion shares on the
New York Stock Exchange
, where advancers held a small majority over decliners. On the Nasdaq, almost 1.8 billion shares changed hands, and decliners dominated by over a 2-to-1 margin.
"We started off well this morning, but the rise in oil just killed things later in the day, and no one seems to have any interest in stocks going into the weekend," said Larry Peruzzi, senior equity trader with Boston Company Asset Management.
On the economic front, inflation jitters eased considerably after the government reported its consumer price index rose 0.3% in June, just slightly higher than Wall Street's consensus estimate of 0.2%. In May, the index was up by 0.6%. The closely-watched core index, excluding volatile food and energy prices, came in lower than expected, up 0.1% after economists had predicted the gauge would hold steady at 0.2%.
"There's no question that the hype about inflation ahead of the
Fed
meeting last month has just totally disappeared," said Ken Tower, chief market strategist with CyberTrader, noting that bond yields hit their lowest close since late April. "The Fed view that we were seeing a momentary blip in inflation and that steady, modest rises in interest rates were all that was necessary has been vindicated, at least so far."
On the market overall, Tower said the session's action was emblematic of a trend that has dominated the last several months. "We get off to a good start in the morning, but it's proven very difficult to hold on to that rally as the session progresses," he said. "I think there's just a huge amount of uncertainty holding the market back. It has to do with high oil prices, a perceived slowdown in growth, inflation, the election and Iraq."
Also on the economic front, the University of Michigan said the preliminary reading of its consumer sentiment index in July came in slightly higher, but a bit lower than expected. The index crept up to 96 from the 95.6 logged in June. Economists expected a larger gain, to 97.
Barry Ritholtz, chief market strategist with Maxim Group and a contributor to
RealMoney.com
, said he thinks the market looks oversold, and while everyone he knows thinks the stocks will hit new highs after the presidential election issue is resolved in November, he thinks a rally may be in store before then.
"Whenever I see so many people standing on one side of the boat, it immediately raises a red flag to me and says maybe we'll be surprised," Ritholtz said. "And when I see a company like
Intel
(INTC) - Get Intel Corporation Report
report bad news without causing a bloodbath, that tells me that market internals are strong, and maybe we could make a move here in the next week or so."
Intel said Wednesday that second-quarter earnings nearly doubled to $1.8 billion, or 27 cents a share, on an 18% jump in revenue, but its guidance shaved 2 percentage points from the chipmaker's gross-margin estimate, drawing the ire of Wall Street.
All the major indices extended losing streaks for the week, with the Dow, down for the fourth week in a row, off 0.7%; the S&P fell 1%, and has now lost five weeks in a row; and the Nasdaq plunged 3.2%, for its third straight week of carnage. All three indices also are in the red for the year, as well, with the Dow down 3%, the S&P off 0.9%, and the Nasdaq down 6%.
On Friday, semiconductor, outsourcing and software stocks led the Nasdaq lower, with the Philadelphia Semiconductor Index down 1.9%, the Amex Network Index down 1.6% and the Goldman Sachs Technology Industry Software Index down 2.3%. Particular weakness was also showing up in airlines, biotechnology and retail stocks.
On the Dow, 11 out of 30 components showed gains, with
Johnson & Johnson
(JNJ) - Get Johnson & Johnson Report
leading progress, up 2.7%, followed by
Honeywell
(HON) - Get Honeywell International Inc. Report
, up 2.1%, and
Exxon Mobil
(XOM) - Get Exxon Mobil Corporation Report
, up 1.1%.
Intel led decliners on the blue-chip index, down 1.8%, along with
Walt Disney
(DIS) - Get Walt Disney Company Report
, down 1.8%,
Caterpillar
(CAT) - Get Caterpillar Inc. Report
, down 1.5%, and
Microsoft
(MSFT) - Get Microsoft Corporation Report
, down 1.4%.
The twin pillars of U.S. computer hardware initially moved higher Friday after each was able to please investors since the close of trading Thursday. At IBM, earnings rose 17% on a 7% jump in sales, with earnings totaling $2.0 billion, or $1.16 a share -- better than Wall Street estimates. Revenue rose to $23.15 billion from $21.63 billion last year and the company affirmed guidance for the full year.
The stock closed up 26 cents, or 0.3%, to $84.28.
Dell predicted earnings of 31 cents a share in the three months ending July 30, citing slightly better operating profitability and a lower tax rate. The PC giant left its revenue estimate intact at $11.7 billion and noted some market-share gains over the last year. It closed up 55 cents, or 1.6%, to $35.42.
The situation was not as rosy for heavily traded DVD rental outfit
Netflix
(NFLX) - Get Netflix, Inc. Report
Friday morning. The stock was tanking more than 18% after the company reported second-quarter earnings Thursday that missed estimates by 2 cents a share. A price hike that kicked in during the quarter was part of the problem, although the company maintained its revenue and subscriber guidance for the full year. Bears were having a field day on both the earnings miss and the rate at which subscribers are leaving the service, which some analysts saw as high. Netflix closed down $8.98, or 28%, to $23.02.
PNC Financial
(PNC) - Get PNC Financial Services Group, Inc. Report
agreed to buy the scandal-ridden
Riggs National
(RIGS) - Get RiverFront Strategic Income Fund Report
in a deal of stock and cash worth $779 million, or $24.25 a share. Riggs, which closed up 5 cents, or 0.2%, to 22.72, was recently fined $25 million by the federal government for violations related to its handling of bank accounts for Saudi diplomats.
Also, shares of
Martha Stewart Living
(MSO)
shot up $3.17, or36.7% after the domestic diva was sentenced to 5 months in prison, convicted of lying about a suspicious 2001 selloff of
ImClone
(IMCL)
stock.
Overseas stocks were mixed, with London's FTSE 100 and Germany's Xetra DAX both closing down a fraction to 4339 and 3846, respectively. In Asia, Japan's Nikkei closed up 0.2% to 11,436, while Hong Kong's Hang Seng gained 1% to 12,059.
Monday morning will be a respite from economic releases but will hold another deluge of earnings announcements, featuring
3M
,
Delta Airlines
(DAL) - Get Delta Air Lines, Inc. Report
,
Lexmark
(LXK)
and
American Standard
(ASD)
.