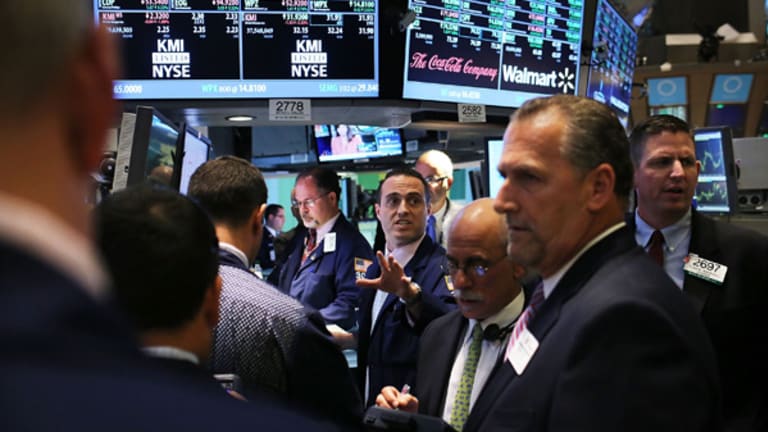 Tech Stocks Rally
The Nasdaq gets a rare boost from the chip sector, while GM weighs on the Dow.
Updated from 4:04 p.m. EDT
Tech stocks led the markets higher Thursday amid a dip in oil prices and the season's last major barrage of second-quarter earnings reports, as investors searched for signs that the recent selloff had reached bottom.
The
Dow Jones Industrial Average
closed up 12.17 points, or 0.12%, to 10,129.24; the
S&P 500
gained 5.01 points, or 0.46%, to 1100.43; and the
Nasdaq Composite
was up 22.80 points, or 1.23%, to 1881.06. The 10-year Treasury note was trading up 2/32 in price to yield 4.57, while the dollar was higher against the yen and euro.
Volume stayed moderate, with over 1.5 billion shares trading on the
New York Stock Exchange
and almost 1.7 billion on the Nasdaq. Advancers roughly doubled decliners on both exchanges.
"It's too early to say for sure, but the market is showing definite technical signs of being oversold and readying for a rally," said Richard McCabe, chief market analyst with Merrill Lynch. He predicted the indices will eventually move back up to the higher end of their range for the year in choppy trading.
In New York, oil futures for September delivery closed down 15 cents, or 0.3%, lower at $42.75 a barrel. The easing reflected a minor cooling in the situation in Russia, where the country's largest oil company, Yukos, is involved in a high-stakes tax battle with the government. On Wednesday, oil futures hit an all-time high of $43.05 a barrel.
On the economic front, the government reported that growth in employment costs cooled in the second quarter, rising by 0.9% compared with 1.1% in the first quarter. Also, initial jobless claims rose more than expected in the week ended July 24, adding 4,000 claims to 345,000 from an upwardly revised 341,000 reported for the previous week.
Also, the fourth and final day of the Democratic Convention commenced in Boston, potentially giving investors their most definitive reading yet on Sen. John Kerry's chances in his bid to unseat the incumbent, President Bush. Kerry will make the most important speech of his life Thursday night and lay out his case to the American people. His prospects for victory depend on the perceptions that will come from the performance.
Stocks began the day with the wind at their back after a late technical rally Wednesday carried the Dow to 10,117, up 32 points, while the Nasdaq pared a 30-point loss and ended down 11 points to 1858.
"Today is a proving day," said Larry Wachtel, senior market analyst with Wachovia Securities. "Yesterday's turnaround was encouraging because things were looking pretty dismal there for a while, but we've got to keep some momentum going for longer before we can call this a real move. We're so oversold here, so you got to think we'll get a real bounce sooner or later."
Technology shares provided leadership for the session, with the Philadelphia Semiconductor Index up 2.9% and the Amex Network Index up 2.4%.
Nineteen of the 30 Dow components showed gains, led by
Intel
(INTC) - Get Intel Corporation (INTC) Report
, up 3.3%,
Alcoa
, up 2%, and
Citigroup
(C) - Get Citigroup Inc. Report
, up 1.3%.
Weighing on the blue-chip barometer,
General Motors
(GM) - Get General Motors Company (GM) Report
was losing $1.38, or 3.1%, to $42.74 after Lehman Brothers and Goldman Sachs both issued downgrades on the stock. Lehman cited weak July sales, while Goldman said it expected GM to miss earnings expectations "by a wide margin" in the coming years.
Among major earnings Thursday morning,
ExxonMobil
(XOM) - Get Exxon Mobil Corporation Report
said second-quarter earnings jumped 39% thanks to record-high oil and gas prices. Its stock closed up 25 cents, or 0.5%, to $46.06.
Raytheon
(RTN) - Get Raytheon Company Report
beat earnings expectations, excluding charges for early retirement of debt and a lawsuit settlement that left the company with a loss, and maintained its full-year outlook. Its shares added 85 cents, or 2.6%, closing at $33.56.
DaimlerChrysler
(DCX)
said second-quarter net was 554 million euros, up from 109 million euros a year ago and slightly exceeding consensus forecasts. Revenue rose 9% to 37.1 billion euros, about 2 billion euros better than forecast. Its shares closed down 57 cents, or 1.2%, to $44.91.
Bristol-Myers
(BMY) - Get Bristol-Myers Squibb Company Report
said second-quarter earnings fell by about half from a year ago on a 5% increase in revenue, as a legal charge depressed the bottom line. Before items, the drug company earned 46 cents a share, wiping out the 39-cent analyst consensus. The company guided the remainder of 2004 higher but warned it might not be able to hit estimates for 2005 and 2006. Its stock fell $1, or 4.2%, to $22.57.
Dow Chemical
reported a 74% jump in second-quarter profits, beating expectations, and gave a strong outlook for the rest of the year. The largest U.S. chemical maker earned $685 million, or 72 cents a share, up from $393 million, or 43 cents a share, in the same quarter last year. Its stock closed up $1.10, or 2.8%, to $40.50.
Also, health insurer
Aetna
(AET)
said second-quarter earnings more than doubled to $286.3 million, or $1.879 a share, reflecting higher fees and membership and lower costs. On an operating basis, Aetna earned $1.77 a share, a dime better than expectations. For the full year, the company now expects to earn $6.75 to $6.85 a share, up from previous guidance but slightly below the Wall Street consensus. Its stock closed up $5.27, or 6.7%, to $84.25.
Overseas markets were mixed, with London's FTSE 100 closing up 1.4% to 4419 and Germany's Xetra DAX adding 2.2 % to 3890. In Asia, Japan's Nikkei fell 0.8% to 11,117 and Hong Kong's Hang Seng lost 1.1% to 12,183.
The earnings spigot turns lower Friday, with fewer than 20 companies scheduled to release second-quarter results before the open, including
ChevronTexaco
(CVX) - Get Chevron Corporation Report
,
Constellation Energy
(CEG)
and
Archer-Daniels
(ADM) - Get Archer-Daniels-Midland Company Report
.
At 8:30 a.m. EDT, economists expect the government to report, in its advanced GDP reading, that the economy expanded at an annualized 3.7% in the second quarter, slowed from the 3.9% recorded for the first quarter.
The University of Michigan will then release its revised reading on consumer sentiment in July, expected to rise to 96.2 from the earlier reading of 96.0. That's still higher than the 95.6 logged in June.
At 10 a.m. EDT, the National Association of Purchasing Management is expected to say its Chicago Purchasing Managers' Index jumped to 60 in July, compared to 56.4 in June.