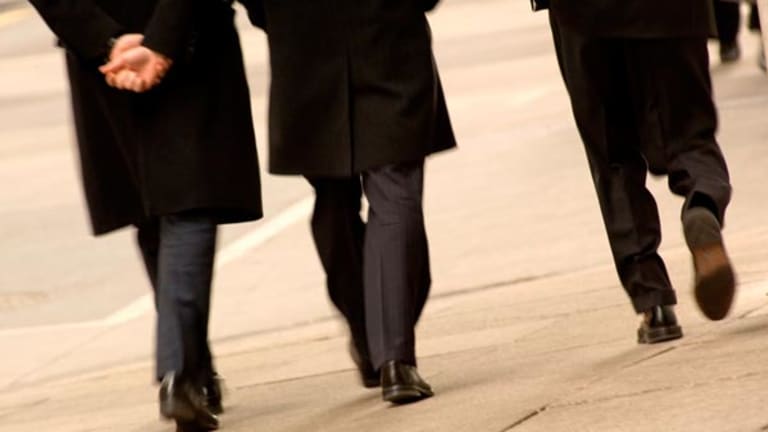 Tech Stocks Hold Gains
The Nasdaq closes higher, but the Dow loses more ground.
Updated from 4:12 p.m. EDT
Tech stocks closed with gains Friday as
Dell's
(DELL)
strong guidance provided support throughout the session, but blue chips ended a rocky day with losses.
The
Dow Jones Industrial Average
fell 49.36 points, or 0.48%, to 10,140.12, and the
lost 5.31 points, or 0.46%, to 1154.05. Meanwhile, the
Nasdaq Composite
rose 12.92 points, or 0.66%, to 1976.80, after having reached an intraday high of 1990. The 10-year Treasury was up 7/32 in price to yield 4.12%, while the dollar rose against the yen and moved to its highest level of the year against the euro.
Trading volume on the
New York Stock Exchange
was 2.17 billion shares, with decliners beating advancers by a 2-to-1 margin. Volume on the Nasdaq was 1.85 billion shares, with decliners outpacing advancers 9 to 7.
"We're still stuck in that trading range from 15 of the last 17 months, forgetting the two great months at the end of 2004," said Dave Briggs, head of equity trading with Federated.
Briggs added that he thinks the problems started last year, mostly from a lack of momentum and cash flow. "There's a buyers' strike, and there's just not enough to sustain the general market," he said. "It's tough to count on a pop going into the summer months when everyone is so apathetic anyway. We may not have a bigger bounce until the fourth quarter."
For the week, the Nasdaq posted a gain of 0.48%, while the Dow dropped 1.98% and the S&P 500 lost 1.47%.
"With the dollar changing direction, this entire scenario that's been in play with emerging markets all changes," said Paul Mendelsohn, chief investment strategist with Windham Financial Services. "What's beginning to happen now is this new approach is designed to force speculators out of these old emerging places, like energy and homebuilding. Some of the gains we see in the Nasdaq shows that it's the beneficiary of money that's leaving sectors that were major achievers."
Oil rose, ending two days of selling that took the June crude contract down nearly 7%, hammering energy stocks Thursday and leading to broad-based selling in a handful of old-line industrial shares. Futures closed higher by 13 cents to $48.67 a barrel in Nymex floor trading. Crude oil lost 4.5% overall this week.
After posting a 3% decline Thursday, aluminum producer
Alcoa
(AA)
was the Dow's leading percentage loser Friday, falling 3.1% to finish at $26.70.
"Over the past few days we've seen a sharp reversal in commodity prices," said Michael Sheldon, chief market strategist with Spencer Clarke LLC. "That's a result of a few factors, including oil inventories at the highest levels since July 1999. Also, the dollar has broken out to multimonth highs. Thirdly, on-again, off-again economic signs are leading investors to take profits in economically sensitive areas.
"If oil prices remain below $50, we could start to see some of those funds deployed move into technology names," he continued. "Valuations have gotten to more attractive levels, as well as positive news from
Cisco
(CSCO)
and Dell improving sentiment in tech."
Stronger sectors Friday included semiconductors, technology and networking. Among the weaker areas were energy, materials, financials, biotech and health care.
The indices bounced from session lows after activist billionaire Carl Icahn disclosed new stakes in
Rite Aid
(RAD)
,
Siebel
undefined
and
Hewlett-Packard
(HPQ)
. Icahn Partners said in a 13F with the
SEC
that it owns 10 million common shares of Rite Aid worth about $39.6 million; about 4.5 million shares of Siebel worth $41.3 million; and about 104,000 shares of Hewlett-Packard worth $2.2 million.
Rite Aid added 12 cents, or 3.1%, to close at $3.97. H-P rose 47 cents, or 2.3%, to $20.62, and Siebel gained 7 cents, or 0.7%, to $9.66.
Dell finished 7.4% higher after saying first-quarter earnings jumped 28% from a year ago to $934 million, or 37 cents a share, on a 16% rise in sales to $13.39 billion. Both lines matched estimates and Dell put second-quarter sales at $13.6 billion to $13.8 billion. Analysts were forecasting $13.64 billion.
Brokerage firm UBS also upgraded Dell to buy from neutral, citing the belief that the PC maker can increase market share through 2006 despite a possible slowdown in the PC market. Shares of Dell were up $2.72 to close at $39.33.
Friday's dollar strength reflected optimism after yesterday's strong retail sales numbers, a report that wasn't matched by Friday's University of Michigan consumer sentiment data. The preliminary reading for May consumer confidence came at 85.3. Economists expected the index to reach 88.0, compared with 87.7 in April.
"The dip was driven by a 3.3-point drop in expectations to 73.7," said Ian Shepardson, chief economist with High Frequency Economics. "This is the lowest reading since March 2003. The good news is that it likely won't fall any further, now that gas prices are falling. But the bad news is that the expectations index is a leading indicator of core retail sales, and it now signals no growth over the next two or three months. In other words, the soft patch is not over. It has barely begun, at least in terms of retail sales. April's strength was an illusion."
On the economic front, the Labor Department said the import price index for April rose 0.8%, greater than expectations. Excluding the 3.1% increase in petroleum prices, import prices increased 0.4%, the largest gain since November. The export price index increased 0.6% in the month. Excluding agricultural goods, export prices rose 0.5%.
Elsewhere, the Commerce Department said Friday that business inventories in March rose 0.4%, lower than expectations. Sales in the month rose 0.7%.
The Philadelphia semiconductor sector index jumped 2.8%, lead by gains in
Broadcom
undefined
,
Marvell Tech
(MRVL)
,
Micron
(MU)
and
Novellus
undefined
.
In earnings news, auto-parts company
Delphi
undefined
reported a first-quarter loss of $409 million, or 74 cents a share, compared with a profit of $53 million, or 9 cents a share, a year ago. Excluding restructuring charges, Delphi reported a loss of 68 cents a share. Quarterly revenue fell 7% year over year to $6.9 billion. Analysts expected the company to post a loss of 31 cents a share on revenue of $6.78 billion, according to Thomson First Call.
Delphi also warned it would lose more than $350 million for the year as it revised its estimates for
General Motors'
(GM)
North American production lower by 6% to 8%. Shares added 40 cents, or 11.8%, to $3.80.
Graphics chipmaker
Nvidia
(NVDA)
earned $64.4 million, or 36 cents a share, in the first quarter, compared with $21.4 million, or 12 cents a share, a year ago. Sales rose 24% to $583.9 million. Analysts expected the company to earn 28 cents a share on $581.4 million in sales, according to Thomson First Call. Nvidia gained $2.54, or 11.1%, to $25.33.
Taser International
undefined
shares were higher Friday after the company announced the completion of another independent study of the effects of its devices. The study showed no significant cardiac disruptions in human subjects after exposure to its stun gun, the company said. Shares rose 18 cents, or 1.6%, to $11.38.
Aetna
(AET)
said Friday it signed an agreement to acquire ActiveHealth Management, a health management and health care data analytics company based in New York. The company will pay about $400 million for the acquisition of ActiveHealth. Aetna fell $1.81, or 2.4%, to $74.
Among brokerage actions, J.P. Morgan upgraded chemicals company
DuPont
(DD)
to overweight from neutral, believing the company's earnings are likely to improve 26% over the next two years. Shares were down 33 cents, or 0.7%, to close at $46.24.
Both Wachovia and Monarch Research downgraded retailer
Pep Boys
(PBY)
to underperform from market perform and to hold from buy, respectively. Wachovia cited a lack of visibility into the company's fundaments and diminished conviction in the progress of its turnaround effort. The rating cuts come one day after the company reported a first-quarter loss of $2.4 million, or 4 cents a share, far below analysts' expectations for earnings of 21 cents a share. Pep Boys lost $1.90, or 12.7%, to $13.11.
Earlier Friday, the Nasdaq said that a computer problem at an unidentified stock trader caused some incorrect prices to be posted to the system. The problem occurred between 9:19 a.m. and 9:40 a.m. EDT. A number of securities were affected, although none of them were the most heavily traded stocks. The problem, which arose when a broker inadvertently put out bids for stocks that were much higher, has since been corrected.
Overseas markets were mostly lower after yesterday's 111-point drubbing on the Dow Jones Industrial Average. London's FTSE 100 was down 0.1% to 4886, while Germany's Xetra DAX added 0.2% to 4275. In Asia, Japan's Nikkei fell 0.3% overnight to 11,049, while Hong Kong's Hang Seng shed 0.7% to 13,867.