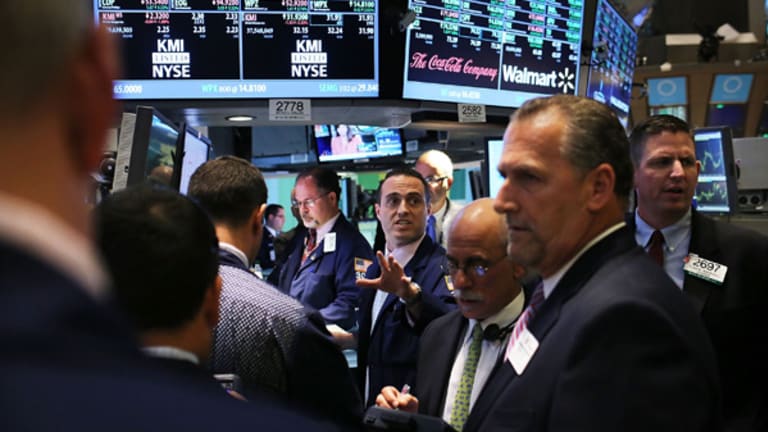 Tech Stocks Hammered
The Nasdaq loses 23 points as semiconductors tank.
Updated from 4:06 p.m. EST
Tech stocks tumbled and the broader market also limped lower Monday, as early optimism gave way to profit-taking in 2005's first session.
The
Dow Jones Industrial Average
ended down 53.58 points, or 0.5%, to 10,729.43, its fourth straight loss since hitting a 2004 high last week. The
fell 9.84 points, or 0.8%, to 1202.08, and the
Nasdaq
shed 23.29 points, or 1%, to 2152.15, their biggest one-day point losses in a month.
The Nasdaq's skid was all the more worrisome given that the index rose in the day's opening hour. From its high point, the Comp fell 42 points Monday.
Volume on the
NYSE
was 1.50 billion shares, with decliners beating advancers by a ratio of almost 3 to 1. Volume on the Nasdaq was 2.19 billion shares, with decliners outpacing advancers by a ratio of about 7 to 3.
In other markets, the 10-year Treasury bond was up 1/32 in price to yield 4.21%, while the dollar was higher against the yen and euro. Gold was down $8.70, or 2%, its lowest level since November.
Energy prices eased as the northeastern U.S. continued to enjoy unusually mild weather. In Nymex floor trading, the February crude contract ended down $1.33 to $42.12 a barrel. The Philadelphia Stock Exchange oil index was off 3.7%, with all 15 components each posting losses of 2% or more.
On the economic front, the Institute for Supply Management's manufacturing index hit 58.6 in December, just above the 58.5 consensus forecast. The index registered 57.8 in November. But a subindex on employment showed a steep decline from 57.6 to 52.7. In addition, a report on construction spending showed an unexpected decline in November. Spending was down 0.4% vs. expectations for a 0.5% gain.
Chip stocks were notably weak, with the Philadelphia Semiconductor Index falling 2.1%. All 19 of its components ended in the red.
"The semiconductors for the last couple of weeks have shown a disconnect from the market and the Nasdaq, and has been the weakest sector," said Barry Hyman, equity market stratagist with Ehrenkrantz King Nussbaum. "It says that expectations may be a little too high for some of these growth sectors.
"It's a foreshadowing of how the market may react as we get deeper into this quarter, especially with worries about the fourth-quarter earnings coming out," Hyman said.
Yahoo!
(YHOO)
and
Google
(GOOG)
rose after Goldman Sachs raised its fourth-quarter sales estimates on both Internet companies. The brokerage said online ad spending was "heavy" ahead of the holidays as corporations made the Internet a key component of their marketing strategies.
Goldman sees Yahoo! posting earnings before interest, taxes, depreciation and amortization of $322 million in the current period on net revenue of $773 million. The old estimate was for EBITDA of $309 million and revenue of $747 million. Goldman left its earnings estimate for the quarter alone at 13 cents a share. For Google, it sees fourth-quarter earnings of 76 cents a share on revenue of $592 million. The old estimates were 74 cents a share and $579 million.
Yahoo! shares finished up 50 cents, or 1.3%, to $38.18, while Google rose $9.92, or 5.2%, to $202.71.
Ask Jeeves
undefined
rose $1.07, or 4%, to $27.82 and
Amazon.com
(AMZN)
gained 23 cents, or 0.5%, to $44.52.
Wal-Mart
(WMT)
said Monday that it sees December sales up 3%, higher than previous estimates, thanks to increased post-Christmas spending. Wal-Mart rose 53 cents, or 1%, to $53.35.
Kmart
undefined
said it expects net income of about $250 million for the two-month period of November and December, a 10% increase from the same period a year earlier. Shares gained $1.15, or 1.2%, to $100.10.
Walgreen
(WAG)
had fiscal first-quarter earnings of $332.7 million, or 32 cents a share, up from $254.9 million, or 25 cents a share, in the same period a year ago thanks to strong prescription and merchandise sales and higher gross profit margins. Excluding items, earnings were 31 cents a share, beating the Thomson First Call consensus of 29 cents a share. Walgreen surged up $2.01, or 5.2%, to $40.38.
Merck's
(MRK)
woes continued Monday after news that a leading critic, Food and Drug Administration researcher Dr. David Graham, is reportedly ready to publish research that suggests 139,000 people were injured or killed as a result of using the company's Vioxx pain drug. Merck dropped 88 cents, or 2.7%, to $31.26.
Wells Fargo downgraded
Gap
(GPS)
to hold from buy. The firm also cut fourth-quarter and 2005 fiscal-year earnings estimates and forecast same-store sales would decline 2% to 3%. Gap fell 15 cents, or 0.7%, to $20.97.
SBC Communications
undefined
said Monday that it has entered a joint venture with
2Wire
to create a home entertainment service that integrates satellite TV programming, digital video recording, video on demand and Internet content. SBC lost 18 cents, or 0.7%, to $25.59.
A number of overseas markets were closed Monday for the New Year holiday. Among those that were trading, Germany's Xetra DAX ended 0.8% higher at 4291, while Hong Kong's Hang Seng gained 1% overnight to 11,489.