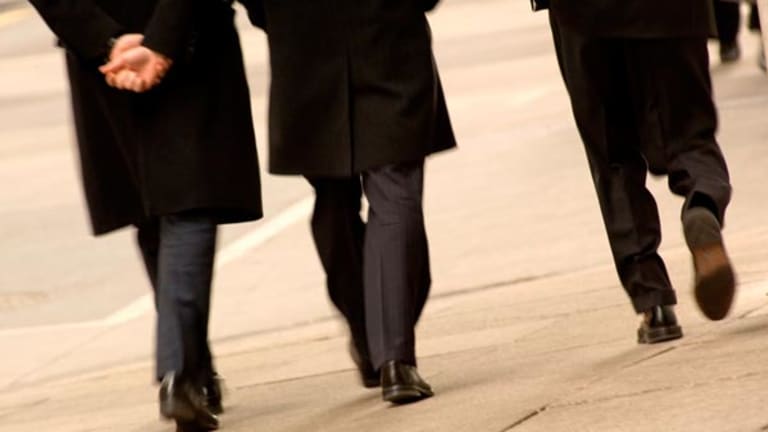 Tech Shares Lead Market Higher
The Nasdaq gains about 2% on strength in semiconductors and software.
The Nasdaq gains about 2% on strength in semiconductors and software.
Updated from 4:06 p.m. EST
Stocks ended higher Wednesday, reversing some late-day weakness, amid optimism about tech stocks and good news from some consumer-goods companies.
The
Dow Jones Industrial Average ended up 58.47 points, or 0.7%, at 8427.41, while the
Nasdaq Composite rose 26.12 points, or 2%, to 1326.66. The
S&P 500
gained 8.56 points, or 1%, to 890.70.
With little in the way of economic news due on Wednesday, the market was quiet, as traders waited for more economic news later in the week. On Thursday, third-quarter gross domestic product data will be released, followed by the unemployment report on Friday.
Tech stocks posted gains, thanks in part to some bullish comments from IBM Chief Executive Sam Palmisano, who told a meeting of
IBM
(IBM) - Get Report
customers that he felt the economy was flattening. "Even though we're faced with some very difficult short-term economic circumstances, they
customers are ultimately optimistic about the long term," he said.
Palmisano's comments added to the optimism that has grown after three weeks of market momentum, but there was little conviction that Wednesday's rally was for real. "It just shows you that people are hungry for positive news to sustain the rally," said Joseph S. Kalinowski, chief investment officer, Ehrenkrantz King Nussbaum. "I suspect a lot of people are taking advantage of the upward momentum, but in terms of corporate profits, we're not seeing robust growth."
Kalinowski also warned that the recent three-week rally could be unsustainable. "The market is really stuck in a trading range right now," he said. "All in all, it's just another quiet day until we get more news."
In a sign of how bad things are in the telecom industry,
Alcatel
(ALA)
said third-quarter sales fell 37.5% on the year, but its stock was up 33% to $5.12 amid news that the company expects to return to profitability in 2003, thanks to reduced debt and a positive cash flow.
The Alcatel news has given a boost to other networkers, which have been extremely volatile in recent sessions due to their low share prices.
Lucent
(LU)
was up 18.8% to $1.20,
Nortel
(NT)
was up 10.1% to $1.20, while
JDS Uniphase
(JDSU)
was up 9.2% to $2.25.
Other movers included
PMC-Sierra
(PMCS)
, which was up 8.3% to $4.71, and
Altera
(ALTR) - Get Report
, up 6.1% to $12.13.
RF Microdevices
(RFMD)
was 11.1% higher,
Microchip Technology
(MCHP) - Get Report
was up 10.6% and software-maker
PeopleSoft
(PSFT)
was up 4.6%. The Philly chipmakers ended with a 6.6% gain.
Long-distance giant
Qwest
(Q)
said its loss widened to $214 million, or 13 cents a share, in the third quarter on a 13% decline in revenue, and said its 2002 revenue will be at the low end of its previous forecast. Qwest was up 6.3% at $3.38.
Game-maker
Activision
(ATVI) - Get Report
said fiscal second-quarter earnings and revenue were better than expected, and predicted that next year will be its best ever. Activision was up 11.6% to $20.32.
Consumer confidence in the economy make be shaken, as data showed Tuesday, but consumers still continued to open their wallets in the third quarter, boosting profits for consumer-goods manufacturers. On Wednesday morning,
Clorox
(CLX) - Get Report
said first-quarter earnings were 71 cents a share, beating the Wall Street estimate by 17 cents. Revenue rose 6.4% on the year, and management raised estimates for the rest of fiscal 2003. Clorox was up 3.2% to $41.45.
Other consumer-products makers also were going strong.
Unilever
(UL) - Get Report
, maker of Q-Tips and Vaseline, was up 4.4% to $38.12 after the company posted a 68% jump in third-quarter net profit and raised its 2002 guidance.
Elsewhere,
Gillette
(G) - Get Report
was upgraded to overweight from underweight at Morgan Stanley, which told investors that it likes the company's long-term prospects due to the strength of brands such as the Mach 3 razor. The company was given a new price target of $35, a boost of more than $6 from Tuesday's close. The stock was up 5.7% to $30.23.
But not all consumer-related stocks were the apple of analysts' eyes. Goldman Sachs cut
Wal-Mart
(WMT) - Get Report
to market perform from its recommended list, based on valuation concerns, suggesting that the company's upside may be limited relative to peers. Wal-Mart was down 4.6% to $53.88 on the downgrade.
Meanwhile,
Target
(TGT) - Get Report
was off 4.3% to $30.19, and
J.C. Penney
(JCP) - Get Report
was down 4.2% to $30.20.
Federated Department Stores
was down 3.9% to $30.91.
CVS
(CVS) - Get Report
was off 0.1% to $27.13, despite announcing that third-quarter net income was up 33% over year-ago levels because of strong pharmacy sales. As a result, rival
Walgreens
(WAG)
was feeling the heat, off 2.3% to $34.40.
Citigroup
(C) - Get Report
hired Sanford Bernstein Chief Executive Sally Krawcheck to run a newly independent stock research unit at the firm. The move comes amid growing pressure for Wall Street firms to resolve conflicts of interest between stock analysts and investment bankers. Citigroup was up 1.6% to $37.08, while
American Express
(AXP) - Get Report
and
J.P. Morgan
(JPM) - Get Report
were up 3.1% and 2.9%, respectively.
Meanwhile, financier
CIT Group
(CIT) - Get Report
was cut to hold from buy by Wachovia, which said the company had no earnings catalyst going forward. Wachovia also dropped
Goldman Sachs
(GS) - Get Report
to hold from buy, due to the weak pace of mergers and acquisition announcements and valuation concerns. UBS Warburg dropped
Hartford Financial
(HIG) - Get Report
to hold from strong buy, while slashing its price target to $50 from $70, citing reduced earnings expectations. CIT was down 1.5% to $18, while Goldman was marginally lower at $72.36. Hartford was down 9.5% to $40.17.
Overseas markets were mostly higher, with London's FTSE 100 gaining 1.7% to 4003 and Germany's Xetra DAX adding 3.1% to 3115. In Asia, Japan's Nikkei rose 0.6% to 8757, while Hong Kong's Hang Seng slipped 0.2% to 3006.
Treasuries eased after rallying earlier in the week. The 10-year Treasury note dipped 2/32, yielding 3.95%.