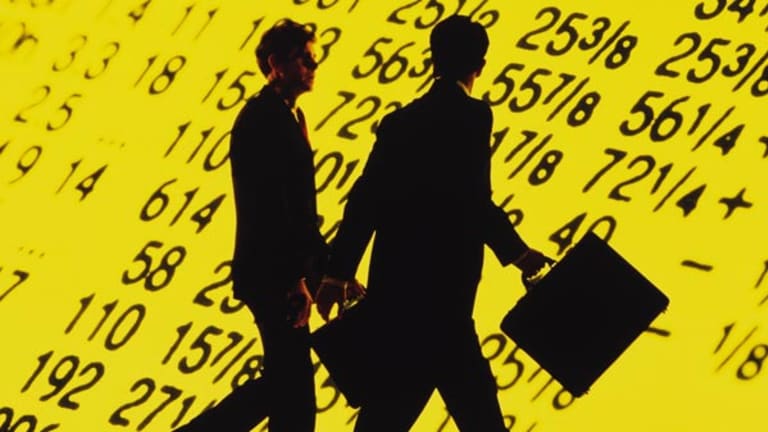 Tech Meanders Higher on Listless Day
Investors await the outcome of the Fed meeting Tuesday.
Updated from 4:10 p.m. EDT
Stocks ended higher Monday, as tech issues put in a solid performance following some positive analyst comments. Still, traders said many investors were sidelined ahead of the
Federal Reserve's
policy announcement on Tuesday.
The
Dow Jones Industrial Average
finished up 26 points, or 0.3%, at 9217, while the
Nasdaq
rose 17 points, or 1%, at 1661. The
S&P 500
was up 3 points, or 0.3%, at 980.
Volume on the NYSE reached 1.02 billion shares, while 1.2 billion shares changed hands on the Nasdaq. Winners beat losers by about 3 to 2 on both exchanges. A decline in the bond market had little impact on stocks. The yield on the 10-year note rose to 4.36%.
"Street upgrades are bringing a few buyers back to the tech realm," said Bryan Piskorowski, market analyst at Prudential Securities. "
But the rank-and-file is marking time, for the most part. Tomorrow's
Federal Open Market Committee meeting is a restraining factor, not to mention several key economic releases later this week."
Ken Tower, chief market strategist at CyberTrader, is expecting stocks to pull back over the next few months. "With sentiment in the 'too bullish' range and the period of seasonal weakness upon us a breakdown would seem to be a question of when, not if," he said.
Of the three major averages, the Nasdaq exhibited the most strength Monday, thanks to gains in the software sector.
Oracle
(ORCL)
added 3.5%, or 40 cents, at $11.68 after Merrill Lynch raised its rating on the stock to buy from neutral, citing limited downside risk for the stock and potential gains from an economic recovery.
Late Friday, Oracle said it was extending a $7.3 billion hostile bid for rival software maker
PeopleSoft
(PSFT)
. PeopleSoft gained 0.7%, or 11 cents, at $16.59.
Another software stock,
Adobe
(ADBE)
, advanced after U.S. Bancorp Piper Jaffray upgraded the shares to strong buy from outperform on expectations for solid quarterly results. Shares rose 4.7%, or $1.49, at $33.26.
In other analyst actions, UBS Warburg upgraded the consumer staples sector to market weight from underweight and downgraded the utilities group to underweight from market weight.
Investors were generally cautious ahead of the Fed's decision on interest rates that will be made public at 2:15 p.m. EDT Tuesday. While most market observers expect no change in rates -- which are at their lowest level in 45 years -- they will be listening closely to the Fed's policy statement.
"We think Fed officials should be pleased with the accumulating signs of a pickup in growth recently," wrote UBS Warburg economist Maury Harris. "They are probably less pleased with the perception that their communication skills have been subpar. Many bond market participants have viewed the Fed as a source of confusion rather than stability recently."
Harris said he views much of the criticism as unjustified. "Still, Fed officials will likely be under pressure to be more of a calming force in the upcoming week than they were seven weeks earlier when the FOMC last met."
Among Dow components,
3M
(MMM)
rose $1.95, or 1.4%, to $141.90 after announcing a 2-for-1 stock split.
Eastman Kodak
undefined
added 0.2%, or 5 cents, at $27.35, even though Fitch downgraded the firm's debt because of its weak operating performance.
Wal-Mart
(WMT)
slipped 7 cents, or 0.1%, to $57.70 after saying it is on track to meet its August same-store sales growth estimate of 3% to 5%.
Elsewhere in the market,
J.P. Morgan Chase
(JPM)
purchased a majority holding in Pinnacle Foods from private equity firm Hicks Muse Tate & Furst for $485 million. J.P. Morgan rose 0.7%, or 23 cents, at $33.22.
Mortgage buyer
Freddie Mac
undefined
is being sued by two states and a labor union pension fund over losses connected to its accounting problems,
The Wall Street Journal
reported. Freddie rose 48 cents, or almost 1%, at $49.83.
AOL Time Warner
(AOL)
could drop "AOL" from its name and change back to "Time Warner," according to
The Wall Street Journal
. Shares gained 2%, or 30 cents, at $15.53.
Among thin earnings news,
Martha Stewart Living
(MSO)
beat Wall Street estimates by turning a profit on higher-than-expected revenue in the second quarter, but warned third-quarter and full-year losses will be wider than analysts' expectations. Shares fell 1.7%, or 14 cents, at $7.84.
Although no major economic reports were released Monday, the consumer price index, producer price index, industrial production and consumer sentiment data are all on tap for this week.
Overseas markets were mostly higher, with London's FTSE 100 up 0.7% at 4176 and Germany's Xetra DAX up 0.2% at 3339. In Asia, Japan's Nikkei closed 1.7% higher at 9487, while Hong Kong's Hang Seng gained 1.4% to 10093.
Crude oil futures fell in New York, while the dollar was weaker against the yen and the euro.
On Friday the Dow ended up 64 points, or 0.7%, at 9191. The S&P 500 rose 3 points, or 0.4%, to 977, while the Nasdaq shed 8 points, or 0.5%, to 1644.