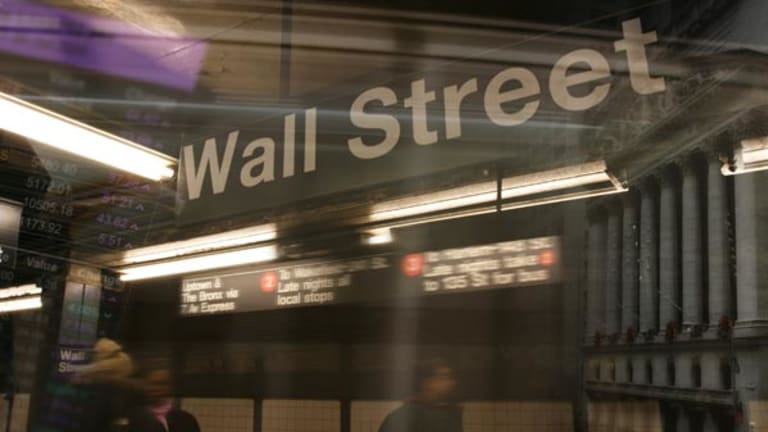 Tech Leads Big Move Up for Stocks
The Nasdaq rises 54 points as the major averages shake off any blues from GM's bankruptcy filing.
The Nasdaq rises 54 points as the major averages shake off any blues from GM's bankruptcy filing.
Updated from 4:22 p.m. EDT
The major indices climbed enthusiastically, and the
Nasdaq
gained more than 3% to kick off the new month with a boost from some promising economic data on a day that
GM
(GM) - Get Report
filed for bankruptcy protection.
Investors didn't sell in May, and they haven't gone away: The
Dow Jones Industrial Average
was up 221.11 points, or 2.6%, at 8721.44, while the
S&P 500
was higher by 23.73 points, or 2.6%, at 942.87. Faring the best, the Nasdaq was up by 54.35 points, or 3.1%, at 1828.68.
"I think that putting GM behind you is a step forward -- putting any catastrophe behind you is a step forward," said Marc Pado, U.S. market strategist at Cantor Fitzgerald.
Some technology names were among those stepping forward:
Intel
(INTC) - Get Report
gained 5%,
Hewlett-Packard
(HP) - Get Report
was up 5.2%, and
Yahoo!
(YHOO)
trekked 4.7% higher.
Alcoa
(AA) - Get Report
surged 6.6% to lead the Dow, with
Caterpillar
(CAT) - Get Report
and
Boeing
(BA) - Get Report
adding 5.9% and 6.4%, respectively.
Helping to fuel stocks, the Institute for Supply Management said its
manufacturing index
rose 42.8 points, slightly more than expected and up from 40.1 points in May.
Within the index, new orders rose to 51.1, the first month of growth in that area since November 2007.
"If you're thinking about how do you predict the bottom of the economy, you need consumers to be more confident and you need to build inventory," says Cantor Fitzgerald's Pado. "So in order to prepare for a happier consumer, you're going to need to put stuff on the shelves, and the earliest indication of that happening would be new orders for goods -- they suggest that, yes, now the retailers see the writing on the wall, and they need inventory because they've depleted it and need to rebuild."
At the same time, the Department of Commerce reported that
increased 0.8% in April after an upwardly revised increase of 0.4% in March, vs. expectations for a decline of 1.5%.
Earlier in the day, the department reported an 0.5% increase in personal income. That's up from a drop of 0.2% the month prior, and in comparison to expectations for another 0.2% decline. Personal spending decreased in April, but less than expected and better than a downwardly revised drop of 0.3% in March.
That followed manufacturing data that boosted stocks in Europe and Asia. Brokerage CLSA's China purchasing managers index increased to 51.2 in April from 50.1 in May. The latest figure is a 10-month high, and it is the third straight month the index has been above 50, or representing expansion rather than contraction.
Oil rose $2.27 to settle at $68.58 a barrel, while gold fell 3 cents to $982 an ounce.
As a result, oil stocks extended early gains.
BP
(BP) - Get Report
was up 4.8% at $51.88,
Conoco Phillips
(COP) - Get Report
was higher by 4.5% at $47.90, and
Chevron
(CVX) - Get Report
increased 3.8% to $69.21.
Longer-dated Treasuries were falling sharply in price; the 10-year was lower by 1-26/32, to yield 3.68%, and the 30-year was down 3-06/32, yielding 4.53%. The dollar was recently stronger vs. the yen, pound and euro.
General Motors filed for bankruptcy protection at 8 a.m. EDT in New York. Last week the
a new deal with the struggling U.S. automaker, and GM made
with unsecured bondholders, who would get 10% of the company, effectively clearing the path for the bankruptcy filing.
President Obama said in a press conference that the government will invest $30 billion in GM as it restructures in what he described as an "achievable" plan.
The new company will be 60% taxpayer-owned, but Obama said the government has "no interest" in running GM. "The federal government will refrain from executing its
shareholder rights in all but the most fundamental decisions," he said.
As part of the restructuring, Obama said that the share of GM cars sold in the U.S. that are made in the U.S. will grow for the first time in three decades. Although, the president also said the plan will require "painful sacrifices" on top of what has already been done, including plant layoffs, among other things.
Meanwhile, a federal bankruptcy judge has
approved the sale
of most of
Chrysler's
assets to
Fiat
, potentially enabling the automaker to exit court protection soon.
Cisco
(CSCO) - Get Report
will
on the Dow, and
Travelers
(TRV) - Get Report
will replace
Citigroup
(C) - Get Report
.
Cisco was a fitting addition "because its communications and computer-networking products are vital to an economy and culture still adapting to the Information Age -- just as automobiles were essential to America in the 20th Century," said Robert Thomson, managing editor of
The Wall Street Journal
and editor in chief for all of Dow Jones in a release.
"We were reluctant to remove Citigroup at the height of the financial frenzy, but it is clear that the bank is in the midst of a substantial restructuring, which will see the government with a large and ongoing stake," said Thomson.
The new components, Cisco and Travelers, rose 5.4% and 3.1%, respectively.
In other news,
Microsoft
(MSFT) - Get Report
(MSFT) - Get Report
its
, a search-engine-plus competitor to
Google
(GOOG) - Get Report
. Microsoft added 2.4% to $21.40, while Google gained 2.2% to $426.56.
On the financial side,
Prudential Financial
(PRU) - Get Report
said it has elected not to use the
government's TARP
program, and is instead planning to raise $1.25 billion through the sale of common stock for use in general corporate purposes. Shares gave up 1% to $39.52.
Also, Citigroup and
Morgan Stanley
(MS) - Get Report
officially launched their wealth management
on Monday, a month earlier than expected. Citi fell 0.8% to $3.69, while Morgan Stanley gave up 1.4% to $29.89.
Elsewhere,
Merck
(MRK) - Get Report
and
AstraZeneca
(AZN) - Get Report
said Monday that they will team up to research a combination anticancer regimen made up of two investigational compounds in an early stage trial. Astra Zeneca was 1.5% higher at $42.35, while Merck was off by about 0.2% at $27.53.
Meanwhile, smaller biotech
Keryx
(KERX) - Get Report
surged 74.3% to $1.22 after
at the American Society of Clinical Oncology.
Stocks overseas were largely higher. In Europe, London's FTSE 100 and Frankfurt's Dax were higher by 2% and 4.1%, respectively. Earlier Japan's Nikkei and Hong Kong's Hang Seng ended 1.6% and 3.95% higher, respectively.