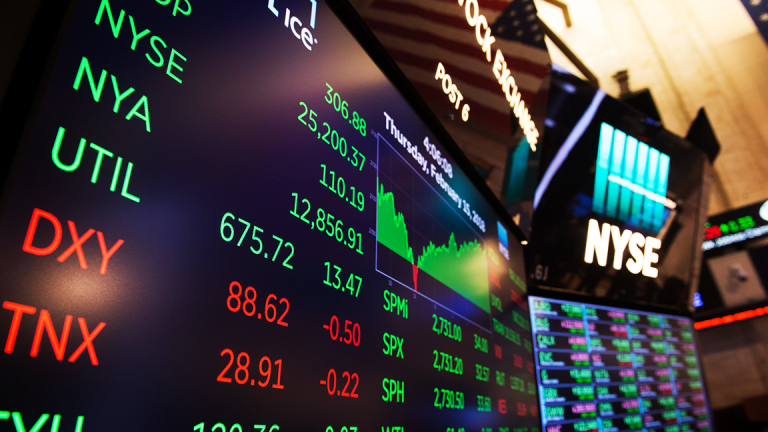 Tech Drives Global Stocks Higher as Improving Economic Sentiment Fires Bulls
Wall Street futures suggest another record-setting day for the tech-focused Nasdaq as global stocks grind higher amid improving economic and political sentiment.
Wall Street futures suggest another record-setting day for the tech-focused Nasdaq as global stocks grind higher amid improving economic and political sentiment.
The Wednesday Market Minute
Global stocks attempt to hold gains, with tech leading the way, as economic and political sentiment improves.
Nasdaq futures suggest tech-focused benchmark could notch third-straight record high at the opening bell.
Euro jumps to two-week high as key ECB policymakers strike hawkish tone ahead of next week's policy meeting.
European stocks slip, with Italy's FTSE MIB sliding 1%, as new government's spending signals unnerve investors.
Oil prices edge higher on reports Venezuela may halt production amid political and economic crisis.
Global stocks attempted to hold onto modest gains Wednesday, with tech stocks once again driving the advance, even as investors trimmed some risk positions in Europe owing to concerns linked to the spending plans of the new Italian government and questions as to when and how the European Central Bank will map an exit from its ultra-easy monetary policy.
Early indications from U.S. equity futures were also bullish, with contracts tied to the Dow Jones Industrial Average I:DJI pointing to a 143-point opening bell gain and those linked to the S&P 500 I:GSPC suggesting an 8.15 point advance for the broader benchmark. The Nasdaq Composite I:IXIC , which has notched two consecutive record highs this week, is expected to extend its current run with a 19.25 point gain at the start of trading Wednesday.
Facebook Inc. (FB) - Get Report , however, fell 0.77% in pre-market trading Wednesday after the social networking firm said several Chinese companies, including one probed by U.S. security officials, were given preferred access to user data.
Twitter (TWTR) - Get Report shares drifted lower Wednesday after the microblogging website unveiled plans to raise $1 billion through a convertible bond issue following its inclusion into the S&P 500 later this week.  Twitter shares were marked 2.2% lower in pre-market trading Wednesday following the announcement of the note offering, indicating an opening bell price of of $39.22, a move that would trim its year-to-date advance to around 62%.
Italy's new populist government, which is expected to win support from the lower house of parliament this morning, remains one of the key risk factors, along with global trade, in the market's current attempt to extend gains into the summer months as economic strength continues to firm around the world and President Donald Trump appears to be making slow but steady progress in his attempt to broker a peace agreement on the Korean peninsula. 
European markets were impacted by both Italy's spending objectives, which new Prime Minister Giuseppe Conte signalled will likely add to the country's staggering €2.3 trillion debt burden, and comments from two key ECB policymakers -- chief economist Peter Praet and Bundesbank president Jens Weidmann -- that suggest the bank is growing more comfortable with the pace of inflation in the currency area and the idea of ending its €2.55 trillion quantitative easing program later this year.
"For some time now, financial market participants have been expecting that the asset purchases will end before 2018 is out," Weidmann, the bookie's favorite to replace Mario Draghi as ECB president next year, told a conference in Berlin. "As things stand, I find these market expectations plausible."
The views lifted the euro to a two-week high of 1.1761 and pushed benchmark 10-year German bund yields 5 basis points higher to 0.42%, while correspondingly holding down gains for regional equities, with the Stoxx Europe 600 little-changed by mid-day in Frankfurt. Italy's FTSE MIB fell 0.2% as investors dumped banking sector stocks from their portfolios and marked benchmark 10-year Italian government bond yields around 35 basis points higher from yesterday at 2.89%.
Overnight in Asia, stocks were once again boosted by outperformance in the tech sector following last night's record close on Wall Street, with the region-wide MSCI Asia ex-Japan index rising 0.69% into the close of the trading session while the Nikkei 225 added 0.38% to end the day at 22,625.83 points.
Broader sentiment was also supported by firming economic growth signals, particularly in China, as well as news that Trump's on-again/off-again summit with North Korea's Kim Jong un appears firmly set for June 12 at the Capella Hotel on Sentosa island in Singapore. 
The bullish tone allowed investors to drift out of both the dollar, which fell modestly against a basket of six global currencies overnight, and U.S. Treasury bonds, which saw yields rise 2 basis points to 2.94%
The dollar weakness, although modest, helped lift global crude prices after two days of declines, amid reports that Venezuela's state-owned PDVSA could halt crude exports as production in the OPEC member continues to suffer amid its political and economic chaos.
Brent crude futures for August delivery were marked 18 cents higher at $75.54 per barrel in early European trading while WTI contracts for July were seen 20 cents lower at $65.32 per barrel.