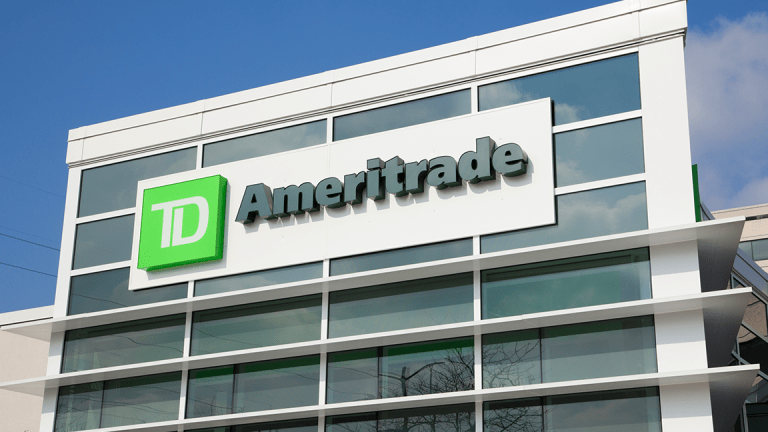 TD Ameritrade Cuts Fees on ETF Trades in Further Blow to Mutual Funds
As competition heats up in the exchange-traded funds industry, TD Ameritrade nearly doubles the roster of ETFs eligible for commission-free purchases.
The past decade's surge in popularity of low-fee exchange-traded funds, which use computers to try to match the performance of an investment index, has withered the dominance of higher-cost mutual funds overseen by human stock- and bond-pickers. 
But increasingly, big financial companies that peddle ETFs are waging a fee war among themselves. 
The online brokerage firm TD Ameritrade (AMTD)  said Monday in a press release that it would nearly double the number of ETFs eligible for commission-fee trading on its website to some 569, including funds managed by industry giants BlackRock (BLK) , State Street (STT) and WisdomTree (WETF) . The offer takes effect June 1.
TD Ameritrade's announcement comes after the big money manager Vanguard Group last year announced commission-free online trading in almost 1,800 of competitors' ETFs in addition to 77 of its own. Such offers are designed to attract new customers, who then ostensibly can be enticed to buy other products and services.  
"We're committed to providing our clients access to a robust suite of commission-free products," Keith Denerstein, the Omaha, Nebraska-based company's director of investment products and guidance, said in the press release.
According to the Investment Company Institute, the main business association representing money managers, the median expense ratio on an ETF was 0.47% in 2018, compared with 1.16% for long-term equity-focused mutual funds. 
And with so many professional stock pickers failing to beat benchmarks like the S&P 500, the fee difference has proven sufficient to persuade more investors to use ETFs.  
In February, industry-tracker Deborah Fuhr at the London-based consultancy ETFGI predicted that assets in ETFs would surge by 18% this year to surpass $4 trillion for the first time.
Moody's Investors Service forecast that ETFs and "passive" mutual funds that track indexes like the S&P 500 would account for more than 50% of industrywide assets under management by 2021. Active mutual funds, which have historically dominated the market, currently account for about 64% of industrywide assets.
As the costs of buying and trading ETFs shrinks due to fee cuts by firms like TD Ameritrade, the trend could accelerate.