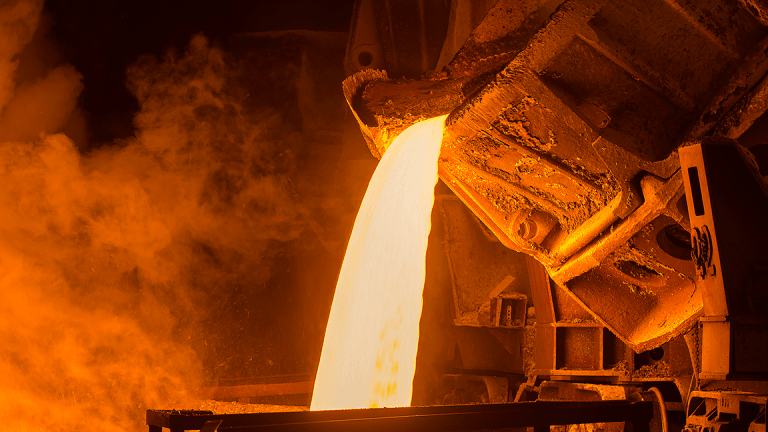 Alcoa Requests Exemption as Tariffs Outweigh Positive Macro Environment
The largest U.S. aluminum producer wants to be relieved of tariffs the Trump administration put in place to bolster metal production.
The largest U.S. aluminum producer wants to be relieved of tariffs designed to improve U.S. metal production, even though President Trump said trade wars are good and easy to win.
Alcoa Corp. (AA) - Get Alcoa Corporation Report late Monday requested that it be exempt from the president's 10% tariff on imported aluminum. The Pittsburgh-based company wants to exclude some of its Canadian-produced aluminum rolling slab from the tariff because it needs this product to meet demand.
"Due to the unavailability of U.S. production of the exact slabs, or an acceptable substitute, meeting Alcoa's alloy and dimensional specifications, Alcoa must import these slabs in order to satisfy its U.S. manufacturing demands," Alcoa said in a statement on its website. "Payment of the Section 232 tariffs on these imports would result in Alcoa being less competitive both domestically and on an export basis for these products."
The Trump administration in March implemented global tariffs on steel and aluminum. Initially, Canada and Mexico were excluded, but in late May Trump imposed duties on steel and aluminum from the European Union, Canada and Mexico.
"The United States has been taken advantage of for many decades on trade," Trump said at the time. "Those days are over. Earlier today, this message was conveyed to Prime Minister Justin Trudeau of Canada: The United States will agree to a fair deal, or there will be no deal at all."
The Commerce Department said it will deal with Alcoa "in the same transparent and impartial manner as we deal with all requests."
"There is a 30-day period during which parties may file objections to the Alcoa exclusion request," a Commerce Department spokesman said via email. "Once we see whether serious objections have been raised, it will be easier to evaluate the Alcoa application."
Through the beginning of the month, the department had approved 115 requests for aluminum exclusions and denied 111, the New York Times reported.
Alcoa Chief Executive Officer Roy Harvey in July said the company was in "active discussions" with the Trump administration through different parts of the Commerce Department. But Chief Financial Officer William Oplinger noted that beginning "in June, at $15 million in the month, we expect a $12 million to $14 million negative monthly impact as long as tariffs are in place."
"Simply put, for our Canadian production, we will either pay tariffs on metal we import at the U.S. or we will sell it outside the U.S. at a lower premium," Harvey said during a July conference call.
RBC Capital Markets industrial analysts noted that inflationary pressures, particularly exposure to tariffs, dominated the quarterly conference calls management conducts with Wall Street analysts. And even if companies "are handling the current input cost pressures, the concern is that the direct and indirect impacts worsen from here," RBC analysts said.
"The key takeaway from the past month is that [second-quarter] earnings season has confirmed that the industrial macro remains solid, but there are substantial fears that tariffs, trade wars, and price/cost could suffocate the expansion and lead to the next downturn," RBC Capital Markets' industrials research team wrote in an Aug. 7 research note.
Shares of Alcoa fell 1.4% to $42.13 at 3:30 p.m. New York time.
-- This story has been updated to include a statement from the Commerce Department.