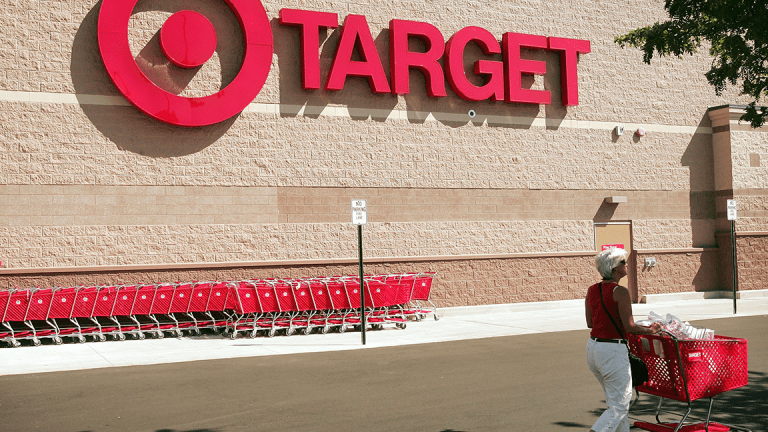 Target Stock Soars After Hitting Earnings Bullseye
Target posts 'unprecedented' traffic growth and sales growth numbers.
Target posts 'unprecedented' traffic growth and sales growth numbers.
Target Corp. (TGT) - Get Report proved retail isn't being squashed by Amazon.
At the time of the closing bell, Target was up over 3% to $85.75 a share.
The retailer posted earnings on Wednesday, August 22. The 6.4% increase in traffic growth is the strongest number it has posted since the company started reporting traffic in 2008. It also announced comparable sales growth of 6.5%, which is the largest increase in 13 years. 
Comparable digital sales increased 41%, which tops the growth of 32% reported a year ago.
"Target hit the bulls-eye in Q2, with improvement across virtually every meaningful measure, led by online sales growth of 41% and comparable store sales growth of almost 5%," said Charlie O'Shea, Moody's lead retail analyst. "The raising of guidance for the back half of the year is consistent with our view that there are macroeconomic tailwinds that can be exploited by the strongest, most financially flexible retailers that are hitting on all cylinders, with Target definitely in that class."
Target posted an adjusted earnings per share of $1.47, which beat FactSet analysts expectations of $1.40. 
"We are extremely pleased with Target's second quarter results, which demonstrate our guests' excitement for the enhanced and differentiated shopping experience we're building. For the second consecutive quarter, traffic growth is better than we've seen in well over 10 years, driving 6.5 percent comp growth - Target's best in 13 years." said Cornell, CEO of Target. "We laid out a clear strategy at the beginning of 2017, and throughout this year we've been accelerating the pace of execution. We're on track to deliver a strong back half and we've updated our full year guidance to reflect the strength of our business and the consumer economy. As we look ahead to 2019, we expect to achieve scale across the full slate of our initiatives - creating efficiencies and cost-savings, further strengthening our guest experience and positioning Target to continue gaining market share."
Revenue also increased to $17.55 billion, beating FactSet expectations of $17.23 billion.
Following the earnings, Baird analysts boosted Target's price target to $100 from $90 after the "impressive" second quarter earnings. Target is currently rated as outperform at Baird.
"We anticipate [Target] shares outperform given strong comp growth and likely modest favorable revisions to F2018 consensus EPS. Our $85 price target is under review with an upward bias," Stifel analyst Mark Astrachan wrote in a note on Target's earnings.
Stifel sent out another note after the market closed, updating that it had bumped up Target's 12-month price target to $93.
When speaking about tariffs on the investor conference call, Cornell said, "our concern is focused on the impact of tariffs on the consumer and the economy, not on our business model."
On the call, Target said that it remodeled over 250 of its stores in July, which is the highest amount of remodels that Target has undertaken at one time.
Target announced that the drive-up service, which allows consumers to have a Target employee bring out items to the customers car, went from being available at 50 locations at the beginning of the year to over 800 locations at the end of the second quarter.
"The momentum that we're seeing across our business is amazing," said Mark Tritton, chief merchandising officer, on the investor call.
Target said that its aiming brands towards "emerging Gen Z guests."
Target's tax rate was 10% lower than last year, due to the tax cuts, reported Cathy Smith, CFO.
Smith talked about the "bold investment" plan that Target rolled out in 2017. She said that the plan has paid off. 
"I feel really good about the efforts of the team," said Cornell. He talked about the "mixed management" of online and in-store, saying that the combined efforts boosted the quarter.
"We know we have a lot of work to do," said Cornell. He told analysts that a focus will be on improving inventory.
"90% of retail sales are done in-store," Cornell said. Discussing winners and losers in retail, "we certainly think we're migrating to the winners column."  
"85% of America shops Target every year," said Cornell. The closure of Toys R Us and Baby's R Us did drive toy sales, he added.
"We put the stores in the center of our overall strategy," Cornell responded to  TheStreet's @BrianSozzi. "Our stores are fulfilling [the majority] of our online orders."
"In my career, I don't recall a stronger consumer environment than we have now," Cornell said. He attributed the strength to GDP and the housing environment. 
The "economy is showing no sign of weakness," said David Russell, VP of content strategy at Tradestation. "We're in an environment where there have been a lot of boogeymen [student loans, debt, etc.]." 
Target, in its investor relations phone call, mentioned that it was not only chasing after Millennials, but also Gen Z. "I think that's very smart...to reach out to Gen Z," said Jennifer Olson, senior financial analyst at Apriem Advisors. "[Target] is in a better position to attract a younger generation." Olson credited the fall of Toys R Us as a boost for Target.
When asked what he thought about the Target numbers, Jeff Macke, president of Macke Asset Management and a Target bull,  responded that the numbers were "glorious."
"The story is all about the transformation of this company," said Russell. "You're looking at a company that has invested to survive in the age of Jeff Bezos and Amazon."