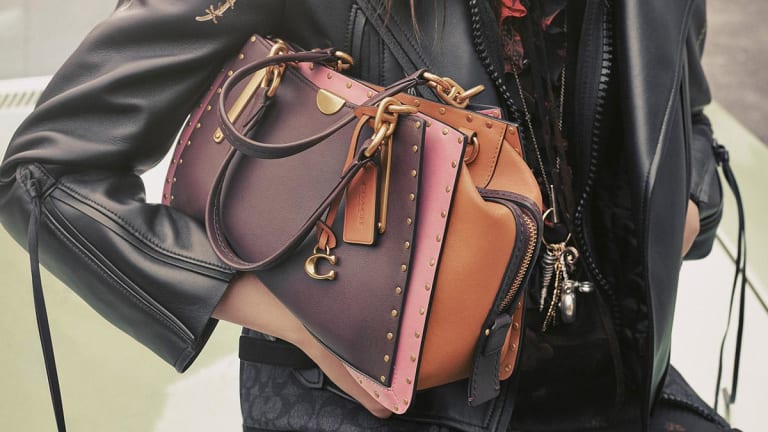 Tapestry, Owner of Coach and Kate Spade, Beats Earnings Estimates
The owner of the Coach and Kate Spade brands beats fiscal first-quarter earnings estimates.
Shares of Tapestry (TPR) , which owns the Coach and Kate Spade brands, rose Tuesday after the company beat fiscal first-quarter earnings estimates.
Adjusted earnings in the quarter were 40 cents a share, 4 cents better than analysts' forecasts that called for profit of 36 cents.
Net income was $20 million, or 7 cents a share, down from $122 million, or 42 cents a share, in the same period in 2018.
Sales were $1.36 billion, coming in just below estimates of $1.37 billion and year-earlier sales of $1.38 billion.
"Fiscal first-quarter revenue was consistent with our expectations," said Jide Zeitlin, chairman and CEO of Tapestry, in a statement Tuesday. "Our business internationally was stronger than in North America where we managed continued industry headwinds. Further, adjusted operating income and earnings per diluted share were better than forecast, including favorable expense timing."
Coach sales in the quarter rose 1% to $966 million. Same-store sales rose 1%, meeting analysts' estimates. Kate Spade sales declined 6% to $306 million, with same-store sales falling 16% vs. a decline of 5% in the year-earlier period.
Adjusted gross margin in the quarter was 67.6% vs. 67.8%.
Tapestry said it expects fiscal 2020 revenue to rise at a low-single-digit rate from fiscal 2019, while per-share earnings were forecast at about even with the prior year.
The stock gained 1% to $26.79 in trading Tuesday.