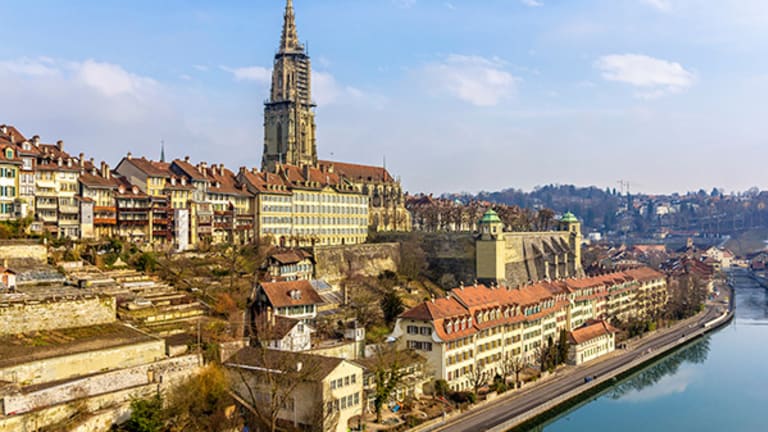 Swiss National Bank Holds Key Rates Unchanged, Cautions on 'Overvalued' Franc
Swiss National Bank says the franc is 'significantly' overvalued and that it will intervene in foreign exchange markets if needed.
The Swiss National Bank kept its key deposit rate unchanged at a negative 0.75% Thursday and held its target libor rates steady even as it warned that the franc remains "significantly overvalued."
The central bank said it would remain "active" in foreign exchange markets as necessary while keeping its expansionary monetary policy in place in order to support economic activity. Its libor target rate remains unchanged at  a negative 1.25% to negative 0.75%, the bank said following its regular policy meeting in Bern. 
"The negative interest rate and the SNB's willingness to intervene in the foreign exchange market are intended to make Swiss franc investments less attractive, thereby easing pressure on the currency," the central bank said in a statement following the interest rate decision. "The Swiss franc is still significantly overvalued."
The SNB also released fresh economic forecasts for the Alpine economy, characterizing prospects as "cautiously optimistic" for the coming year. The central bank sees GDP expanding by 1.5% in 2017, broadly stable when compared to its 2016 estimate.
"The SNB expects the moderate pace of global growth to continue in 2017. The baseline scenario for the world economy is still subject to considerable risks ... particularly associated with the future course of economic policy in the US, upcoming elections in several countries in the euro area as well as the complex and arduous exit negotiations between the UK and the EU," the central bank said.
The SNB's highest-ranking policymaker, Chairman Thomas Jordan, later told CNBC that the U.S. economy is "very important for the global economy so fiscal expansion would have a positive impact on the global economy." 
"On the other hand we are a small open economy like many others and we have a big interest that international trade continues to be as it is and that we have no additional protectionist measures around the globe," he added.