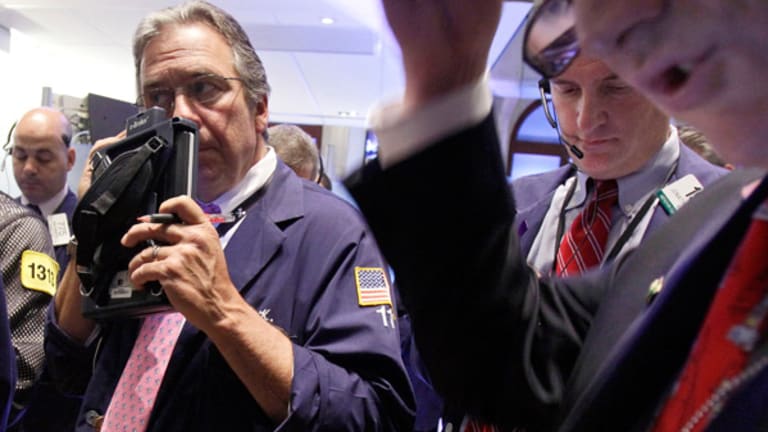 Sweet Setup for Apple
Watch the 50-day moving average. Plus, Gymboree and more.
This column was originally published on RealMoney on Dec. 11 at 12:00 p.m. EST. It's being republished as a bonus for TheStreet.com readers. For more information about subscribing to RealMoney, please click here.
Throughout more than five years of contributing articles to
RealMoney
, I have been continually amazed by the number of folks who balance full-time jobs with family obligations and still have time to succeed at managing their own finances. I know the difficulty that professional money managers have in achieving consistent profits for their clients over an extended period of time, so I take notice when I hear from a "home-gamer" who has achieved success in this very tough business.
While the approach of every successful part-timer is unique, they all possess several common traits. Here are three of them:
All have a specific market approach that works for them. They don't try to do it all. Instead, they focus on what they're good at. While some trade both sides of the market, most seem to be long-only. In fact, I can't remember anyone who focused on selling short with consistent profitability. Most were struggling and were usually caught in a very painful short squeeze. To be clear, I'm not saying that short-selling is a poor strategy. Rather, I'm saying that I haven't heard from any part-time traders who have been consistently profitable using this strategy. All are patient with positions that are working. They usually have more than one reason for their decisions to buy and sell. They stick with winning positions until the underlying conditions for taking the trade have changed. Most look at fundamental data as well as the price and volume action of the stock. Few, if any, focus solely on technical analysis or solely on fundamental analysis. All are impatient with positions that are not working. Most have stories about how they lost a very large chunk of their account before learning that cutting losses was much more important than being in the right stock. As a result, their approach to trading includes specific parameters for taking losses.
Try looking at your own approach to managing your money. Do you have a well-defined market approach, or are you a bit lost? Take some time over the next few weeks to prepare for 2007 by writing down your market approach. By committing your plan to paper, you might find some big holes that need filling.
Let's check out some reader requests.
Apple
Apple
(AAPL)
seems to give sidelined bulls a chance to make a disciplined buy about once a month. I've highlighted the tags of the 20-day simple moving average (the middle Bollinger Band) to illustrate those entries, where each tag was accompanied by a pullback of the relative strength index, or RSI, to the midline. That's the setup now, and I'd be a buyer. I'm using the 50-day moving average as my benchmark for the uptrend. As long as the stock is above that line, the uptrend is intact.
SimpleTech
A reader reminded me of
my comment last October about how
SimpleTech's
(STEC)
move above $9.50 would be a green light for the bulls. He wanted to know if that analysis was still intact.
The breakout occurred a week ago, and that quick money has been made. But SimpleTech bears watching. With about 4 million shares having traded between $9.50 and $10.50 on the breakout day, a lot of interest is invested in this breakout. Any additional weakness should firm up at or above $9.50. If the stock falls below that level, I'd steer clear. But my bet is that the breakout holds up.
Henry Schein
I've included the 50-week moving average on
Henry Schein
(HSIC)
to provide a steady frame of reference for the uptrend. Each deep pullback for the past couple of years has been limited to the 50-week moving average, including the latest correction in early November. But overall, the stock has been churning sideways within a very tight range for the past few months and isn't giving any technical clues about its future direction. If you're bullish on this stock, try waiting for a close above $52.50 before considering the uptrend intact, and use any pullback to the 50-week moving average as an opportunity to buy.
GSI Commerce
A reader wanted my take on
GSI Commerce
( GSIC), which trades fewer than 500,000 shares a day on average. That's pretty illiquid, and one aggressive buyer or seller can push this stock around. But I wanted to discuss the stock because it illustrates the impact of trading volume at a specific price level.
Notice how the
price-by-volume bar at around $18 is the longest bar north of $13. That indicates a lot of trading at the $18 level. Because the stock is now below $18, all those people who bought at $18 are unhappy -- not screaming in pain, but upside down on the trade. Some of them will be happy to close out their positions at break-even if they get the chance.
As such, we should expect that further gains from the current level will be a bit more difficult than you might think. The time to buy GSI Commerce was on the pullback below the 50-day moving average. I wouldn't be a buyer now, because there just isn't enough upside in the stock. And I wouldn't be a seller either; the trend is higher.
Sometimes the best information you can get from a chart is simply "Nothing to do yet."
Gymboree
Gymboree
( GYMB) has been stair-stepping higher for more than a year, generally moving between the middle and upper Bollinger Bands. While this is a weekly chart, not a daily chart like the one we just covered on Apple, the principle of buying on pullbacks to the middle Band is the same. When a stock is in an uptrend, the safest buy point is on a pullback to the statistical middle of the trading range, so you can place a tighter stop to protect yourself in case that pullback is actually a trend reversal. I'd look for some signs that the pullback has run its course before taking some Gymboree stock, such as a close above $40.
Be careful out there.
Please note that due to factors including low market capitalization and/or insufficient public float, we consider SimpleTech to be a small-cap stock. You should be aware that such stocks are subject to more risk than stocks of larger companies, including greater volatility, lower liquidity and less publicly available information, and that postings such as this one can have an effect on their stock prices.
At the time of publication, Fitzpatrick had no positions in any of the stocks mentioned in this column, though positions may change at any time.
Fitzpatrick is a freelance writer and trading consultant who trades for his own account in Encinitas, Calif., and contributes to
. He is a former co-manager of a hedge fund and teaches seminars on technical analysis, options trading and asset-protection strategies for traders and business owners. Fitzpatrick graduated from the McGeorge School of Law and was a fellow at the Pacific Legal Foundation, a nonprofit public interest firm specializing in constitutional law. He also practiced law in the private sector before pursuing trading as a full-time career. Under no circumstances does the information in this column represent a recommendation to buy or sell stocks. While Fitzpatrick cannot provide investment advice or recommendations, he appreciates your feedback;
to send him an email.