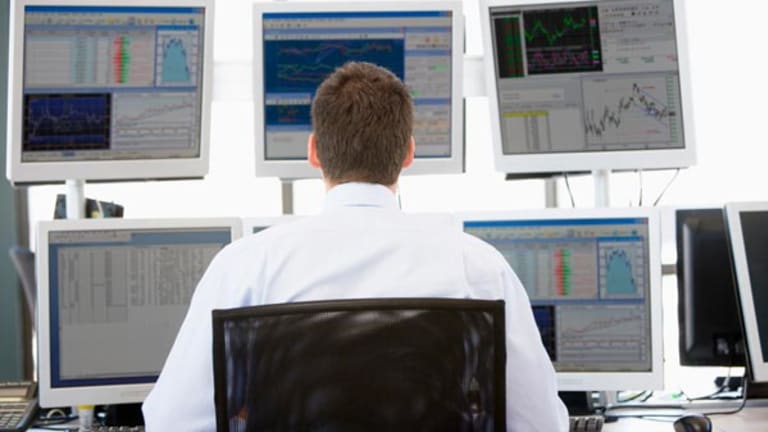 Studios Won't Make Same Mistakes as Labels
The overarching theme is that content remains king.
This column was originally published on RealMoney on Feb. 16 at 2:09 p.m. EST. It's being republished as a bonus for TheStreet.com readers. For more information about subscribing to RealMoney, please click here.
It took more than a decade before any major label agreed to let unprotected MP3s to be distributed on the Internet. But a few weeks ago, the indie-label consortium, which accounts for about a third of all record sales, agreed to let MySpace.com sell MP3s.
Meanwhile, Steve Jobs
is finally saying that
Apple
(AAPL) - Get Apple Inc. (AAPL) Report
wants to sell unprotected MP3s on iTunes. I guess he got tired of the fact that 97% of music that is loaded onto iPods is estimated to be not from iTunes.
The minute iTunes goes MP3, its sales will explode higher. Consumers aren't stupid; they know that what they supposedly "buy" on iTunes isn't really theirs, as Apple and the labels put so much restriction on the usage of iTunes content. Ownership rights matter -- not just for the label, but also for the end users, after all. The total disregard of end users by labels and their distribution networks has hampered sales badly. Because the iPod has become the de facto standard of music players anyway, Apple is ready and excited to move away from its closed network.
The major record labels, including Edgar Bronfman and his
Warner Music Group
(WMG) - Get Warner Music Group Report
, continue to flail about and fight the empowerment of their fans. What really blows the mind is that music sales are showing accelerating double-digit declines right this very minute, yet the labels keep pursuing the same policies as they have for the past decade, which obviously has completely failed already. Look, they really can't stop the revolution! And
as I told Aaron Task last week, there's 100% chance that we'll all be buying unprotected MP3s from iTunes,
Wal-Mart.com
(WMT) - Get Walmart Inc. Report
,
Microsoft's
(MSFT) - Get Microsoft Corporation (MSFT) Report
Zune and so on by the end of 2008.
Now let's apply some of this logic to video.
Viacom
(VIA) - Get Viacom Inc. Class A Report
and other studios/networks are playing hardball with the big guns at
Google
(GOOG) - Get Alphabet Inc. Class C Report
. The studios say they're upset because YouTube isn't trying hard enough to keep their content off its site, even as YouTube says it easily can and will start policing its content much better if the studios would only sign on the dotted line to legalize it.
That's all just posturing. The studios recognize the tremendous value in the ability to distribute their content on demand to anyone with a browser rather than having to go through cable and satellite broadcast networks, movie theatres and DVD retail outlets. The fact that users can easily now upload and organize that video content for other users is an absolute dream situation for these studios. After all, do you really think that the tens of thousands of people who currently control how that professional content gets programmed, broadcasted and otherwise distributed can compete with the 1.5 billion people who now can do that for themselves and other fans on ever new platforms?
No, they can't stop that revolution, either. But unlike the idiot record labels that never even seriously tried to create a legal, monetized P2P distribution outlet for their content, the studios are indeed in discussions about figuring out how to build a user-organized and fan-monitored YouTube-like site.
The key here is that when the studios do that, they'll have to allow other sites like YouTube to do so also. Indeed, we designed
BoomRevolution.com to become the de facto standard for that user-organized and fan-monitored professional content movement from the start. I've learned a lot from dealing with the studios and their reps, and they are really aggressive about figuring this new movement out.
There will be many other distribution outlets that empower fans in ever more ways that will crop up as the studios finish embracing the revolution. And that's the upshot: more content, more control, more distribution outlets to more people, all of which can and will be monitored and policed by fans and end users. That's why I say that the entropy of these Revolutionomics is so virtuous. And more to the point, it's why I continue to call content king, and this year I've started scaling into some of the best content owners like
Disney
(DIS) - Get Walt Disney Company Report
.
At the time of publication, the firm in which Willard is a partner was net long Apple, Microsoft, Google and Disney, although positions can change at any time and without notice.
Cody Willard is the manager of CL Willard Capital Management, LLC. He is a regular guest on
Fox News
,
CNBC
and other networks, and he writes a monthly column for the
Financial Times
. He is also an adjunct professor at Seton Hall University and the author of
TheCodyReport.net
, a monthly stock market newsletter. Willard appreciates your feedback --
to send him an email.