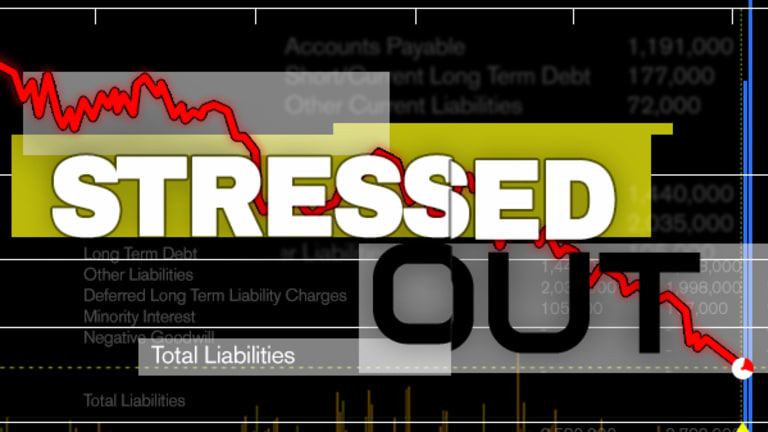 Stressed Out: Legal Pressure Adds to Vale's Woes
Will Vale fold under legal and financial headwinds?
This article is part of a Real Money series on 20 distressed companies investors should consider adding to their distressed watch list.
Don't let today's bounce fool you. Vale (VALE) is feeling the stress of diminishing returns on equity and declining net operating cash flow. These financial headwinds landed Vale on TheStreet's list of distressed companies you should look out for. 
The metals and mining company is up over 6% Wednesday, but its ADRs have plummeted 44.46% over the last three months. When you look at Vale's financials, it is not hard to see why, as iron ore prices haven fallen 40% in the last year to their lowest levels in nearly a decade. 
Vale's quarterly net operating cash flow has fallen 44.59% year over year as the company's cash generation rate has fallen well below the industry average. Vale's cash flow will be hurt even more by legal trouble at its Port of Tubarao iron ore mine in Brazil. 
TheDeal: BHP's shale acquisitions deliver fresh pain with $7.2B write-down
After months of legal wrangling, on Jan. 21 a Brazilian federal court ordered the suspension of activities at the man-made port, following a police investigation into its environmental impact. Vale has been under tougher scrutiny in Brazil after a dam burst at a mine run by its Samarco joint venture in October. That incident killed at least 17 people. 
The court order froze imports and exports from the port, which loaded its dock with 82.5 million tonnes of iron ore in the first three quarters of 2015, according to the company; that ore was headed for steelmakers around the world. Compounding the company's trouble, Vale also faces a $4.9 billion lawsuit brought by Brazil's government over the October dam failure.
Earlier this week, a Brazilian judge told the company that it could reopen the port, giving it 60 days to explain how it would fix the environmental pollution at the site. Tubarao is responsible for about a third of the company's annual iron ore and iron ore pellet exports. 
In the previous quarter, Vale's earnings per share fell by 46.4% year over year. The market expects the company's full-year earnings to contract 481.1%.
With increased scrutiny at of the company and the temporary closure of one of its most productive ports, Vale's cash-flow problems won't be abated anytime soon. Too much stress usually affects performance. 
data by
For more on Real Money's 20 distressed companies to watch:
Stressed Out: Introducing Real Money's Distressed Index
Stressed Out Sprint Is Collapsing Under the Weight of Its High-Yield Debt