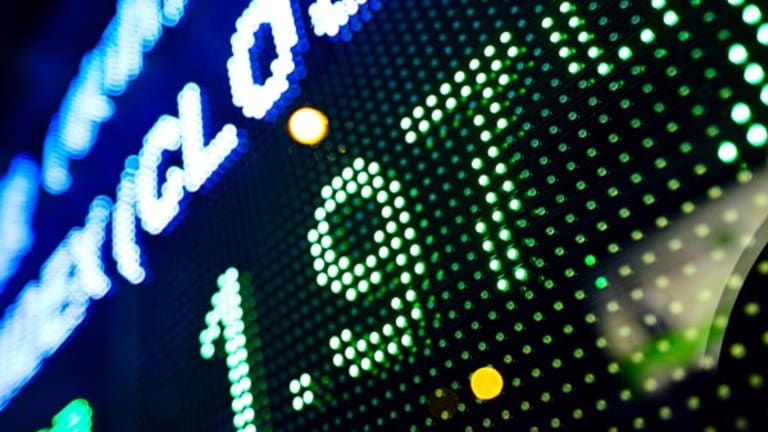 Street Suffers Meltdown
The averages have their worst day in years as earnings disappoint.
Updated from 4:06 p.m. EST
A volatile week in the stock market ended horrifically for bulls Friday as weak blue-chip earnings and a spike in oil prices sent the major averages to their worst single-day point drops in more than two years.
The
Dow Jones Industrial Average
plunged 213.32 points, or 1.96%, to 10,667.39, ending near its session low. Components
Citigroup
(C) - Get Citigroup Inc. Report
and
General Electric
(GE) - Get General Electric Company Report
fell 4.7% and 3.8%, respectively, after reporting lackluster earnings.
The
S&P 500
slid 23.55 points, or 1.83%, to 1261.49, while the
Nasdaq Composite
tumbled 54.11 points, or 2.35%, to 2247.70.
Google
(GOOG) - Get Alphabet Inc. Class C Report
was a big drag, falling 8.5%. Friday's volatility was worsened by the expiration of numerous options and futures contracts.
The Dow and S&P both had their steepest one-day point decline since March 24, 2003. It was the Nasdaq's worst fall since Sept. 24, 2003.
After starting the year strong, the Dow is now down 50 points, or 0.5%, for 2006. The S&P 500 remains up 13 points, or 1%, and the Nasdaq has added 42 points, or 1.9%. For the week, the Dow lost 2.7%, the S&P 500 fell 2%, and the Nasdaq lost 3%.
"It's a perfect storm, with crude prices up, geopolitical concerns and disappointing earnings," said Jay Suskind, head of equity trading with Ryan Beck & Co. "We're going into the weekend, and people were nervous about holding stocks."
"Investors are starting to realize that earnings aren't terrific," said Paul Nolte, director of investments with Hinsdale Associates. "For every good earnings report, there are three or four to the downside. It also seems that the bigger names are the ones disappointing."
The Nasdaq swung violently every day this week, falling 14 points Tuesday and another 23 on Wednesday before bouncing 23 yesterday. The index was pressured Friday by
Xilinx
(XLNX) - Get Xilinx, Inc. Report
, which fell 8.1% after missing earnings estimates, and by broad weakness in chip stocks after
Infineon
( IFX) forecast a big fourth-quarter loss. The Philadelphia Semiconductor Sector Index declined 4.2%, more than erasing a rally on Thursday.
"If you look at how the markets have been trading the last few days, we're seeing a much broader decline," adds Nolte. "We're not seeing a leader that can carry the day. It's not limited to a few stocks anymore. Disappointment is broadening out during this earnings cycle." Among sector proxies, the Philadelphia Bank Index was off 2%; the Nasdaq biotech index was down 1.7%; and the Nasdaq Telecom Index lost 2.7%.
About 2.12 billion shares changed hands on the
New York Stock Exchange
, with decliners beating advancers by a 7-to-3 margin. Volume on the Nasdaq was 2.37 billion, with decliners outpacing advancers 3 to 1.
"A lot of people are closing out positions before the weekend, with negative news escalating all over the place," said James Park, managing director with Rodman & Renshaw. "After the nice move coming out of the year-end, this is a little more aggressive than usual. We need to be concerned with commodity prices and interest rates, too."
The 10-year Treasury bond was up 5/32 in price to yield 4.35%, putting it even with the yield of the two-year note. The dollar fell against the euro and yen.
To view Gregg Greenberg's video take on today's market, click here
.
Oil prices continued their upward push after geopolitical tensions were raised Thursday by the Osama bin Laden audiotape. February crude closed up $1.52 to $68.35 a barrel, a four-month high. Natural gas rose 37 cents to $9.28 per million British thermal units.
Among rising sectors, the Philadelphia Oil Service Sector index added 1.9% after
Schlumberger
(SLB) - Get Schlumberger NV Report
reported blowout numbers, while the Amex Oil index was higher by 0.1% .
"You can pick you poison today from anywhere," said Barry Hyman, equity market strategist with Ehrenkrantz King Nussbaum. "The earnings concern and lack of guidance for 2006 concerns tech players. But the story goes beyond that to energy pricing, which is still a 2005 perspective. Once again, energy is the leading sector. As long as energy prices remain high the market should suffer."
Motorola finished lower by 7.7% after the company said second-quarter earnings rose 88% to $1.2 billion, or 47 cents a share, while sales jumped 18% to $10.43 billion. Adjusted for gains, Motorola earned 35 cents a share in the period, beating estimates by a penny. The company affirmed first-quarter guidance.
Investors were troubled by management commentary indicating Motorola experienced supply constraints in its handset business toward the end of the year. "That will not be a problem" in the future, CEO Ed Zander vowed on a conference call with analysts.
Nokia
closed down 3.4% in sympathy with Motorola.
"Motorola's shaky earnings, combined with those of
Intel
(INTC) - Get Intel Corporation Report
and
Yahoo!
(YHOO)
and other big companies across the board, gave us a horrible day for technology," said Paul Mendelsohn, chief investment strategist with Windham Financial. "
Advanced Micro Devices
(AMD) - Get Advanced Micro Devices, Inc. Report
had a good report, but that one report could not bail out the technology sector. The fact of life is that technology moves inverse to crude oil."
Early Friday, Citigroup said fourth-quarter earnings jumped 30% thanks to the sale of its asset-management division to
Legg Mason
(LM) - Get Legg Mason, Inc. Report
. Excluding the gain, Citi earned 98 cents a share, 2 cents shy of estimates. Domestic credit cards were a sore spot. Citigroup lost $2.25, or 4.7%, to $45.69.
GE said fourth-quarter earnings from continuing operations were $5.77 billion, or 55 cents a share, matching estimates. Revenue rose 3% from a year ago to $40.7 billion, about $1.8 billion below forecasts. GE fell $1.31, or 3.8%, to $33.37.
On the economic front, the University of Michigan said its preliminary index on consumer sentiment was 93.4 for January. Economists expected a reading of 93.0, up from 91.5 in December.
"This rally is very fragile, as it is being led once again by energy stocks and not technology or finance," said Ken Tower, chief market strategist with CyberTrader. "This is no time for the bulls to relax."
In other earnings news,
Alltel
(AT) - Get Atlantic Power Corporation Report
posted fourth-quarter net income of $255.1 million, or 66 cents a share, falling from $270.6 million, or 89 cents, a year ago. Revenue climbed 21% to $2.58 billion. On an adjusted basis, Alltel earned $300.6 million, or 77 cents a share, missing the Thomson First Call consensus for 83 cents a share and revenue of $2.59 billion. The stock slid $1.33, or 2.2%, to $60.15.
Late Thursday,
Xilinx
(XLNX) - Get Xilinx, Inc. Report
reported third-quarter net income of $81 million, or 23 cents a share, up from $64.1 million, or 18 cents a share. Sales were up 27% to $449.6 million from last year. Analysts expected earnings of 26 cents a share on revenue of $440 billion. Xilinx dropped $2.40, or 8.1%, to $27.39.
Ford
(F) - Get Ford Motor Company Report
could announce on Monday that it will cut 25,000 or more jobs as part of a restructuring plan, according to
Bloomberg
. Ford slid 32 cents, or 3.9%, to $7.90.
Supermarket company
Supervalu
(SVU)
confirmed it has resumed talks to acquire
Albertson's
(ABS)
as part of a consortium. Albertson's had taken itself off the auction block in late December after a $9.6 billion offer from a group of public and private buyers fell apart. Albertson's added 24 cents, or 1%, to $24.11.
Among ratings moves, Robert Baird upgraded
Dell
(DELL) - Get Dell Technologies Inc Class C Report
to outperform from neutral, citing valuation. The firm also raised its stock price target to $36 from $35. Dell fell 54 cents, or 1.8%, at $29.96.
Lehman Bros. cut autoparts maker
Visteon
(VC) - Get Visteon Corporation Report
to underweight from overweight, citing concerns over restructuring and profitability. The firm cut its stock price target to $3 from $8. Visteon lost 28 cents, or 5.5%, to $4.80.
Overseas markets were mixed. London's FTSE 100 was up 0.4% to 5672, while Germany's Xetra DAX eased 1.5% to 5349. In Asia, Japanese stocks gave up early gains to finish roughly unchanged on the Nikkei at 15,697, and Hong Kong's Hang Seng lost 0.1% to 15,692.