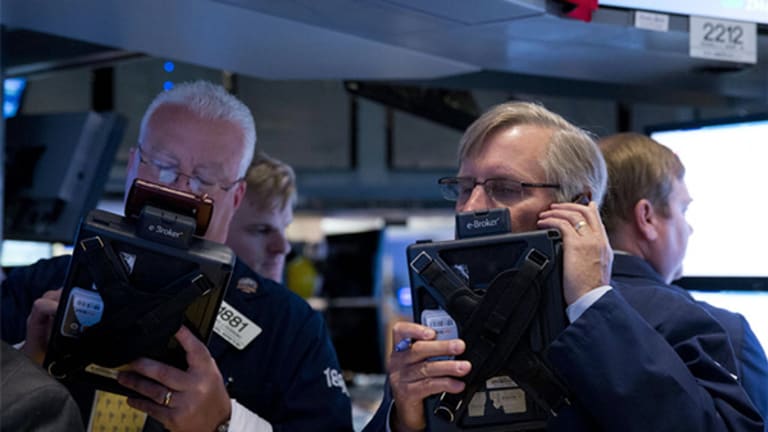 Stratasys (SSYS) Stock Falls on Preliminary First Quarter Results
Stratasys (SSYS) shares decline after the 3D printing company's preliminary first quarter results fall below analysts' estimates.
NEW YORK (TheStreet) -- Shares of Stratasys (SSYS) were falling 18.6% to $41.78 on heavy trading Wednesday after the 3D printing reported preliminary results for the first quarter below analysts' estimates.
Stratassys said it expects to report earnings of 2 cents to 4 cents and revenue $171 million to $173 million for the first quarter. Analysts expect the compared to report earnings of 29 cents a share and revenue of $198.79 million for the quarter.
Looking to full year 2015, the 3D printing company expects earnings of $1.20 to $1.70 a share and revenue of $800 million to $860 million. Analysts expect the company to report earnings of $2.10 a share and revenue of $943.09 million.
"We are disappointed with our first quarter results," CEO David Reis said in a statement. "Our industry still remains in the early phases of adoption, and our belief in the long-term opportunity remains unchanged. Despite these first quarter challenges, we remain focused on our current strategies to drive sales growth and adoption, and are committed to our multi-year investment plan."
Insight from TheStreet's Research Team:
Stratasys is a part of Bryan Ashenberg's GrowthSeeker.com Portfolio. Here is what Bryan had to say about the stock in a recent alert:
There is no sugar-coating the results. We held the stock after last quarter's debacle waiting for a bounce that was fleeting, and then thinking expectations were so low that the stock could still perform. In fact, yesterday, we were encouraged when the stock traded higher despite UBS cutting its price target to $55 from $70. We viewed that resilience as evidence that expectations were set appropriately. However, the results and the guide-down, including management's reassessment of its spending initiatives (which we view as the biggest negative because until now they were steadfast in their commitment to spend to grow) are too much for the stock to bear and it will trade significantly lower. The stock remains a Three, and we will look to exit in speedy fashion.

Stratasys preannounced first-quarter revenue of $171 million to $173 million, below consensus of $199 million on gross margins of 54.1%, below 57.2% expected. Net income between $0.02 and $0.04 per share is below the $0.29 consensus.

The company's core printers business slowed while its services and materials business met its plan. MakerBot revenue contracted 18% year over year, in line with expectations. The company blamed a weak capex spending environment, especially in North America, FX headwinds (and $8.7 million drag), a negative impact of its largest reseller being purchased by private equity, which created paused sales, slow adoption of its recently introduced Connex printers and a slow channel ramp in Asia.

Management now sees 2015 revenue in a range of $800 million to $860 million, compared with previous guidance of $940 million to $960 million, and EPS was reduced to a range of $1.20 to $1.70, from previous guidance of $2.07 to $2.24. Consensus forecasts are for $2.10. Management said they would dramatically reduce capex plans (which initially started this mess) to around $90 million at its midpoint from its previous range of approximately $180 million.

We still believe 3D printing is for real and will gain mainstream adoption, but timing is everything and our timing continues to be awful with this name.

 - Bryan Ashenberg, "Stratasys Preannouncement Cause for Concern," originally published on 4/29/15 on GrowthSeeker.com