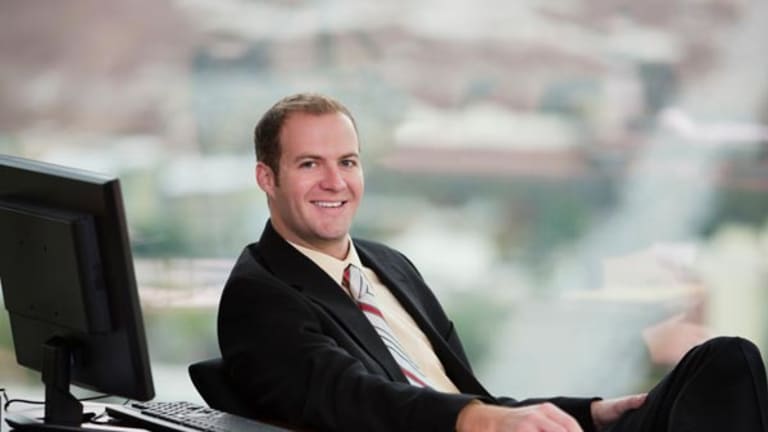 Straight to the Source
Here are a few of the options resources I use regularly.
Here are a few of the options resources I use regularly.
This column was originally published on RealMoney on Feb. 14 at 11:24 a.m. EST. It's being republished as a bonus for TheStreet.com readers. For more information about subscribing to RealMoney, please click here.
While I always try to respond to reader requests for source material on options in the various forms -- books, websites, seminars, software and more recently blogs -- I realize I have not
published a list since those lazy hazy days of last Labor Day weekend.
And because I'll be out of the office until later this afternoon, here is an updated, thoroughly consolidated, barely annotated, yet highly recommended list of places to click, quiver and blink away the day.
Building the base of the education pyramid, one can start with the Option Institute Corp.
. It is not only chock full of basic information from a glossary of terms, it offers basic strategies, an FAQ, books, and best of all, its 1-888-Options hotline is always manned by a friendly and knowledgeable staff. Don't know what's going to happen to your options after a spinoff or stock split? Give them a call.Another great educational site is
, which has a variety of screening tools and software.
breaks down some of the more popular trading strategies, has a great glossary and offers both live and online seminars. This site was developed by the guys that founded ThinkorSwim, the option-focused online brokerage firm which was acquired by
InvesTools
(IEDU)
last September.
For an added bonus, you can
watch my video
discussing that combination, which proved to be a great a buying opportunity as InvesTools has risen nearly 45% since the merger. The lesson? When former option market makers that built a company from the ground up choose a public path for pursuing personal mad money retirement numbers, assume they know what they are doing and don't take the other side of that trade. The people that dumped IEDU at $8 that day are now licking their wounds at $15 per share. But I digress...
Another good educational site is
. As the name implies, this online option educational service emphasizes using limited risk/reward strategies to achieve consistent returns. The hook it uses to differentiate itself is that you must pass a test and "graduate" from each class before being allowed to advance to the next course level. This is a nice nod to the fact that option education is incremental and a process that builds upon itself rather than a singular event. It's also a smart business decision for keeping its clients from getting ahead of themselves and blowing all their tuition money on a bad trade.
Moving along the food chain, some subscription-based sites that have very advanced screening software, historical data downloads and analytic programs also happen offer some of the best free tools.
For example Chartbender.com's educational segment,
the Options Knowledge Exchange
, has a great scroll-down toolbar that peels back to explain in both text and graphics the pricing behavior and profit/loss of various strategies during given time frames and volatility environments.
Another is
, which, as the name implies, focuses on volatility data. It offers free, though delayed, information on all listed options. This is where I go to get the first look at the historical and implied volatilities of a stock and its options. Its free option calculator has become the industry standard used by everyone from the
Chicago Board of Options Exchange
on its website to many of option-focused brokerage firms such as
.
Now to the fun stuff ... the recent proliferation of option-related blogs. Not only are these great reading by themselves, but part of their value is that they will lead you to even more places to click along to. One of my favorites is
DailyOptions
from Adam Warner. He not only provides keen option insight three or four times a day, using his independence to take on everything from
CNBC
and our own Jim Cramer, but he has an uncanny knack for finding an appropriate video on YouTube to accompany the written material.
It will also lead you to a number of other blogs, such as
, which has hysterical daily videos, and
among others.
As for books, you can't have a reading list without putting Sheldon Natenberg's
Option Volatility and Pricing: Advanced Trading Strategies and Techniques
at the top. This is a classic, and it covers all the concepts and strategies without agendas or false promises.
One of my personal favorites is
, by Jabbour and Budwick. It's written by two active and practicing option traders who came from other professions, namely law and law, and they combine a disciplined learning process with great analogies and real-life examples.
One of the best books, though a bit more advanced, is
, by Charles Cottle. It can be found on his Web site,
, which also offers mentoring services, chat rooms and Web seminars. Cottle gets into dynamic hedging, position dissection, understanding the things that motivate market makers and defining the trading landscape. That is, he tries to point out all the pitfalls rather than emphasize the upside.
On that note, remember it's better to be looking down into a hole than the other way around.
Steven Smith writes regularly for TheStreet.com. In keeping with TSC's editorial policy, he doesn't own or short individual stocks. He also doesn't invest in hedge funds or other private investment partnerships. He was a seatholding member of the Chicago Board of Trade (CBOT) and the Chicago Board Options Exchange (CBOE) from May 1989 to August 1995. During that six-year period, he traded multiple markets for his own personal account and acted as an executing broker for third-party accounts. He appreciates your feedback;
to send him an email.
To read more of Steve Smith's options ideas take a free trial to
.