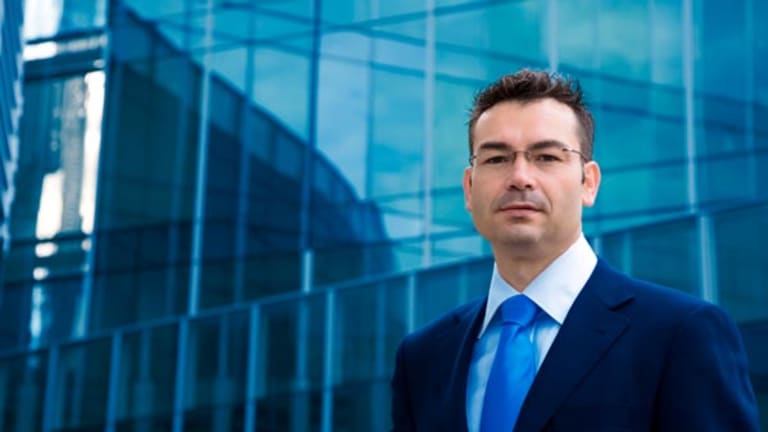 Stop Out-Thinking the Rally
Why the market could continue to defy expectations, plus chart analysis of AK Steel and PetMed.
This column was originally published on RealMoney on Oct. 25 at 11:09 a.m. EDT. It's being republished as a bonus for TheStreet.com readers.
Last night, I discussed the market with a number of other traders on a conference call. I started the questioning off by remarking on the sustained strength of the market. The much-anticipated "September Swoon" never came to pass -- we are just five trading days away from closing out October and the Boogie Man has yet to show his face.
You'd think that the collective mood of these traders would be downright giddy. Wrong!
One of the first questions I asked was, "How many of you believe this rally is for real?"
No one did.
Every single trader was suspicious of this market advance and smelled a bull trap -- an obvious buy signal that suddenly reverses and traps everyone who recently bought into the move. No one in the entire group had caught much of the move because they had been waiting for a retracement to provide a better opportunity to buy. Some had even been buying index puts, closing them out for losses and then buying more as they tried to time the top of the market.
A mature rally can continue to run far beyond anyone's expectations. Very smart traders anticipate an obvious correction ... which fails to happen. They gradually capitulate and start putting money to work. Their buying props up the market and causes their more patient peers to put their money to work. The process continues. After the last guy piles in because he can no longer stand the pain of standing on the sidelines, the correction finally occurs, when it is least expected.
Simply put, I think that many traders have been out-thinking themselves and trying to time the turns. Lots of very smart people are underinvested, while lots of inexperienced investors are asking, "What's the big deal? I love trading stocks!" It's an interesting dynamic that just doesn't happen too often -- it smells just a bit like 2000, but without the unbridled euphoria.
At some point, we will see that correction. Perhaps it'll occur today as a result of the tepid earnings numbers from
Texas Instruments
(INTC) - Get Report
(although the semis have already been weak); perhaps the
FOMC
will provide the juice to flush out the sellers. Absent that, I think that the market will remain pretty strong until after the midterm elections. The outcome is less important than the event itself. Once the market has that clarity, the "buy the rumor, sell the news" dynamic will reappear and all will again be right on Wall Street.
Let's look at some readers' picks.
Since late May,
Companhia Vale do Rio Doce
(RIO) - Get Report
has repeatedly failed to move above $24.50, but after testing this level once again over the past couple of weeks, it finally broke out Tuesday.
If you're long, you'll probably enjoy a nice ride higher. However, I'd still keep a stop right back within the congestion area. If the stock falls back to around $24, this breakout has probably failed.
I wrote about
AK Steel
(AKS) - Get Report
last week when it was breaking out of a tight volatility squeeze. I had a few questions about it after Tuesday's earnings announcement. While earnings were stronger than expected, the company was less than optimistic about fourth-quarter profits, warning that higher costs for energy and raw materials could negatively impact profits. Still, the stock closed almost 4% higher, so unless it comes under enough selling pressure to push it back below the breakout level, I'd just stay long.
Oregon Steel
( OS) is another stock I've written about before that I've been hearing about lately. Again, the stock is pushing out of a tight volatility squeeze on pretty heavy volume (remember that this is a weekly chart, so the current volume bar shows only two days of trading). I'd stay long and keep a stop back below the breakout level.
A reader asks whether
PetMed Express
(PETS) - Get Report
has bottomed. As I look at this weekly chart, I'd have to say yes.
Let's analyze the stock within the Bollinger bands. Notice how the most recent low was well above the lower Bollinger band, while the prior low in early July was actually hugging the lower band. So even though their price levels are nearly identical, the recent low was much higher than the July low in relation to the Bollinger bands. This tells us that downside volatility has been diminishing.
At the same time, the most recent high is close to tagging the upper band, while the prior high only ran up to the middle band. This stock really looks poised for higher prices.
While a breakout from this level would be nice, a more healthy scenario would be some consolidation just below current resistance. That way, the stock won't be so overextended when it moves above congestion.
OptionsXpress
( OXPS) consolidated in a flat triangle pattern in September and early October. Each time the stock hit $29, selling pressure capped the rally. However, last week, the stock broke out of this congestion on heavy volume.
I think the stock will move higher, but it has advanced for nine consecutive days, so that streak just has to come to an end pretty soon. I'd keep a trailing stop on existing long positions, but I'd be patient and wait for a pullback before taking a new position in this stock.
Be careful out there.
At the time of publication, Fitzpatrick held none of the stocks mentioned, though positions may change at any time.
Fitzpatrick is a freelance writer and trading consultant who trades for his own account in Encinitas, Calif., and contributes to
. He is a former co-manager of a hedge fund and teaches seminars on technical analysis, options trading and asset-protection strategies for traders and business owners. Fitzpatrick graduated from the McGeorge School of Law and was a fellow at the Pacific Legal Foundation, a nonprofit public interest firm specializing in constitutional law. He also practiced law in the private sector before pursuing trading as a full-time career. Under no circumstances does the information in this column represent a recommendation to buy or sell stocks. While Fitzpatrick cannot provide investment advice or recommendations, he appreciates your feedback;
to send him an email.